Asus ha annunciato, mediante il comunicato stampa di seguito allegato, la realizzazione di una nuova motherboard appartenente alla linea AI Lifestyle. Si tratta di una soluzione (cfr. foto seguente) per processori AM2 di AMD che è siglata M2R32-MVP ed è dotata di supporto per le memorie RAM DDR2 a 800MHz in dual channel e, attraverso l'integrazione di due slot PCI-Express x16, per le configurazioni grafiche dual-gpu CrossFire di ATI.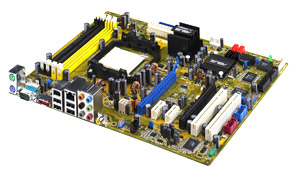 I chip-set di questa motherboard sono prodotti da ATI: essi sono rispettivamente Xpress 3200 (Northbridge) e SB600 (Southbridge).
Segue la lista delle specifiche principali resa nota dal produttore dell'hardware.
AMD Socket AM2
ATI CrossFire Xpress 3200/ATI SB600
Dual Channel DDR2-800/667/533
2 x PCI-E x16, support CrossFire at full x16, x16 speed
5 x SATA3.0 Gb/s including one external port / 1 x Ultra DMA
Gigabit LAN
ADI AD1988A 8-CH (HD)

Taipei, Taiwan; August 15, 2006 – ASUSTeK Computer Inc. (ASUS), the worldwide leader of motherboards, today introduced a new AI Lifestyle Series motherboard – the M2 R 32-MVP – that provides dual-channel DDR2 support on AMD's latest AM2 processing platform to dramatically increase memory and overall system performance. Teamed with innovative features – Noise Filter and OC Profile – the new motherboard is tailored to power high-performance and reliable systems.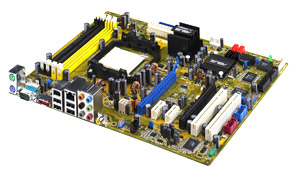 Dual-channel DDR2 memory
Based on AMD's AM2 Socket processor, the M2R32-MVP supports the dual-channel DDR2 architecture. It provides higher memory frequency and bandwidth up to DDR2 800 for overall performance improvements over previous AMD CPU platforms.

True Dual PCI Express x16 graphics performance
The motherboard supports multiple graphics card operation to run the most video resource-hungry applications. The M2R32-MVP ( ATI CrossFire Xpress 3200 / ATI SB600 chipsets ) comes equipped with two PCI Express x16 slots for ATI's CrossFire graphics interface, allowing two CrossFire-applicable graphics cards to run simultaneously.

Compared with dual-PCI Express x8, dual-PCI Express x16 delivers up to a 10% performance hike to boost image quality along with rendering speed, eliminating the need to lower screen resolutions to attain high quality image. Whether it is watching movies, 3D gaming or graphics design, the M2R32-MVP can handle with ease.

Stack Cool 2
Stack Cool 2 is a fan-less and zero-noise cooling solution offered exclusively by ASUS. It effectively transfers heat generated by the critical components to the other side of the specially designed PCB (printed circuit board) for effective heat dissipation without the noise from high-speed fan rotation.

O.C. Profile – Store and Load Overclock Settings
The motherboard features O.C. Profile, which allows those who like to push their systems to the limit to conveniently store and load multiple BIOS settings. The BIOS settings can be stored in the CMOS or a separate file, giving users the freedom to also share their overclock settings with others.

Noise Filter – Clear Audio
The feature detects repetitive and stationary noises (non-voice signals) like computer fans, air conditioners, and other background noises then eliminates them in the incoming audio stream while recording. Teamed with excellent graphics capability, sharp images and clear audio are expected when video conferencing on a system powered by the M2R32-MVP motherboard.

Geil PC2-6400 800PLUS
ASUS recommends the Geil PC2-6400 800PLUS memory for the M2R32-MVP motherboard. They are optimized for each other to bring out the real potential of the AM2/ CrossFire Xpress 3200 platform, and provide maximum performance and reliable operation.

*The Geil PC2-6400 800PLUS is not included in the motherboard package.

Specification summary

AMD Socket AM2
ATI CrossFire Xpress 3200/ATI SB600
Dual Channel DDR2-800/667/533
2 x PCI-E x16, support CrossFire at full x16, x16 speed
5 x SATA3.0 Gb/s including one external port / 1 x Ultra DMA
Gigabit LAN
ADI AD1988A 8-CH (HD)





Source: Asus Press Release
Links