A-DATA ha annunciato la realizzazione di nuovi moduli di memoria RAM DDR2 800 e DDR2 1000 appartenenti alla linea Extreme Edition (cfr. foto seguente) dotati della tecnologia EPP, evoluzione della classica SPD, che consente, in presenza di motherboard e chip-set compatibili come l'nForce590 SLI di nVIDIA, la configurazione automatica e ottimale della memoria centrale sia dal punto di vista dei timing operativi (tCL, tRCD, tRP, tRAS e tRC) che da quello della tensione di alimentazione (vDIMM).
I moduli Extreme Edition sono concepiti per l'utilizzo in uno schema dual-channel: sono perciò commercializzati in kit da 1Gb (512Mb x 2) e 2Gb (1Gb x 2). I sistemi dedicati al gaming estremo, su piattaforma AMD AM2 o Intel x965, costituiscono il target naturale per il quale queste memorie, che nella versione DDR2 1000+ sono capaci di operare a 1Ghz con una larghezza di banda del canale dati pari a 8Gb/s, sono state progettate.

After launching the Extreme Edition Series, A-DATA Technology Co., Ltd, the global leading memory module manufacturer, has applied the Enhanced Performance Profiles (EPP) technology to meet gamers need. The application of this new technology will definitely advance the performance of DDR2 800+ and DDR2 1000+ Memory Modules.
The Joint Electronic Device Engineering Council (JEDEC) standard only includes the phase of DDR2 800, along with the Serial Presence Detect (SPD) belongs to standard specification. Therefore, NVIDIA Corporation offers EPP, which is a perfect solution for Extreme Edition Memory Modules above DDR 800. EPP is an open standard which makes fully use of the space that traditional SPD neglects. In addition, EPP enables memory modules to have superb performance by including various performance profiles. Most important of all, A-DATA is the first Asian DRAM Module provider to launch the EPP technology, definitely showing the superior ability over the industry.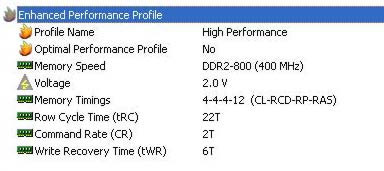 As for the technology, EPP not only records the Clock frequency but also identifies the Timing parameters including tCL, tRCD, tRP, tRAS, tRC and the operation voltage (vDIMM) as well as more detailed Timing parameters for memory controllers. Through the framework of EPP, the Timing combination can be more diverse and be highly stable and compatible. with the EPP memory module along with the nForce 590 SLI platform, the motherboard can detect the best memory module setting conditions and bring the performance of memory modules into fully play.

In order to accommodate to the trend of dual-channel memory modules and solve the matching problem for users, A-DATA's Extreme Edition Series passed strict testing and the quality is above the standard. As for the packaging, Extreme Edition Series offers 1GB kit (512MB x 2) and 2 GB Kit (1GB x 2) and equips with stickers of manual setting suggestions. No matter you are an expert or a beginner, you can become a professional gamer!





Source: A-DATA Press Release
Links