Intel ha presentato ufficialmente i processori dual-core Core 2 Duo (anche noti come Conroe, ndr): in totale sono dieci i chip in arrivo sul mercato nel mese di Agosto e due le linee a cui essi appartengono. In ordine cresente di prezzo e prestazioni esse sono Core 2 Duo e Core 2 Duo Extreme: gli ambiti impattati sono il segmento dei desktop consumer e business, dei notebook (Core 2 Duo Mobile) e delle workstation.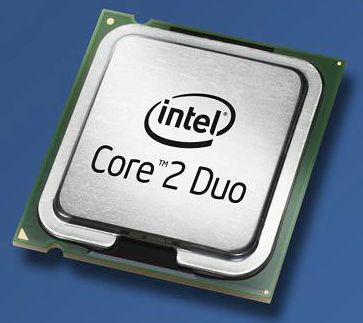 Le versioni desktop dei Conroe hanno un FSB pari a 1066MHz; il valore del Front Side Bus per i chip mobile è uguale in questo caso a 667MHz.
Segue il dettaglio delle principali feature delle cpu, dichiarate dal costruttore.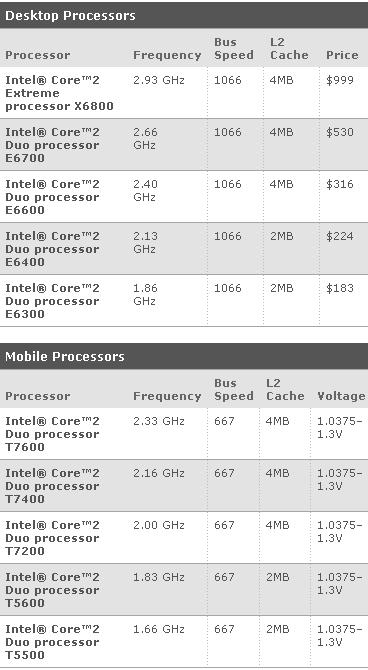 Paul Otellini, presidente e CEO di Intel, ha esaltato in sede di presentazione i nuovi processori definiti "i migliori in circolazione", forti dell'elevato livello di integrazione della componentistica con "i loro 291 milioni di transistor e un consumo di potenza ridotto del 40%".
I primi computer desktop con Core 2 Duo saranno immessi sul mercato dai grandi System Integrator nei primi giorni di Agosto mentre verso la fine dello stesso mese saranno commercializzate le prime soluzioni mobile.

SANTA CLARA, Calif., July 27, 2006 - Intel Corporation today unveiled 10 Intel® Core™ 2 Duo and Intel® Core™ 2 Extreme processors for consumer and business desktop and laptop PCs and workstations, reshaping how computers perform, look and consume power—and most importantly—transform how people use them.
"The Core 2 Duo processors are simply the best processors in the world," said Paul Otellini, president and CEO of Intel. "Not since Intel introduced the Pentium® processor has the industry seen the heart of the computer reinvented like this. The Core 2 Duo desktop processor is an energy-efficient marvel, packing 291 million transistors yet consuming 40 percent lower power, while delivering the performance needed for the applications of today and tomorrow."
The highly anticipated processor family already has very broad support with more than 550 customer system designs underway—the most in Intel's history. Ultimately, tens of thousands of businesses will sell computers or components based on these processors.
The Intel Core 2 Duo processors are built in several of the world's most advanced, high-volume output manufacturing facilities using Intel's leading 65-nanometer silicon process technology. The desktop PC version of the processors also provide up to a 40 percent increase in performance and are more than 40 percent more energy efficient versus Intel's previous best processor. According to multiple independent review organizations, the processors win more than nine out of 10 major server, desktop PC and gaming PC performance benchmarks.
The Intel Core 2 Duo processor family consists of five desktop PC processors tailored for business, home, and enthusiast users, such as high-end gamers, and five mobile PC processors designed to fit the needs of a mobile lifestyle. Intel Core 2 Duo processor-based workstations will also deliver industry leading performance for such areas as design, content creation and technical computing.
The processor family is based on the revolutionary Intel® Core™ microarchitecture, designed to provide powerful yet energy-efficient performance. With the power of dual cores, or computing engines, the processors can manage numerous tasks faster. They also can operate more smoothly when multiple applications are running, such as writing e-mails while downloading music or videos and conducting a virus scan. These dual-core chips also improve tasks, such as viewing and playing high-definition video, protecting the PC and its assets during e-commerce transactions, and enabling improved battery life for sleeker, lighter notebooks.
Consumers and businesses will have the option to purchase Intel Core 2 Duo processors as part of Intel's premier market-focused platforms, which are made up of Intel hardware and software technologies tailored to specific computing needs, including Intel® vPro™ technology for businesses, Intel® Centrino® Duo mobile technology for laptops, and Intel® Viiv™ technology for the home.
Many of the products will also offer a selection of Intel-designed and integrated technologies such as Intel® Virtualization Technology and Intel® Active Management Technology that make the PC more secure and manageable. Also, support for 64-bit computing now expands to notebook PCs. The new processors can be paired with the Intel® 975X, 965, and Mobile Intel® 945 Express chipset family. The Intel 965 Express chipset includes the latest integrated graphics and Intel® Clear Video Technology. All these chipsets are Microsoft Windows Vista* Premium Ready.
Advanced Innovations
Intel Core 2 Duo and Intel® Core™2 Extreme processors include many advanced innovations, including:
Intel® Wide Dynamic Execution – Improves performance and efficiency as each core can complete up to four full instructions simultaneously using an efficient 14-stage pipeline.
Intel® Smart Memory Access – Improves system performance by hiding memory latency, thus optimizing the use of available computer data bandwidth to provide data to the processor when and where it is needed.
Intel® Advanced Smart Cache – Includes a shared L2 cache or memory reservoir to reduce power by minimizing memory "traffic" yet increases performance by allowing one core to utilize the entire cache when the other core is idle. Only Intel provides this capability in all segments.
Intel® Advanced Digital Media Boost – Effectively doubles the execution speed for instructions used widely in multimedia and graphics applications.
Intel® 64 Technology – This enhancement to Intel's 32-bit architecture supports 64-bit computing, including enabling the processor to access larger amounts of memory.
Mobile PC Processor Unique Features
Intel Core 2 Duo mobile processors include many advanced innovations, including:
Intel® Dynamic Power Coordination – Coordinates Enhanced Intel SpeedStep® Technology and idle power-management state (C-states) transitions independently per core to help save power.
Intel® Dynamic Bus Parking – Enables platform power savings and improved battery life by allowing the chipset to power down with the processor in low-frequency mode.
Enhanced Intel® Deeper Sleep with Dynamic Cache Sizing – Saves power by flushing cache data to system memory during periods of inactivity to lower CPU voltage.
Pricing and Availability
Intel has been shipping production-ready Intel Core 2 Duo processors for all segments in advance of today's unveiling. Initial Intel Core 2 Extreme processor-based systems are now available from system manufacturers, resellers and integrators, including Intel Channel Partner Program members. Intel Core 2 Duo desktop processor-based systems will be available beginning in early August. Intel Core 2 Duo processor-based notebooks will be available at the end of August.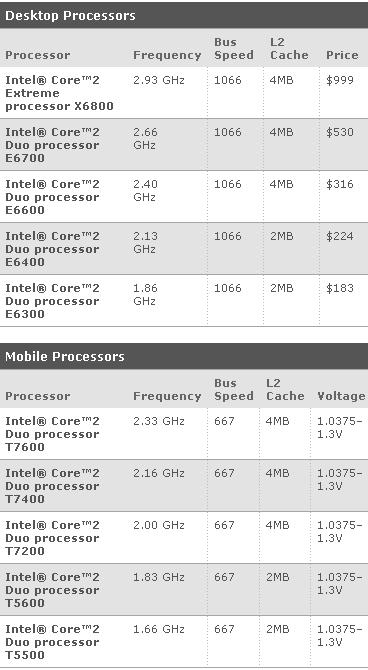 Source: Intel Press Release
Links


Tags: core | core 2 duo | cpu | desktop | intel | mobile