nVIDIA ha presentato ufficialmente, mediante il comunicato stampa che è allegato di seguito, la sua nuova scheda grafica siglata GeForce 7950 GX2, che rappresenta la soluzione di riferimento in ambito ludico.
Basata sull'utilizzo di due PCB, su ciascuno dei quali è allocata una gpu GeForce 7950, è in grado di assicurare, in accordo al chip-maker americano, un'incremento prestazionale superiore fino al 72% rispetto alle top card a singolo processore.
Queste le specifiche principali:
Scheda grafica a doppia gpu;
48 pixel pipe, 16 vertex shader;
1Gb di memoria RAM GDDR3;
Supporto in hardware di H.264;
Supporto per Quad-SLI.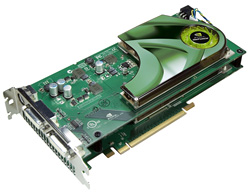 SANTA CLARA, CA—JUNE 5, 2006—NVIDIA Corporation (Nasdaq: NVDA), the worldwide leader in programmable graphics processor technologies, today announced the new NVIDIA GeForce 7950 GX2, the world's fastest graphics card , is available immediately from the Company's add-in card partners. The GeForce 7950 GX2 performs as much as 72% faster than the leading single-GPU graphics cards on the market today by harnessing the power of two GeForce 7950 graphics processing units (GPUs) on one card.
"The GeForce 7950 GX2 is a great card for the gamer that's looking for the absolute best performance in a single graphics card solution," said Ujesh Desai, general manager of desktop GPUs at NVIDIA. "With that kind of power gamers can crank up their screen resolution to an unbelievable 2560x1600 for an extreme high definition gaming experience."
GeForce 7950 GX2 delivers a powerful feature set that includes:
Two high-performance GPUs working simultaneously on a single card—dramatically raising the bar for single-card performance
48 pixel pipes, 16 vertex shaders, 76.8 GB per second of memory bandwidth and 24 billion texels per second of fill rate on a single card
1GB of fast GDDR3 video memory on a single card
Dual dual-link DVI support— for high-definition, widescreen flat panel displays that support resolutions up to 2560x1600 for an ultra-realistic HD gaming experience
Hardware accelerated H.264 support through NVIDIA PureVideo technology—the combination of HD video processors and software delivers a HD home-theater quality video experience to the PC.
High-bandwidth Digital Content Protection (HDCP) capable
Support for Quad NVIDIA SLI technology—allows NVIDIA authorized system builders to combine the power of two GeForce 7950 GX2 graphics cards to dramatically increase graphics horsepower.
NVIDIA SLI technology is a revolutionary platform innovation that allows users to intelligently scale graphics performance by combining multiple NVIDIA graphics solutions in a single system with an NVIDIA nForce SLI MCP-based motherboard. By using SLI technology, authorized system builders can put two GeForce 7950 GX2 graphics cards to work in parallel, harnessing the power of four GPUs to deliver extreme HD resolutions, including an incredible 2560x1600, while still maintaining ultra smooth frame rates, stunning visuals and pristine image quality for an immersive gaming experience.





Source: nVIDIA Press Release
Links


Tags: geforce | geforce 7950 gx2 | nvidia