nVIDIA ha annunciato, mediante il comunicato stampa di seguito allegato, di aver collaborato con Sony per la realizzazione dei primi computer compatibili con i dischi Blu-ray, sia in ambito desktop che mobile.
La partnership ha consentito la realizzazione delle linee di pc Sony VAIO RC (desktop) e AR (notebook, cfr. foto seguente) accomunati dall'adozione comune di un lettore di dischi in formato aderente allo standard Blu-ray - che consente l'esecuzione dei filmati con un livello di dettaglio fino a 6 volte superiore a quello ottenibile con i comuni DVDrom - e di un chip grafico nVIDIA provvisto di supporto della tecnologia PureVideo HD.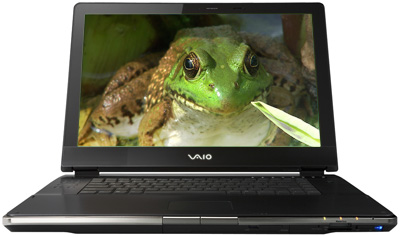 I desktop VAIO RC di Sony, in particolare, includono una scheda grafica con gpu GeForce di settima generazione (GeForce 7800 GT) mentre i notebook VAIO AR integrano i chip della famiglia GeForce Go 7600.

SANTA CLARA, CA—MAY 22, 2006—NVIDIA Corporation (Nasdaq: NVDA) today announced that the world's first PCs equipped with Blu-ray Disc drives feature NVIDIA technology. The new Sony VAIO PCs are powered by NVIDIA GeForce® graphics processing units (GPUs) which include NVIDIA PureVideo HD technology.
"Blu-ray Disc movies have incredible visual and audio fidelity, and we know consumers are eager to watch Blu-ray movies on their PCs," said Scott Vouri, General Manager of Multimedia at NVIDIA. "NVIDIA's early and ongoing investment in HD video processing is enabling high definition playback on the PC. Sony's selection of NVIDIA GPUs further demonstrates that NVIDIA offers the premier solution for watching high definition movies on your PC."
Blu-ray is a new high definition (HD) video disc standard that offers up to six times the visual detail of traditional DVDs. Blu-ray discs can hold up to 25GB on a single-layer disc and 50GB on a dual-layer disc. This extra capacity combined with the use of advanced video and audio codecs offers consumers an amazing HD experience. Sony's VAIO RC desktop and AR notebook are the world's first PCs that will let consumers play Blu-ray discs on their computers.
The VAIO RC desktop features the NVIDIA GeForce 7600 GT graphics processing unit (GPU), while the VAIO AR notebook uses an NVIDIA GeForce Go 7600-series GPU. The GeForce 7 series of GPUs features advanced technologies including:
H.264 and MPEG2 hardware accelerated support through NVIDIA PureVideo HD technology—the combination of HD video processors and software delivers a HD home-theater quality video experience to the PC.


Support for the latest games and applications with DirectX 9.0 Shader Model 3.0 delivering more realism to real-time gaming.


A high-performance 3D architecture built for Microsoft Windows Vista— the industry's first operating system to require a GPU to realize its full potential.


NVIDIA PowerMizer® technology for reduced power consumption and less heat generation result in cooler and smaller notebooks with increased battery life (only on GeForce Go notebook GPUs).
NVIDIA PureVideo HD technology provides hardware acceleration for decoding H.264 and MPEG-2 movies. The PureVideo discrete video processing core offloads the CPU and 3D engine of complex video tasks, freeing the PC to run multiple applications simultaneously, while consuming less power.

Enabling consumers to play HD DVD or Blu-ray Disc movies on a PC, NVIDIA PureVideo HD consists of select NVIDIA GPUs (certain NVIDIA GeForce 6-series GPUs, all NVIDIA GeForce 7-series GPUs, and nForce 6150 motherboards), PureVideo HD software, and content security management. These components are designed to meet the HDCP specification and offer HDMI/DVI compliance. (Other products, such as monitors and display devices may need to be also designed to meet the HDCP specification to view content at full HD resolution.) In addition, because application compatibility and compliance are critical, NVIDIA has partnered with movie player software companies, drive manufacturers, content providers and OEMs to deliver a complete solution.





Source: nVIDIA Press Release
Links