Il chip-maker americano nVIDIA ha annunciato, mediante il comunicato stampa allegato di seguito, la disponibilità di una nuova soluzione appartenente al segmento Ultra High-End della linea di schede grafiche Quadro, notoriamente destinata all'utilizzo con hardware e software di livello professionale.
La Quadro FX 4500 X2 (cfr. foto seguente) è una soluzione multi-gpu con interfaccia di tipo PCI-Express.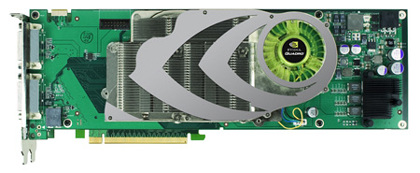 E' di 1Gb la memoria video; ciascuna delle due gpu interagisce con 512Mb di ram dedicata, realizzata in architettura GDDR2. Il bus gpu-memoria è a 256 bit mentre l'ampiezza di banda massima è pari a 33.6GB/sec.
Questa card, al pari di altre della sua categoria, permette di lavorare simultaneamente con due monitor alla risoluzione di 3840 x 2400.

SANTA CLARA, CA—APRIL 24, 2006—NVIDIA Corporation (Nasdaq: NVDA), the worldwide leader in programmable graphics processor technologies, today announced the NVIDIA Quadro FX 4500 X2 graphics solution is the latest addition to the company's growing line of solutions for advanced visualization systems requiring scalable graphics performance. This solution joins the recently announced NVIDIA Quadro FX 5500 card with the NVIDIA Quadro SDI and G-Sync option cards—the most extensive line of products for this growing market segment.
NVIDIA is well positioned for continued growth in this segment, having introduced its first solution in December 2004. Since then, the NVIDIA Ultra High-end solutions have been the choice of every major workstation OEM, accounting for approximately 80 percent of professional graphic card sales with the industry's broadest application support for software running on Windows, Linux, Solaris, and Mac OS X operating systems.
"Autodesk works in close partnership with NVIDIA to deliver unique value to users by taking full advantage of the capabilities found in their solutions," said Marc Petit, vice president of Product Development at Autodesk's Media & Entertainment Division. "NVIDIA Quadro SDI solutions offer real-time capabilities in our Discreet Lustre color grading system, providing our customers with both integrated, high-performance graphics and a high-quality graphics-to-video sub-system."
Extending the appeal of these products, NVIDIA offers a selection of industry-specific specialty solutions built from core graphics technology. The NVIDIA Quadro G-Sync option card, which delivers frame lock and genlock functionality, enables cost-effective implementation of visualization clusters, power walls, and immersive environments for breakthrough medical research, oil exploration, and automotive and aerospace simulations.
NVIDIA SLI technology, offered on all ultra high-end products, also sets these NVIDIA Quadro solutions apart, offering a number of flexible modes that can scale performance, increase image quality, or increase highly 3D-intensive application screen real estate. Oil and Gas, Medical Imaging, Visualization and Simulation, and Broadcast and Film customers have all made NVIDIA Quadro the de facto graphics standard in their respective industries.
NVIDIA solutions in the Ultra High-end segment include:
NVIDIA Quadro FX 5500 – Offers 1GB DDR2, two Dual-Link DVI-I connectors, a stereo connector, and is SLI, SDI and G-Sync capable


NVIDIA Quadro FX 4500 X2 – Includes 512MB GDDR3 per GPU, quad Dual-Link DVI-I connectors, a stereo connector, and is SLI and G-Sync capable


NVIDIA Quadro FX 4500 – Provides 512MB GDDR3, two Dual-Link connectors, a stereo connector, and is SLI, SDI and G-Sync capable


NVIDIA Quadro SDI Technology – Offers a fully integrated graphics-to-uncompressed video solution for broadcast, film and postproduction


NVIDIA Quadro G-Sync Technology – Delivers frame lock/genlock functionality for unprecedented levels of industrial realism, visualization and collaboration




Source: nVIDIA Press Release
Links


Tags: fx | high-end | nvidia | quadro | x2