Abit ha lanciato una nuova scheda madre per piattaforme Intel con memoria DDR2: si tratta della AW8D (cfr. foto seguenti), che è basata sul chip-set i975X Express, supporta le recenti cpu Intel single-core e dual-core ed è dotata di 2 slot PCI-Express x16.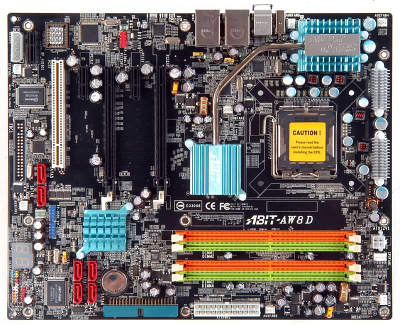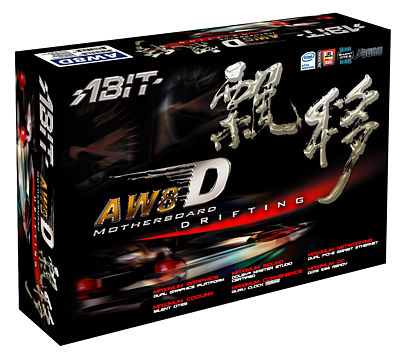 Tra le funzionalità di grido di questa motherboard vi sono la compatibilità con la tecnologia CrossFire di ATI, il valore del FSB pari a 1066MHz, la possibilità di allocazione di 8Gb di memoria RAM DDR2-800, i dischi SATA II e la connettività Gigabit.
Segue l'annuncio ufficiale del produttore.

17 April 2006 – Today sees the launch of the new ABIT AW8D motherboard, based on the Intel 975X express chipset.
The road to ultimate performance is fraught with twists and turns. Handling the hairpin turns of overclocking takes total control – complete interaction between man and machine. One wrong maneuver could mean the difference between crossing the finish line and careening off the track. Does your PC have what it takes to drift into performance nirvana?
Be sure with the ABIT AW8D. Engineered with the finest components and latest technologies, the AW8D gives you the control and stability you need to redline your system for maximum performance. The Intel 975X chipset delivers blistering visual output with not one, but two PCI-E graphics slots. With support for ATI CrossFire, dual-core CPUs, and DDR2-800 memory bristling under the hood, the AW8D-MAX gives you the horsepower to take your PC to the next level.
Take the wheel and shift into high gear with ABIT's μGuruTM interactive system management, which allows you to monitor and overclock your system on-the-fly. Dual native PCI Express Gigabit LAN ensures maximum networking speeds and IEEE 1394 support allows the AW8D to connect to today's high speed peripherals. For the ultimate ride, ABIT's exclusive Silent OTESTM Technology keeps your system cooled with zero noise, allowing you to fully enjoy the Dolby® Master Studio Certified audio. ABIT's AudioMAX 7.1 High Definition audio delivers a signal to noise ratio of over 99dB for the highest audio quality.
Embedded in this beautiful beast you will find specialized PWM design and placement, with the inclusion of a higher and wider heatsink to facilitate excellent heat transfer. To top it off you will find excellent placement of high quality Japanese made capacitors around the high frequency PCI-Express slots to provide stable and durable voltage regulation.





Source: Abit Press Release
Links