nVIDIA ha annunciato, mediante il comunicato stampa che è riportato di seguito, la nuova linea di processori grafici per notebook chiamata GeForce Go 7900, concepita per consentire il gaming estremo ad alta definizione XHD (Extreme High-Definition, ndr) anche su piattaforme mobile.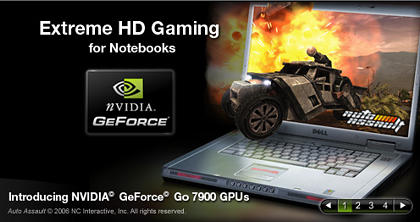 Al momento la famiglia di gpu GeForce Go 7900 è composta da due modelli, ovvero i chip 7900 GTX (top di gamma) e 7900 GS.
Queste le principali specifiche rese note dal produttore:
Support for DirectX 9.0 Shader Model 3.0 and HDR lighting
H.264 hardware accelerated support through NVIDIA PureVideo technology
NVIDIA PowerMizer technology
3D architecture built for Microsoft Windows Vista
Alcuni grandi assemblatori internazionali hanno già in listino personal computer che integrano le nuove gpu: tra questi segnaliamo Dell e Toshiba. A breve soluzioni omologhe saranno disponibili anche dagli altri partner di nVIDIA come ABS, CyberPower, Falcon Northwest, Gateway, Hypersonic, iBuyPower, Velocity Micro, Vicious PC e Voodoo PC (in Nord America) e AJP, Evesham, Gericom, Multirama, Plaisio e XS2 (in Europa).

SANTA CLARA, CA—APRIL 18, 2006—NVIDIA Corporation (Nasdaq: NVDA), the worldwide leader in programmable graphics processor technologies, today unveiled the new NVIDIA GeForce Go 7900 Series of graphics processing units (GPUs), which enable gamers to experience vivid, extreme high-definition (XHD) games on notebook PCs—a dream come true for gamers that demand performance and portability.
The two new GPUs are:
GeForce Go 7900 GTX GPU – the new NVIDIA flagship GPU which delivers XHD graphics performance and extends the Company's position as a performance leader.
GeForce Go 7900 GS GPU – enables superior gaming performance in slimmer performance notebooks
"At XHD screen resolutions of 1680x1050 and 1920x1200, games have up to 65% more image detail than games viewed on common 1024x768 notebook screens," said Jeff Fisher, Senior Vice President of the GPU Business at NVIDIA. "These powerful GPUs are designed to blaze through games at extreme HD resolutions with state-of-the-art 3D graphics effects. The result is a greatly enhanced level of realism and immersion for gamers on the go."
The Company's previous top-of-the-line mobile GPUs set a new standard for performance that established them as the GPUs of choice in enthusiast gaming notebooks from top manufacturers. The new GeForce Go 7900 Series of GPUs, with higher performance per watt efficiency, raise the performance bar to new heights.
The NVIDIA GeForce Go 7900 Series of GPUs feature support for advanced technologies that enhance the mobile computing experience:
Support for the latest games and applications with DirectX 9.0 Shader Model 3.0 and film quality high dynamic range (HDR) lighting, the must-have feature for developers delivering more realism to real-time gaming.
H.264 hardware accelerated support through NVIDIA PureVideo technology—the combination of HD video processors and software delivers a HD home-theater quality video experience to the PC.
NVIDIA PowerMizer technology, with advanced power management features that enable the dramatic performance enhancements in the same power budget as the previous generation of NVIDIA mobile GPUs. The reduced power consumption and less heat generation result in cooler and smaller notebooks with increased battery life.
A high performance 3D architecture built for Microsoft Windows Vista— the industry's first operating system to require a dedicated GPU to realize its full potential.




Source: nVIDIA Press Release
Links


Tags: gaming | geforce | geforce go 7900 | notebook | nvidia