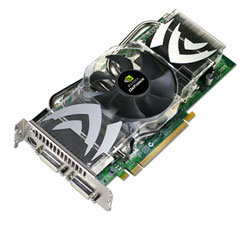 Come ampiamente preannunciato, nVIDIA ha scelto la manifestazione del CeBit, attualmente in corso nella città tedesca di Hannover, per annunciare la nuova linea di processori grafici che comprende GeForce 7900 GTX (top di gamma), GeForce 7900 GT (prodotto di fascia media) e GeForce 7600 GT (quest'ultimo è accreditato dal produttore come degno erede del precedente GeForce 6600 GT che si è distinto per un ottimo rapporto prezzo/prestazioni, ndr).
Concepite per l'architettura del prossimo Windows Vista, le nuove gpu supportano Microsoft DirectX 9.0 con Shader Model 3.0 e Vertex Texture Fetch (VTF), PureVideo ed accelerano H.264: il modello di punta è in grado di operare alla risoluzione di 1920x1200 in High Definition e nel 3D Gaming.
Numerosi i produttori di video card che hanno pronte schede grafiche basate sui nuovi chip nVIDIA, eccoli in dettaglio: Albatron, AOpen Inc., ASUSTek Computer Inc., BFG Technologies Inc., Biostar, Chaintech Computer Co. Ltd., Cheer Ascent, City Gate / Triple-D, Club3D, ELSA, Epsco, EVGA Corporation, Gainward Co. Ltd., Galaxy, Gigabyte Technology Co., Ltd., Innovision, Jaton, Jetway, Leadtek Research Inc., MSI Computer Corporation, Palit Microsystems, Inc., Prolink, PNY Technology, Point of View, Sigmacom, SPARKLE Computer Co., Ltd., e XFX.

CeBIT 2006—HANNOVER, GERMANY—MARCH 9, 2006— NVIDIA Corporation (Nasdaq: NVDA), the worldwide leader in programmable graphics processor technologies, today announced three new additions to the NVIDIA GeForce 7 Series of graphics processing units (GPUs) set to make extreme high-definition (HD) gaming a reality. These new GPUs include:
GeForce 7900 GTX GPU – the new flagship GPU from NVIDIA delivers blazing core clocks for ultra-fast graphics performance and extends the Company's performance leadershipi.
GeForce 7900 GT GPU – a new performance GPU that offers up to double the performance of the Company's last generation performance product.
GeForce 7600 GT GPU – this new midrange GPU is destined to inherit the unofficial title of "price/performance leader" from the product it replaces, the GeForce 6600 GT GPU.
These new GPUs are all immediately available from leading add-in card manufacturers, retailers, and e-tailers.
"NVIDIA continues to deliver the best GPU solutions for each market segment that we serve," said Ujesh Desai, general manager of desktop GPUs at NVIDIA. "By combining GeForce 7 Series GPUs with our NVIDIA nForce MCPs and NVDIA SLI technology, we are able to deliver a total platform solution that provides astonishing performance and immaculate image quality for our customers."
By making the award-winning GeForce 7 Series graphics architecture available to a variety of key market segments, NVIDIA has made it easier for PC OEMs, ODMs, and consumers to harness the power of the GeForce 7 architecture to drive extreme HD resolutions of 1920x1200 and higher. This enables superb visual quality and performance for playback of HD and DVD content as well as a stunning widescreen PC gaming experience.
Boasting the renowned GeForce 7 Series features—which contributed to NVIDIA sweeping nearly every GPU product-of-the-year award from leading technology publications—the new GeForce 7900 and 7600 GPUs deliver advanced technologies including:
The industry's only GPU architecture with full support for Microsoft® DirectX® 9.0 Shader Model 3.0—including vertex texture fetch (VTF) —enabling advanced shading programs for more realistic effects.
H.264 hardware accelerated support through NVIDIA PureVideo™ technology—the combination of HD video processors and software delivers a HD home-theater quality video experience to the PC.
Designed for NVIDIA SLI™ technology— a revolutionary platform innovation that allows users to intelligently scale graphics performance by combining multiple NVIDIA graphics solutions in a single system with an NVIDIA nForce SLI MCP. Using proprietary software algorithms and dedicated scalability logic in each NVIDIA GPU and MCP, SLI technology delivers the highest performance computing solution.
A high performance 3D architecture built for Microsoft Windows Vista™— the industry's first operating system to require a dedicated GPU to realize its full potentialiv.
Some of the world's leading add-in card partners will be offering graphics cards based on the new NVIDIA GeForce 7 Series GPUs, including Albatron, AOpen Inc., ASUSTek Computer Inc., BFG Technologies Inc., Biostar, Chaintech Computer Co. Ltd., Cheer Ascent, City Gate / Triple-D, Club3D, ELSA, Epsco, EVGA Corporation, Gainward Co. Ltd., Galaxy, Gigabyte Technology Co., Ltd., Innovision, Jaton, Jetway, Leadtek Research Inc., MSI Computer Corporation, Palit Microsystems, Inc., Prolink, PNY Technology, Point of View, Sigmacom, SPARKLE Computer Co., Ltd., and XFX.





Source: nVIDIA Press Release
Links


Tags: geforce | geforce 7900 | geforce 7900 gtx | gt | gtx