SANTA CLARA, CA—MARCH 2, 2006—NVIDIA Corporation (Nasdaq: NVDA), the worldwide leader in programmable graphics processing technologies, today announced the immediate availability of new NVIDIA PureVideo technology enabling comprehensive support for high-definition video including hardware acceleration for content based on the advanced H.264 specification.
H.264, which is also known as the Advanced Video Codec (AVC) specification or MPEG-4 Part 10, is one of the digital video codecs specified for the Blu-ray (BD) and High Definition DVD (HD DVD) formats. H.264 delivers two to three times the compression efficiency of the MPEG-2 standard, which is used to create current DVD videos. H.264 has been adopted by both the DVD Forum for HD DVDs and the Blu-ray Disc Association for Blu-ray Discs, and VC-1 has also been adopted by the DVD Forum for HD DVDs.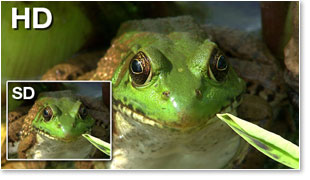 NVIDIA PureVideo technology provides hardware acceleration for decoding H.264, VC-1, WMV and MPEG-2 movies and performs post processing techniques on the decoded high definition content, including spatial-temporal de-interlacing and inverse telecine. This provides consumers with precise images that have up to six times the detail of standard DVD movies. The PureVideo discrete video processing core offloads the CPU and 3D engine of complex video tasks, freeing the PC to run multiple applications simultaneously, while consuming less power.
Consumers with PCs built with the following NVIDIA products, will be able to watch high-definition videos and DVDs with the highest level of visual quality and performance:
NVIDIA GeForce 7-series of GPUs for the desktop and notebook PC
NVIDIA GeForce 6-series of GPUs for the desktop and notebook PC
NVIDIA nForce 6150 family of integrated GPUs
"With the introduction of our latest version of PureVideo technology, NVIDIA is enabling a new era of high-definition movie and television viewing on a PC," said Scott Vouri, general manager of multimedia products at NVIDIA. "While it seems as if the rest of the industry focuses on improving standard definition processing capabilities, we are providing consumers with the high-definition video processing and acceleration."

NVIDIA has been working closely with InterVideo, CyberLink and Nero software to include NVIDIA PureVideo acceleration and post-processing in their H.264 codecs, thereby leveraging the Company's highly-advanced algorithms to deliver high quality and performance on today's PCs.

"As desktop and notebook PCs are being relied on to deliver the best video experience, you will have to ensure that you have the right combination of hardware and software," said Alice H. Chang, CEO of CyberLink Corp. "It was only natural for us to work with NVIDIA, for the company's depth of experience in developing video and graphics technologies will enable us to bring high-definition video content to consumers worldwide."

"This is yet another milestone for Nero," stated John Tafoya, Vice President of Business Development at Nero Inc. "We were the first-all-in-one digital media suite to be delivered with Samsung in their Blu-ray disc demos, and now we are teaming with NVIDIA to bring this same technology to the PC market, where we are pioneering the way for HD videos to become a reality in the PC market."

NVIDIA PureVideo with H.264 support will be available immediately at www.nvidia.com.





Source: nVIDIA Press Release
Links