Il publisher Warner Bros. Interactive Entertainment e la software house Techland hanno pubblicato un nuovo trailer finalizzato alla presentazione dei luoghi e degli ambienti che attendono i player del DLC The Following dedicato alla versione single-player del game Dying Light.
In accordo a una descrizione pubblicata della stessa Techland, The Following è una espansione che può vantare una dimensione talmente ampia da raddoppiare quella del game Dying Light in versione originale.
Dying Light è un survival horror in prima persona e in open-world, basato sul motore grafico Chrome Engine 6, il cui rilascio è avvenuto a gennaio 2015 per le piattaforme di gioco Microsoft Windows, Linux, PlayStation 4 e Xbox One.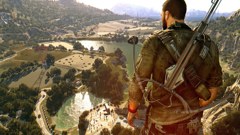 [Immagine ad alta risoluzione]

Il rilascio del DLC The Following è pianificato per il prossimo 9 febbraio ed è indirizzato alle edizioni di Dying Light per PC, Xbox One e PlayStation 4.





Collegamenti


Tags: dlc | dying light | game | techland | the following | trailer