Con la seguente immagine pubblicata attraverso il profilo FB ufficiale del brand Republic of Gamers (ROG), in gergo denominata teaser, ASUS ha mostrato in anteprima al suo pubblico una misteriosa video card, senza fornire naturalmente alcun dettaglio aggiuntivo.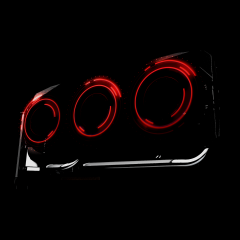 [Immagine ad alta risoluzione]
Come si evince dalla citazione presente di seguito, ASUS si Ŕ limitata a esaltare il prodotto, che include peraltro "uno scudo", e in particolare la sua velocitÓ e l'efficienza del sistema di raffreddamento.
---
"What is blazing fast, keeps its cool under pressure, protected by armor, and you don't even hear it coming?"
---
In accordo ad ASUS, il cooler, che Ŕ evidentemente dotato di tre ventole ed Ŕ perfetto per i sistemi orientati al modding, Ŕ in grado di mantenere sempre basse le temperature, a fronte di una rumorositÓ limitata.

Al momento non Ŕ naturalmente chiaro quale sia la video card oggetto del teaser: potrebbe trattarsi di una versione personalizzata della prossima GeForce GTX 980 Ti di NVIDIA, oppure di una variante, non reference, della GeForce GTX Titan X.

Non sembra possibile, infine, che il misterioso prodotto sia basato su una GPU AMD dal momento che la prossima Radeon con processore grafico Fiji XT, forse denominata dal marketing Radeon FURY, sarÓ caratterizzata da un PCB di dimensioni compatte ed equipaggiata con un sistema di raffreddamento ibrido che include una sola ventola PWM.





Collegamenti


Tags: asus | geforce gtx 980 ti | modding | nvidia | preview | rog | teaser | video card