Colpo di scena: la GeForce GTX 970 di NVIDIA, ovvero la video card Maxwell più potente nel mercato consumer dopo la più costosa GeForce GTX 980, potrebbe essere interessata da un bug a livello hardware che comprometterebbe parzialmente l'efficienza del canale tra GPU e frame buffer nei casi in cui la scheda video venga spinta al limite dalle applicazioni che determinano un elevato consumo di risorse in termini di memoria video.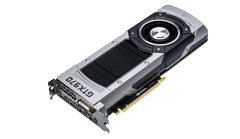 [Immagine ad alta risoluzione]
Il caso è nato dalla pubblicazione dei risultati di un software di testing, Nai's Benchmark, effettuata da un utente avanzato sul forum di OverClock.net. Più in dettaglio, mediante questo applicativo sono state messe alla prova una GeForce GTX 970 e una GeForce GTX 980.
Mentre con la GeForce GTX 980 si riscontra un comportamento lineare su tutta la capacità del frame buffer, che sappiamo avere una dimensione pari a circa 4GB sia nel caso della GTX 980 che in quello della GTX 970, con quest'ultima si nota un calo delle prestazioni in termini di throughput, o banda, nel caso in cui la GPU acceda agli ultimi 500MB circa della memoria locale.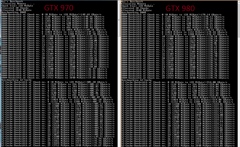 [Immagine ad alta risoluzione]
Più in dettaglio, osservando la schermata di sinistra relativa alla GeForce GTX 970, si nota un brusco calo della banda dal valore tipico di 150GB/s circa a 46.4GB/s prima e a 22GB/s poi. Nel caso della sorella maggiore, invece, emerge che, al variare del frammento di frame buffer sollecitato, la risposta resta sempre perfettamente collocata intorno ai 178GB/s.
Questa evidenza è allineata con il fenomeno del "micro stuttering" (improvvisi cali del frame rate rispetto al valore medio), denunciato da diversi utenti su numerosi forum, tra cui quello dello stesso produttore del processore grafico e, più in generale, della scheda video a livello di design reference, che si verifica con i game particolarmente stressanti per la memoria video (poichè, ad esempio, eseguiti ad altissima risoluzione e/o con impostazioni grafiche molto spinte).
NVIDIA ha sostanzialmente preso posizione sul forum ufficiale, dove il moderatore ManuelG, intervenuto sull'argomento ha affermato quanto segue: "We are still looking into this and will have an update as soon as possible". E' chiaro che un feedback di questo tipo non rappresenta alcun riconoscimento della problematica, ma nemmeno smentisce sia l'output del benchmark Nai che l'analisi degli utenti.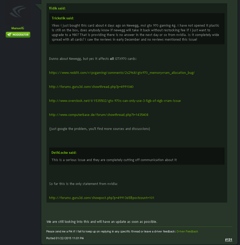 [Immagine ad alta risoluzione]

E' parimenti vero che un simile bug può determinare una scarsa longevità della GeForce GTX 970 nell'era del 4K. Tuttavia, il prezzo end-user del prodotto, pari a 350 euro o giù di lì a seconda del modello e dello store, potrebbe essere sufficientemente elevato da innescare una movimentazione significativa in termini di RMA, qualora NVIDIA dovesse ufficializzare il bug e qualora, come peraltro sembra, questo interesserebbe il lato hardware della card, per cui non sarebbe risolvibile con un aggiornamento del BIOS oppure del driver di periferica di alto livello.





Collegamenti


Tags: banda | bug | frame buffer | geforce gtx 970 | gpu | maxwell | nai benchmark | nvidia