Windows 10 non rappresenterà soltanto il Sistema Operativo Microsoft di nuova generazione per i computer desktop e notebook, o in breve PC, e per i tablet, dal momento che esso sarà in grado di supportare anche gli smartphone. A rivelarlo è stata la essa MS, attraverso un tweet pubblicato con l'account ufficiale dedicato al brand Lumia. Questo il messaggio completo inviato dal gigante di Redmond attraverso Twitter.
---
There will be Windows 10 upgrades for all Lumia Windows Phone 8 devices :) And we will release new Windows 10 models in the future!
---
Microsoft ha quindi ufficializzato che tutti gli smartphone Lumia, attualmente configurati con l'OS Windows Phone 8, saranno aggiornabili con Windows 10. Ma non soltanto: MS ha preannunciato anche il rilascio di ulteriori edizioni di Windows 10, sempre più ottimizzate per il mondo Lumia.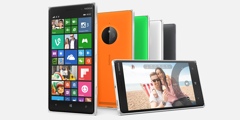 [Immagine ad alta risoluzione]

E' altresì evidente che un simile annuncio evidenzia anche la volonta di Microsoft in relazione al progressivo passaggio in phase-out del brand Windows Phone in favore di Windows 10 e della sempre maggiore integrazione tra i sistemi di varia natura che esso dovrebbe consentire.





Collegamenti


Tags: lumia | microsoft | smartphone | tweet | twitter | windows 10 | windows phone 8