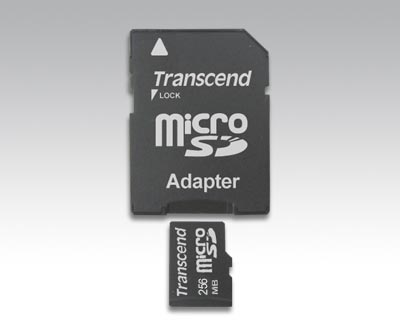 As more and more advanced, and compact mobile devices make their way onto our shelves, the demand for smaller, higher capacity and better performing Flash Memory Cards increases. The multimedia applications that many of the current Smart Phones, PDAs and Pocket PCs, are memory intensive and require the extra memory capacity of a memory card for storing photos, music and data. With this in mind and to ensure you get the most from your hi-tech devices, Transcend Information Inc., a world leader in flash memory devices, has developed its latest high performance 256MB microSD Memory Card, and at only half the size of a mobile phone SIM card it is the smallest memory card in the world.
The microSD card's really tiny size and impressively fast data transfer speeds of up to 10MB/sec make it the perfect choice of Memory Card for use in the next generation of mobile phones, which include a memory card slot as standard. Transcend's microSD card can also be used in regular SD memory card slots by combining the card with its provided adapter, thus ensuring that the microSD card can be used in all compliant SD card devices.
Now you have the convenience of being able to save your photos, MP3 music, or MPEG 4 video clips onto one tiny 256MB microSD card, which can be used in your personal mobile devices. Having focused on the research and development of flash memory cards for many years, Transcend insists on only using original SLC (Single-Level-Cell) NAND Flash chips in its microSD cards. By testing many digital cameras and mobile phones, which incorporate a microSD, or SD card slot, we ensure that Transcend's microSD cards are fully compatible and guarantee the best performance results from your Hi-Tech portable devices.
Product Features
Approx 20% of the size of a standard SD Card, but with all of the features and performance
Perfect for the next generation of mobile phones and portable devices
microSD adapter allows the card to be used in standard SD card slots
Adoption of original SLC NAND flash chips
Compliant with the Secure Digital Music Initiative (SDMI) portable device requirements




Source: Transcend Press Release
Links


Tags: card | microsd | transcend