Intel ha annunciato oggi presso l'IFA di Berlino, in Germania, il nuovo processore a basso consumo e prestazioni elevate denominato Core M. In accordo alla presentazione del chip maker, siamo di fronte a una soluzione progettata per l'equipaggiamento dei nuovi sistemi 2 in 1, che abbinano le funzionalità tipiche di un notebook, o di un ultrabook, a quelle di un tablet.

Con il suo Core M Intel ha realizzato un prodotto il cui package ha una dimensione inferiore del 50% rispetto a quella della generazione precedente; parimenti, il consumo di potenza si è dimezzato rispetto a quello dei chip commercializzati dallo stesso produttore quattro anni fa.

Ma sono le prestazioni a impressionare: sempre secondo Intel, infatti, il Core M offre complessivamente un livello prestazionale superiore del 50% a quello delle cpu Core di quarta generazione. In ambito grafico il divario si attesta intorno al 40%.

L'elenco dei partner, annunciati da Intel, che utilizzeranno il processore Core M per i nuovi sistemi 2 in 1 include Acer, ASUS, Dell, HP, Lenovo e Toshiba, ovvero il gotha dei system builder operanti nel settore.

L'arrivo sul mercato dei primi sistemi con processore Intel Core M è pianificato per la seconda parte dell'ultimo trimestre dell'anno.

Attraverso le seguenti slide ufficiali è possibile prendere visione anche della mappa del die del processore Core M e dei modelli attualmente presenti nel catalogo di Intel.
[Immagine ad alta risoluzione]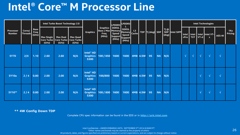 [Immagine ad alta risoluzione]
[Immagine ad alta risoluzione]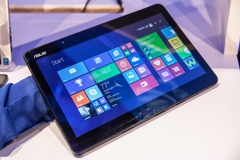 [Immagine ad alta risoluzione]

IFA, Berlin, Sept. 5, 2014 – At IFA, a global trade show for consumer electronics and home appliances, Intel launched the new Intel Core M processor, which will power new 2 in 1 devices from a variety of manufacturers including: Acer*, ASUS*, Dell*, HP*, Lenovo* and Toshiba*. Delivering the optimal blend of mobility and performance, Intel's new processor was purpose-built for amazing performance in the thinnest, fanless ultra-mobile devices. The Intel Core M processor can power razor-thin devices with Intel Core processor-level performance and deliver up to double the battery life when compared to a 4-year-old system.2

"We've been on a multi-year mission to address end-user requirements and transform mobile computing," said Kirk Skaugen, senior vice president and general manager of personal computing at Intel Corporation. "The introduction of Core M marks a significant milestone in that journey. Core M is the first of a new product family designed to deliver the promise of one of the world's thinnest laptops and highest performance tablets in a single 2 in 1 device."

Faster Performance, Even More Battery Life
The Intel Core M processor enables up to 50 percent faster compute performance and 40 percent faster graphics performance versus the comparable, previous 4th generation Intel Core processor.3 Consumers with older PCs will notice a more significant performance improvement. The Intel Core M processor delivers up to two times the compute performance and up to seven times better graphics compared to a 4- year-old PC, for example.2

In 2013, Intel delivered the biggest generation-over-generation battery life improvement in the company's history. The Intel Core M processor and platform power reductions raise the bar on battery life even higher. The Intel Core M processor can handle more than 8 hours of video play, which is up to 20 percent (1.7 hours) longer battery life versus the previous-generation Intel Core processor4 and double the battery life of the average 4-year-old PC.1

Thin, Fanless 2 in 1s Available for Holiday 2014...and Beyond
The Intel Core M processor package is 50 percent smaller and, at 4.5 watts, has 60 percent lower thermal power than the previous generation.5 This lets OEMs design sleek, fanless systems less than 9 mm thin – thinner than an AAA battery and today's sleekest laptops. There are already more than 20 Intel Core M processor-based OEM products in the development pipeline. The first systems based on the Intel Core M processor will be on shelves for the holiday selling season.

At IFA, manufacturers including Acer, ASUS, Dell, HP, and Lenovo unveiled new, coming-soon Intel Core M processor-based devices across a range of sizes, styles and price points.
In Q4, Acer will expand its popular 2-in-1 series of notebooks with the Aspire Switch 12*, featuring a 12.5-inch FHD display with unique kickstand and magnet keyboard to move smoothly between five modes.
ASUS introduced the ASUS Zenbook UX305*, an incredibly light and thin Ultrabook with a 13-inch QHD display and the ASUS Transformer Book T300FA* 2 in 1, which was unveiled during the Intel keynote. The Transformer Book T300FA is a high-performance 2 in 1 and is expected to be available in Europe this fall for an estimated €599. Looking ahead, ASUS plans to go even thinner with the ASUS Transformer T300 Chi*.
Dell has announced its first commercial 2 in 1, the Latitude 13 7000 Series*, which combines a lightweight business Ultrabook and a detachable tablet in one powerful, no-compromise device.
HP further extends its award-winning ENVY portfolio with the addition of two new HP ENVY x2* detachable PCs, available in 13.3-inch and 15.6-inch form factors.
The new Lenovo ThinkPad Helix*, available in October, is 12 percent lighter and measures 15 percent thinner than its predecessor while packing even more power thanks to the Intel Core M processor.
Intel also previewed a forthcoming Intel Core M processor-based design from Toshiba, and said broader availability of Intel Core M processor-based devices is expected in the first half of next year.

To further system choice and availability, Intel said it is working with ODMs including Wistron* and others. Wistron plans an Intel Core M processor-based design inspired by the Intel "Llama Mountain" reference device. Intel first unveiled the stunning, fanless Llama Mountain reference device, which measures 7.2 mm thin and weighs a mere 670 grams, at Computex in Taiwan earlier this year.

A "Conflict-Free" Processor; Additional Features
Intel Core M is a "conflict-free" product, which means this product does not contain conflict minerals (tin, tantalum, tungsten and/or gold) that directly or indirectly finance or benefit armed groups in the Democratic Republic of the Congo (DRC) or adjoining countries.

The Intel Core M processor is available in several versions: the up to 2.0 GHz Intel Core M-5Y10/5Y10a processors and the up to 2.6 GHz Intel Core M-5Y70 processor. The Core M-5Y70 is the highest performing Intel Core M processor and is also available with Intel vPro technology for business 2 in 1s with built-in security features to help protect data, user identities and network access.6

Additional Intel Core M platform features include support for high-quality audio, Intel Wireless Display 5.0, Intel's second-generation 802.11ac products and will evolve to support wireless docking with WiGig from Intel. For more information visit: www.intel.com.



Source: Intel Press Release
Links


Tags: core m | cpu | ifa 2014 | intel | notebook | processore | tablet | ultrabook