AMD (NYSE: AMD) presenta oggi la scheda grafica AMD Radeon R9 285, la più recente GPU per desktop appartenente alla premiata famiglia AMD Radeon R9 Series. Radeon R9 285 offre, a un pubblico ancora più ampio, le eccellenti caratteristiche della AMD Radeon R9 290, come ad esempio il supporto a Project FreeSync e alla tecnologia AMD TrueAudio. AMD Radeon R9 285 è stata progettata per far funzionare al massimo livello di dettaglio, a risoluzione di 1080p e oltre, anche i videogiochi più impegnativi da un punto di vista grafico.

AMD ha svelato per la prima volta la nuova AMD Radeon R9 285 nel corso dell'evento 30 Years of Graphics & Gaming, tenutosi lo scorso 23 agosto. La scheda sfrutta le più recenti innovazioni offerte dall'architettura Graphics Core Next (GCN)[1], come il supporto alle prossime DirectX12[2] e alle rivoluzionarie API Mantle[3] di AMD. La nuova arrivata della famiglia Radeon è caratterizzata da una velocità di clock di 918MHz e da 2GB di memoria con frame buffer a 5.5 Gbps. La nuova GPU Radeon assicura prestazioni di calcolo fino a 3,29 teraFLOPS che le permettono di offrire un livello di dettaglio grafico a risoluzione 1080p in grado di surclassare qualsiasi concorrente della stessa categoria. Le versioni overcloccate e customizzate dei partner AiB di AMD sono disponibili a partire da oggi.

Tra le altre caratteristiche offerte da AMD Radeon R9 285 troviamo:
1.792 stream processor
frequenza di clock fino a 918 MHz
2GB di memoria GDDR5
velocità della memoria fino a 5,5 Gbps
capacità di calcolo pari a 3.29 TFLOPS in precisione singola
supporto alle API DirectX 12, OpenGL 4.3 e Mantle
supporto alla tecnologia AMD Eyefinity
supporto a Project FreeSync
supporto alla tecnologia AMD TrueAudio
Le nuove schede grafiche AMD Radeon R9 285 sono disponibili a partire da oggi a un prezzo indicativo per il mercato italiano compreso tra i 239 e i 259 euro, a seconda del brand di riferimento.

AMD annuncia inoltre Never Settle: Space Edition, l'ultimo aggiornamento della popolare promozione AMD Never Settle. Il nuovo bundle comprende, tra gli altri, Alien: Isolation e Star Citizen Mustang Omega Variant Racer[4] di Accelerated Mass Design. AMD prosegue quindi la sua tradizione di premiare i videogiocatori offrendo loro l'opportunità di scegliere i loro titoli preferiti a partire da una lista di giochi di grande interesse. Gli utenti potranno infatti scegliere tre titoli tra i 29 disponibili – si tratta della più ampia selezione di giochi mai messa a disposizione con il programma "Never Settle".

I giocatori avranno quindi modo di scoprire il vero significato della paura con Alien: Isolation, un survival horror ambientato in un'atmosfera di costante paura e di pericolo. Quindici anni dopo gli eventi narrati nel film Alien, Amanda, la figlia di Ellen Ripley, si trova a dover combattere una disperata battaglia per la sopravvivenza all'interno di una missione che rivelerà la verità sulla scomparsa della madre.

Star Citizen è invece un simulatore spaziale ricco e variegato, realizzato dagli sviluppatori di Wing Commander; all'interno di Never Settle: Space Edition gli utenti troveranno il fantastico Star Citizen Omega Variant Racer e la possibilità di accedere ai primi due moduli del gioco.

Il lancio di Alien: Isolation è previsto per il 7 ottobre prossimo, mentre Star Citizen Mustang Omega Variant Racer sarà disponibile a partire dal 1° ottobre[5].

"Oggi è un giorno importante per il settore grafico di AMD. Da un lato stiamo lanciando sul mercato la nuova Radeon R9 285 che rappresenta il nostro prodotto più avvincente per il gaming in alta risoluzione; dall'altro, con il nuovissimo bundle 'Never Settle', consolidiamo ulteriormente la nostra Unified Gaming Strategy dedicata al mondo del gaming", spiega Matt Skynner, corporate vice president, Computing and Graphics Business, AMD. "Questi ultimi annunci confermano il nostro impegno nell'offerta di prodotti grafici di alto livello e mostrano la forza delle nostre relazioni con i più importanti sviluppatori di videogiochi a livello mondiale".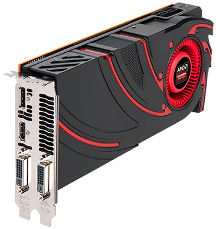 [Immagine ad alta risoluzione]

AMD (NYSE: AMD) today launched the AMD Radeon R9 285 graphics card, serving as the newest desktop GPU in the award-winning AMD Radeon R9 series graphics family. The Radeon R9 285 graphics card brings the robust feature set of AMD's Radeon R9 290 series graphics, like support for Project FreeSync and AMD TrueAudio technology, to even more gamers. The AMD Radeon R9 285 graphics card has been designed to run the most demanding games with ultimate settings at 1080p and beyond.

AMD first unveiled the AMD Radeon R9 285 graphics card during its 30 Years of Graphics & Gaming event on August 23, 2014. It comes packed with the latest Graphics Core Next (GCN) Architecture1 innovations like support for the upcoming DirectX122 and AMD's revolutionary Mantle API3. The newest addition to the Radeon family features an engine clock speed of 918 MHz, and 2 GB of frame buffer running at 5.5 Gbps. The Radeon R9 285 GPU is capable of delivering up to 3.29 teraFLOPS of computing performance, offering extreme gaming detail that outshines any card at 1080p and beyond in its category. Custom and overclocked AiB SKUs are available today.

Additional features of the AMD Radeon R9 285 graphics cards include:
1,792 stream processing units
Up to 918 MHz engine clock
2GB GDDR5 memory
Up to 5.5 Gbps memory clock speed
3.29 TFLOPS Single Precision compute power
API support for DirectX 12, OpenGL 4.3 and Mantle
Support for AMD Eyefinity technology
Support for Project FreeSync
Support for AMD TrueAudio technology
AMD Radeon R9 285 graphics cards are available today at an SEP of $249 USD.

AMD also launched "Never Settle: Space Edition," the latest iteration of AMD's popular game bundle promotion. This bundle also includes Alien: Isolation and the Mustang Omega Variant Racer4 from Accelerated Mass Design in Star Citizen. AMD is following its tradition of offering choice by letting gamers select from a strong line-up of in-demand games as a reward for purchasing select AMD Radeon graphics cards. Users will receive up to three choices from a library of up to 29 different games. This stands out as the widest selection of games in the history of the "Never Settle" program.

Players will discover the true meaning of fear in Alien: Isolation, a survival horror set in an atmosphere of constant dread and mortal danger. Fifteen years after the events of the Alien motion picture, Ellen Ripley's daughter Amanda enters a desperate battle for survival, on a mission to unravel the truth behind her mother's disappearance.

Star Citizen is a rich, multi-faceted space sim from the developers of Wing Commander; included in Never Settle: Space Edition is a valuable Star Citizen Omega Variant Racer and access to the game's first two modules.

Alien: Isolation is scheduled to be released on October 7, 2014 and the Star Citizen Mustang Omega Variant Racer will be available on October 1st, 2014.5

"Today marks a very important day for AMD graphics. We're introducing the most compelling product in the market for high resolution gaming with the Radeon R9 285 GPU, and also continuing our dedication to AMD's Unified Gaming Strategy, with the newest 'Never Settle' bundle," said Matt Skynner, corporate vice president, Computing and Graphics Business, AMD. "These announcements demonstrate our commitment to delivering world-class graphics products and show the strength of our relationship with the world's most renowned game developers."



Source: AMD Press Release
Links


Tags: amd | amd radeon r9 285 | comunicato stampa | gcn | mantle | press release | tonga