Nel corso dell'evento Years of Graphics and Gaming Innovation, AMD ha ufficializzato le frequenze di clock e il prezzo per l'utente finale della prossima video card Radeon R9 285, il cui lancio è fissato per il prossimo 2 settembre.
La nuova proposta di AMD, che è basata sulla gpu a 28nm Tonga (questo chip include 1792 stream processor, 112 TMU e 32 ROP), una soluzione con cui il chip designer punta a garantire prestazioni simili a quelle del chip Tahiti ma riducendo il consumo di potenza, può essere equipaggiata con un frame buffer da 2GB o 4GB realizzato con memorie G-DDR5.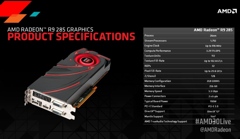 [Immagine ad alta risoluzione]
Il core grafico della gpu Tonga della Radeon R9 285 lavora con una frequenza di clock massima pari a 918MHz, mentre la velocità effettiva del frame buffer è pari a 5.5GHz.
Con la seguente slide AMD ufficializza inoltre la sfida alla GeForce GTX 760 di NVIDIA: in base ad alcuni test eseguiti dalla stessa Advanced Micro Devices, in ambiente Battlefield 4 e alla risoluzione video pari a 2560 x 1440 pixel, la Radeon R9 285 è più veloce della GTX 760 e il divario prestazionale massimo misurato è pari al 15%.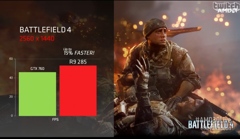 [Immagine ad alta risoluzione]

Il prezzo della Radeon R9 285 in versione reference è pari a $249, anche se non mancheranno le proposte ampiamente personalizzate dai partner a partire dal chip grafico Tonga.





Collegamenti