Acer ha annunciato XB280HK, il primo monitor Ultra HD 4k2k dotato di supporto della tecnologia G-SYNC di NVIDIA, attraverso la quale è possibile ottimizzare la resa grafica dei game migliorando la gestione del segnale video che la GPU invia al display.

Il monitor XB280HK di Acer, a proposito del quale sottolineiamo che al momento il produttore non ha diffuso alcuna foto ufficiale, è basato su un pannello da 28-inch, con retroilluminazione di tipo LED backlit, capace di lavorare con la risoluzione video nativa 4k2k Ultra HD pari a 3840 x 2160 pixel.

In accordo al vendor, il monitor XB280HK è caratterizzato anche dagli angoli di visualizzazione orizzontale e verticle uguali tra loro e pari a 170° e da un sistema di regolazione automatica della luminosità ("Low dimming technology") che adatta (e più in dettaglio riduce) il livello di tale grandezza alla luminosità dell'ambiente, al fine di non affaticare la vista dell'utente nei casi in cui la periferica operi in condizioni caratterizzate da scarsa luminosità ambientale.

La tecnologia NVIDIA G-SYNC, invece, consente la sincronizzazione ottimale del refresh rate del display con il frame rate del segnale inviato dalla gpu (a tal proposito osserviamo che questa tecnologia richiede una scheda video il cui processore grafico sia di classe GeForce GTX). In tal modo la qualità complessiva della scena grafica visualizzata aumenta, poichè le immagini sono più stabili e definite, e inoltre le problematiche connesse con i fenomeni di screen tearing e stuttering risultano notevolmente ridotte.

Acer ha infine reso noto che le spedizioni del monitor XB280HK cominceranno entro la fine del trimestre corrente.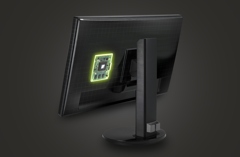 [Immagine ad alta risoluzione]

Acer announces the new Acer XB280HK gaming monitor as the world's first 4k2k display featuring NVIDIA G-SYNC technology to provide stunning, ultra-smooth, tear-free imagery and rich colors for outstanding gaming experiences. It features Acer's flicker-less, low-dimming and ComfyView technologies that reduce strain on the eyes for smooth and comfortable extensive viewing.

Part of the new XB0 line of large gaming monitors, the Acer XB280HK is intended to be paired with enthusiast PCs for immersive, ultra high-end gaming. It features a spacious 28-inch LED backlit display with 4k2k Ultra HD (3840 x 2160 pixels) that's four times the resolution of 1080p Full HD, and presents stunning high quality images for outstanding visual enjoyment.

With a GeForce GTX-powered PC, NVIDIA G-SYNC display technology synchronizes the display's refresh rates to the GPU to eliminate screen tearing and minimize display stutter and input lag to deliver smoother, faster, more breathtaking gaming experiences. Scenes appear instantly, objects look sharper and more vibrant, and gameplay is more fluid and responsive providing gamers with significant performance advantages.

The Acer XB280HK builds in several features that take into consideration prolonged usage by heavy users such as programmers, writers, and graphic designers:
Flicker-less technology – stable power supply eliminates screen flicker particularly beneficial for heavy users by helping to reduce eye strain.
Low dimming technology – adjust to as low as 15 percent brightness in low light environments to make it easy on the eyes. Standard monitor settings start at 30 percent brightness level.
ComfyView technology – the non-glare panel reduces reflection from light source.
The Acer XB280HK features 170/170 degree viewing angles so that brilliantly-colored images can be seen from almost every angle. DisplayPort v1.2 transmits video signals and four USB 3.0 ports are conveniently located at the side and bottom of the display for connecting to keyboard, mouse or mobile devices.

The Acer XB280HK monitor is made with post-consumer recycled plastic and features a distinctive red ring on the base stand. The multi-functional ErgoStand allows the screen to tilt from -5° to 35° to ensure the best viewing angle; the base rotates 120° from left or right for easy screen sharing; the panel height can be raised by up to 150 mm for optimum comfort; and the screen pivots from horizontal to vertical for more viewing perspectives.

This eco-friendly monitor features a mercury- and arsenic-free panel, LED backlighting for reduced power consumption, and is ENERGY STAR qualified.

The Acer XB280HK starts shipping in Q2 in Pan America, EMEA, Japan, and Taiwan.





Source: ACER technology Press Release
Links


Tags: 4k2k | acer | g-sync | gpu | monitor | nvidia | ultra hd | xb280hk