ASUS ha messo alla prova la nuova APU Kaveri A10-7850K di AMD comparandone le prestazioni sia con alcune APU della generazione precedente (nome in codice: Richland) che con il processore mainstream Core i5-4670K commercializzato dalla concorrente Intel.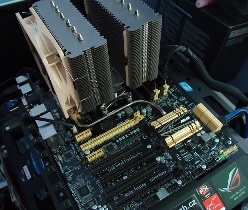 [Immagine ad alta risoluzione]
ASUS ha scelto la motherboard A88X Pro con socket FM2+ per la realizzazione del sistema di misura, senza fornire ulteriori dettagli in merito alla componentistica utilizzata, a meno della video card, una Radeon R9 270X, impiegata per i test in cui non è stata sollecitata la componente iGPU, integrata nella APU, per il rendering dei game.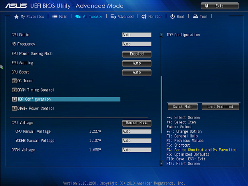 [Immagine ad alta risoluzione]
Focalizzando l'attenzione sulle misure inerenti le performance della nuova APU A10-7850K nell'ambito videoludico, è possibile osservare che la sua iGPU consente di giocare su buoni livelli in Full HD. Il dato emerge dai game Battlefield 4 e League of Legends, entrambi configurati con la risoluzione video pari a 1920 x 1080 pixel e con settaggi grafici su medium e ultra-high rispettivamente.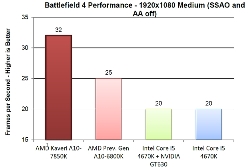 [Immagine ad alta risoluzione]
Con Battlefield 4 la APU A10-7850K fa misurare un frame rate (medio) pari a 32fps, che è significativamente superiore a quello esibito dalla CPU Core i5-4670K di Intel, pari a 20fps, con e senza video card.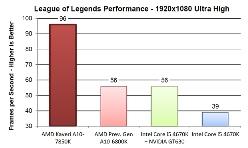 [Immagine ad alta risoluzione]
Il divario cresce con League of Legends: con 96fps la APU A10-7850K supera nettamente la sola CPU Core i5-4670K (39fps) e la coppia composta dalla CPU Core i5-4670K e della scheda video GeForce GT630 di NVIDIA (56fps).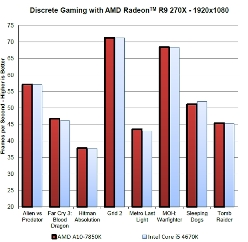 [Immagine ad alta risoluzione]

Le performance della APU A10-7850K e della CPU Core i5-4670K sono invece molto allineate se a esse viene abbinata la video card Radeon R9 270X, al variare di numerosi game, tra cui Tomb Raider, Grid 2, Metro Last Light, Hitman Absolution, Far Cry 3: Blood Dragon e Alien vs Predator.

Un simile dato, tuttavia, può essere anche letto come l'effetto a collo di bottiglia determinato per entrambi i chip dalla Radeon R9 270.





Collegamenti