AMD ha ufficializzato quanto facilmente intuibile considerando che oggi è l'ultimo giorno del 2013: mediante la dichiarazione che vi riportiamo di seguito, infatti, il chip designer statunitense ha reso noto che il rilascio della patch, finalizzata alla introduzione del supporto delle API grafiche Mantle da parte del titolo Battlefield 4, è slittato a gennaio 2014.
---
"After much consideration, the decision was made to delay the Mantle patch for Battlefield 4. AMD continues to support DICE on the public introduction of Mantle, and we are tremendously excited about the coming release for Battlefield 4! We are now targeting a January release and will have more information to share in the New Year."
---
Pur in assenza di ulteriori dettagli relativamente alle motivazioni che hanno indotto alla revisione dello scheduling, è possibile ipotizzare che il ritardo sia dovuto al fatto che DICE, la software house che ha sviluppato Battlefield 4, abbia preferito interrompere i lavori inerenti l'introduzione di nuove feature in favore del bug fixing richiesto dal titolo in più punti, sia lato client che lato server.
Le API Mantle sono una piattaforma dedicata agli sviluppatori di game per PC che, con l'ausilio di librerie di basso livello, punta a rappresentare un framework analogo a quelli disponibili in ambito console, e tale quindi da consentire l'accesso diretto alla GPU, riducendo il carico computazionale per il rendering sia a livello di OS che di CPU.
Seguono alcune slide ufficiali che schematizzano i punti chiave di Mantle, una tecnologia supportata esclusivamente dall'hardware grafico basato sull'architettura proprietaria GCN (Graphics Core Next).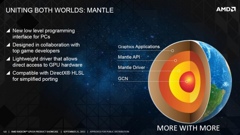 [Immagine ad alta risoluzione]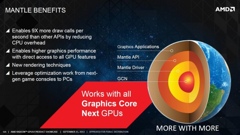 [Immagine ad alta risoluzione]





Collegamenti


Tags: amd | battlefield 4 | dice | game | mantle