Jon Peddie Research (JPR), nota agenzia di ricerca e consulting specializzata nell'analisi delle tematiche di marketing connesse con i comparti della grafica e del multimedia, ha pubblicato i dati di uno studio recente, nel quale sono stati analizzati i volumi dei chip grafici per PC commercializzati e le quote di mercato in riferimento al terzo trimestre del 2013.

In accordo alle stime pubblicate da Jon Peddie Research, il volume complessivo dei chip grafici per PC immessi sul mercato nel Q3 ha superato di 1.6 punti percentuali il dato equivalente registrato nel secondo trimestre; siamo quindi di fronte a una crescita rispetto al trimestre precedente, anche se, ragionando in termini di anno su anno, va rilevata una contrazione pari a circa l'8.8%.

In termini di chip maker, se AMD vede diminuire i suoi volumi di circa il 4.2% rispetto al Q2, NVIDIA e Intel sono invece in grado di esibire una crescita pari al 2.3% e al 3.5% rispettivamente. Si tratta senza dubbio di un buon risultato, ove si consideri la contrazione che nel mercato dei PC č stata indotta dai tablet.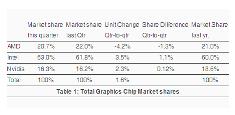 [Immagine ad alta risoluzione]

Jon Peddie Research (JPR), the industry's research and consulting firm for graphics and multimedia, announced estimated graphics chip shipments and suppliers' market shares for 2013 3Q. Q3'13 was the second quarter in a row to show a gain in shipments, up 1.6% quarter-to-quarter, but down 8.8% compared to the same quarter last year.

AMD's overall unit shipments decreased 4.2% quarter-to-quarter, Intel's total shipments increased 3.5% from last quarter, and Nvidia's increased 2.3%. The attach rate of GPUs to PCs for the quarter was 137%, which means only 73% of the PCs with embedded graphics are using them.

The overall PC market increased 6.8% quarter-to-quarter, but declined 7.6% year-to-year.

Q3 is the quarter when retailers stock up for the holiday season and is traditionally seasonally higher than previous quarters. The gain this quarter compared to pre-2008 years is smaller, but it is positive.

GPUs are traditionally a leading indicator of the market, since a GPU goes into every system before it is shipped and most of the PC vendors are guiding down to flat for Q4'13.

The popularity of tablets and the persistent economic slowness are the most frequently mentioned reasons for the decline in the PC market. The CAGR for total PC graphics from 2012 to 2016 is -2.7%; we expect the total shipments of graphics chips in 2016 to be 429 million units. In 2012, 479 million GPUs were shipped and the forecast for 2013 is 436 million.

Over a ten-year period the average quarter-to-quarter change showed a 6.5% increase. This quarter is below the average with a 1.6% increase.

Our findings include discrete and integrated graphics (CPU and chipset) for Desktops, Notebooks (and Netbooks), and PC-based commercial (i.e., POS) and industrial/scientific workstations as well as embedded systems. This report does not include handhelds (i.e., mobile phones), x86 Servers or ARM-based Tablets (i.e. iPad and Android-based Tablets), or ARM-based Servers. It does include x86-based tablets, and x86-based Chromebooks.

The quarter in general

AMD's shipments of desktop heterogeneous GPU/CPUs, i.e. APUs, jumped 27.8% from Q2 but declined 21.3% in notebooks. AMD's discrete desktop shipments declined 3.1%, and notebook discrete shipments declined 4.5%. The company's overall PC graphics shipments decreased 4.5%.
Intel's desktop processor-graphics EPG shipments decreased from last quarter by 1.1%, and Notebooks increased by 5.1%. The company's overall PC graphics shipments increased 3.5%.
Nvidia's desktop discrete shipments showed the most growth, up 8.2% from last quarter; however, the company's notebook discrete shipments decreased 3.3%. The company's overall PC graphics shipments increased 2.3%.
Year-to-year this quarter AMD's overall PC shipments declined 8.5%, Intel dropped 2.7%, Nvidia declined 18.7%, and VIA fell 82.4% from last year.
Total discrete GPU (desktop and notebook) shipments were roughly flat from the last quarter (up 0.12%) and down 18.8% from last year for the same quarter due to the same problems plaguing the entire PC industry. Overall the trend for discrete GPUs is down with a CAGR from 2012 to 2016 of -5.7%.
Ninety nine percent of Intel's non-server processors have graphics, and over 67% of AMD's non-server processors contain integrated graphics; AMD still ships IGPs.
Year-to-year for the quarter, the graphics market decreased. Shipments were down 8.9 million units from this quarter last year.

Graphics chips (GPUs) and chips with graphics (IGPs, APUs, and EPGs) are a leading indicator for the PC market. At least one and often two GPUs are present in every PC shipped. It can take the form of a discrete chip, a GPU integrated in the chipset or embedded in the CPU. The average has grown from 1.2 GPUs per PC in 2001 to almost 1.4 GPUs per PC.



Source: Jon Peddie Researc Press Release
Links


Tags: amd | gpu | intel | jon peddie researc | jpr | mercato | nvidia | ricerca