NVIDIA ha annunciato il lancio della nuova GPU NVIDIA GeForce GTX 760, che garantisce performance sorprendenti nell'ambito del PC gaming, frame rate ottimali e le esclusive caratteristiche della serie GeForce GTX a partire da 199 Euro IVA esclusa.

Progettato per assicurare frame rate estremamente elevati con tutti i giochi più hot dell'ultimo anno, tra cui: Call of Duty: Ghosts, Watch Dogs and Battlefield 4, la GeForce GTX 760 è la nuova "arma" per il gaming in alta definizione. Ed, essendo equipaggiata con GPU basata su architettura NVIDIA Kepler, che offre l'incredibile potenza di 2,3 teraflop, la GeForce GTX 760 è già molto più potente della prossima generazione di console attesa per la fine dell'anno.

"Per i giocatori che cercano prestazioni incredibili e frame rate ottimali per i loro giochi preferiti, la scelta è una: GPU NVIDIA GeForce GTX. ", ha dichiarato Scott Herkelman, general manager of the GeForce GPU business di NVIDIA. "Con un prezzo al pubblico che parte da 199 Euro, IVA esclusa, la GeForce GTX 760 segna la strada verso un nuovo livello di performance, caratteristiche e affidabilità, così che i gamer possano giocare con i titoli più recenti in modo sorprendente. Questo è un gran momento per i PC gamer!"

Per soddisfare le esigenze dei giocatori che ricercano anche ampie possibilità di customizzazione e overclocking, la GeForce GTX 760 offre anche la tecnologia NVIDIA GPU Boost 2.0, che aumenta in automatico le velocità di clock della GPU per migliorare le performance e al contempo introduce strumenti per il controllo della temperatura e delle ventole, nonché un ulteriore over-voltage headroom e avanzate ottimizzazioni per le soluzioni di raffreddamento ad acqua.

La GeForce GTX 760 offre poi supporto anche a tutte le più recenti tecnologie per il gaming di NVIDIA, tra cui PhysX e NVIDIA TXAA e include anche il software NVIDIA GeForce Experience, che permette di avere sempre disposizione i migliori driver e garantire le migliori esperienze di gioco. Ulteriori e avanzate feature sono poi quelle messe a disposizione dal software NVIDIA ShadowPlay1, mentre sul fronte settaggi di gioco, le possibili opzioni sono alla portata di un singolo click. E per quei giocatori che vogliono davvero il meglio, la tecnologia NVIDIA SLI, la soluzione multi-GPU che ha raccolto i maggiori consensi sul mercato, consente di raggiungere livelli di prestazioni ancora maggiori.

In aggiunta a queste caratteristiche, la GeForce GTX 760 rappresenta un importante passo in avanti rispetto alle GPU GeForce di precedente generazione. Essa è, infatti, tre volte più veloce della famosa2 GeForce GTX 275 e due volte della GTX 560 GPU, migliorando, quindi, in modo significativo l'esperienza di gioco.

Disponibilità e prezzo
La GPU NVIDIA GeForce GTX 760 è disponibile dai più importanti vendor a livello mondiale, tra cui ASUS, EVGA, Gainward, Gigabyte, MSI, Palit, PNY e Zotac. Il prezzo al pubblico previsto partirà da 199 Euro (IVA esclusa) per le schede di tipo reference.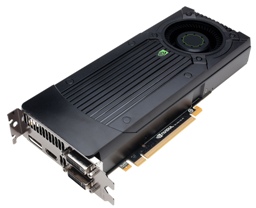 [Immagine ad alta risoluzione]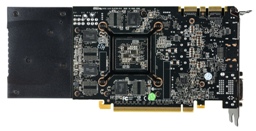 [Immagine ad alta risoluzione]

NVIDIA today launched the new NVIDIA GeForce GTX 760 GPU, which offers amazing PC gaming performance, smooth frame rates and exclusive GeForce GTX features for only $249.

Designed to deliver extreme frame rates for all of this year's hottest PC games, including Call of Duty: Ghosts, Watch Dogs and Battlefield 4, the GeForce GTX 760 GPU is the new weapon of choice for experiencing high-definition gaming. And, powered by an NVIDIA Kepler architecture-based GPU with an incredible 2.3 gigaflops of processing horsepower, the GeForce GTX 760 is already dramatically more powerful than the next-generation game consoles expected by the end of the year.

"For gamers seeking insanely fast performance and smooth frame rates for their favorite games, the choice is clear: NVIDIA GeForce GTX GPUs," said Scott Herkelman, general manager of the GeForce GPU business at NVIDIA. "At a starting price of only $249, the GeForce GTX 760 ushers in a new level of performance, features and affordability, so gamers can experience today's most graphically demanding titles with all the eye candy turned high. It's a great time to be a PC gamer!"

To satisfy gamer demands for greater customization and overclocking options, the GeForce GTX 760 includes NVIDIA GPU Boost 2.0 technology, which automatically increases the GPU's clock speed for enhanced performance, while adding temperature target and fan controls, as well as extra over-voltage headroom and optimizations for advanced water-cooling solutions.

The GeForce GTX 760 also supports NVIDIA's latest array of gaming technologies, including the NVIDIA PhysX physics engine and NVIDIA TXAA anti-aliasing. Plus, it includes the new NVIDIA GeForce Experience software, which delivers the industry's best drivers for smooth gaming, advanced features like NVIDIA ShadowPlay software(1) and optimal playable settings with the convenience of single-click operation to gamers everywhere. And for those gamers who demand the very best, NVIDIA SLI technology -- the industry's preeminent multi-GPU solution -- scales to deliver even higher levels of performance.

In addition to these new features, the GeForce GTX 760 represents a tremendous performance upgrade over prior GeForce GPUs. It is three-times faster than the still-popular(2) GeForce GTX 275 GPU and twice as fast as the GeForce GTX 560 GPU, making for a significantly superior gameplay experience with support for all of the latest gaming technologies.

Availability and Pricing
NVIDIA GeForce GTX 760 GPU is available now from the world's leading add-in card suppliers, including ASUS, Colorful, EVGA, Gainward, Galaxy, Gigabyte, Innovision 3D, MSI, Palit, PNY and Zotac. Partner participation will vary by region. Pricing is expected to start at $249.

It will also be sold in fully configured systems from leading U.S.-based system builders, including AVADirect, Cyberpower, Digital Storm, Falcon Northwest, Geekbox, IBUYPOWER, Maingear, Origin PC, Puget Systems, V3 Gaming and Velocity Micro, as well as other system integrators outside North America.





Source: NVIDIA Press Release
Links


Tags: geforce gtx 760 | gpu | kepler | nvidia | video card