NVIDIA annuncia oggi la nuova GPU NVIDIA GeForce GTX 770, che offre un livello di prestazioni senza precedenti nell'ambito del gaming su PC a soli 329 euro.

Ultima arrivata nella famiglia di gaming GPU basata sulla pluripremiata architettura NVIDIA Kepler per il segmento high-end, la GTX 770 si unisce alla GTX TITAN e alla GTX 780 nell'assicurare performance superiori, funzionalità all'avanguardia ed elevata fluidità per un gaming high-definition su PC senza precedenti.

"Solo le GPU NVIDIA garantiscono in modo costante elevati frame rate in alta definizione con tutte le 'amenità' possibili attivate.", ha affermato Scott Herkelman, general manager of GeForce GPU business di NVIDIA. "La GeForce GTX 770 rappresenta una nuova frontiera in fatto di prestazioni e funzionalità a meno di 400 euro. Questo nostro impegno nell'ambito del gaming per PC è il motivo principale del perché le GPU GeForce continuano a essere la scelta N. 1 dei giocatori in tutto il mondo."

Progettata per garantire frame rate estremamente elevati con tutti i giochi più hot di quest'anno, tra cui Call of Duty: Ghosts, Watch Dogs e Battlefield 4, la GeForce GTX 770 vanta una GPU Kepler incredibilmente potente con 1.536 core e 4GB o 2GB di GDDR5 high-speed 7 Gbps, la memoria più veloce mai installata su una scheda grafica.

Per soddisfare le richieste dei giocatori a favore di una maggiore customizzazione e funzionalità per l'overclocking, la GPU GeForce GTX 770 è equipaggiata con tecnologia NVIDIA GPU Boost 2.0, che aumenta in automatico le velocità di clock della GPU per migliorare le performance e al contempo introduce strumenti per il controllo della temperatura e delle ventole, nonché un ulteriore over-voltage headroom e avanzate ottimizzazioni per le soluzioni di raffreddamento ad acqua.

La GPU GeForce GTX 770 supporta anche la più recente serie di tecnologie di gioco NVIDIA, tra cui PhysX physics engine, NVIDIA TXAA anti-aliasing e il software GeForce Experience, che mette a disposizione dei giocatori i driver migliori, funzionalità avanzate come NVIDIA ShadowPlay2 e setting di gioco ottimali attivabili con un solo click. E per quei giocatori che vogliono il meglio in assoluto, è disponibile la tecnologia NVIDIA SLI , una soluzione multi-GPU leader di mercato, in grado di assicurare prestazioni superiori, con i massimi livelli di silenziosità e livelli di rumore quasi impercettibili all'orecchio umano.

Disponibilità e prezzo
La GPU NVIDIA GeForce GTX 770 GPU è già disponibile in collaborazione con i principali vendor, tra cui ASUS, EVGA, Gainward, Gigabyte, MSI, PNY e Zotac. Il prezzo al pubblico previsto è a partire da Euro 3291 per la versione da 2GB.
[Immagine ad alta risoluzione]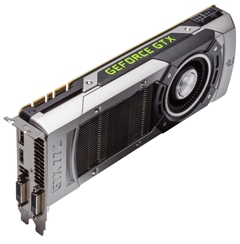 [Immagine ad alta risoluzione]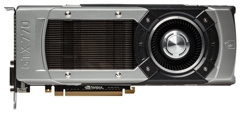 [Immagine ad alta risoluzione]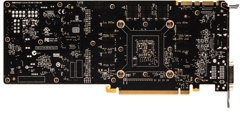 [Immagine ad alta risoluzione]

[Immagine ad alta risoluzione]

NVIDIA (NASDAQ: NVDA) today launched the NVIDIA GeForce GTX 770 GPU, which offers an unprecedented level of PC gaming performance for only $399.

The newest addition to the award-winning NVIDIA Kepler architecture lineup of gaming GPUs for the high-end market, the GTX 770 joins the GTX TITAN and the GTX 780 in delivering superior gaming performance, advanced features, and silky smooth frame rates for unsurpassed high-definition PC gaming.

"Only NVIDIA GPUs consistently provide gamers with the ability to achieve extremely fast frame rates at high-definition resolutions with all of the eye candy turned on," said Scott Herkelman, general manager of the GeForce GPU business at NVIDIA. "The GeForce GTX 770 represents a new threshold of performance and features for under $400 and our commitment to PC gaming is why GeForce GPUs continue to be the No. 1 choice of gamers worldwide."

Designed for dispatching extremely fast frame rates to all of this year's hottest PC games, including Call of Duty: Ghosts, Watch Dogs and Battlefield 4, the GeForce GTX 770 boasts an incredibly powerful Kepler GPU with 1,536 cores and either 4GB or 2GB of high-speed 7 Gbps GDDR5 -- the world's fastest memory ever on a graphics card.

To satisfy gamer demands for greater customization and overclocking options, the GeForce GTX 770 GPU includes NVIDIA GPU Boost 2.0 technology, which automatically increases the GPU's clock speeds for enhanced gaming performance, while adding temperature target and fan controls, as well as extra over-voltage headroom and optimizations for advanced water-cooling solutions.

The GeForce GTX 770 GPU also supports NVIDIA's latest array of gaming technologies, including the PhysX physics engine, NVIDIA TXAA anti-aliasing and GeForce Experience software, which delivers the industry's best drivers for smooth gaming, advanced features like NVIDIA ShadowPlay(1) and optimal playable settings with the convenience of single click operation to gamers everywhere. And for those gamers who demand the very best, NVIDIA SLI technology -- the industry's preeminent multi-GPU solution -- scales to deliver even higher levels of performance, with new adaptive temperature controllers help delivering amazing performance that is nearly silent to the human ear.

Availability and Pricing
The NVIDIA GeForce GTX 770 GPU is available now from the world's leading add-in card suppliers, including ASUS, Colorful, EVGA, Gainward, Galaxy, Gigabyte, Innovision 3D, MSI, Palit, PNY and Zotac. Partner participation will vary by region. Pricing is expected to start at $399 for the 2GB version.

The GeForce GTX 770 GPU will also be sold in fully configured systems from leading U.S.-based system builders, including AVADirect, Cyberpower, Digital Storm, Falcon Northwest, Geekbox, IBUYPOWER, Maingear, Origin PC, Puget Systems, V3 Gaming and Velocity Micro, as well as other system integrators outside North America.





Source: NVIDIA Press Release
Links


Tags: geforce gtx 770 | gpu | kepler | lancio | nvidia | video card