Micron Technology ha lanciato un nuovo drive a stato solido (SSD) da 2.5-inch nell'ambito della propria offerta focalizzata sulle soluzioni per lo storage dei sistemi tipicamente utilizzati nei data center e nei contesti enterprise più in generale.

Il nuovo SSD Micron P410m è stato progettato per garantire un livello molto elevato di affidabilità, in modo da soddisfare le richieste delle applicazioni "mission-critical", a fronte di buone prestazioni in termini di transfer rate. Basato su chip di NAND MLC a 25nm, prodotti naturalmente dalla stessa Micron, il drive P410m scambia dati con l'host mediante due connettori che implementano una interfaccia di tipo SAS (Serial Attached SCSI) a 6Gb/s.

Il nuovo SSD Micron P410m, che supporta la funzionalità di "hot-swap", è disponibile sul mercato in tre varianti, caratterizzate da una capacità di memorizzazione pari rispettivamente a 100GB, 200GB e 400GB. Il produttore ha ufficializzato i prezzi di tali modelli mediante la press release.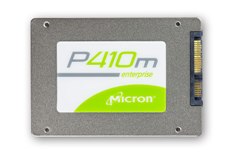 [Immagine ad alta risoluzione]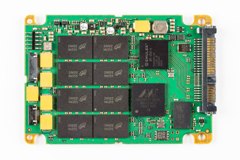 [Immagine ad alta risoluzione]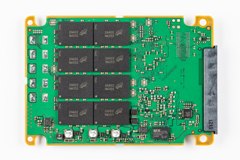 [Immagine ad alta risoluzione]

Micron Technology, Inc. (Nasdaq:MU) today announced another addition to its growing lineup of solid state drives (SSDs) targeted at data center appliances and enterprise storage platforms. The new Micron P410m SSD is a high-endurance, high reliability 6 Gb/s Serial Attached SCSI (SAS) drive built to provide the performance necessary for mission-critical tier 1 storage applications that require uninterrupted, 24/7 data access.

SAS is preferred in these applications due to its dual-port interface, which offers the high availability and accessibility customers have come to expect from a SAS drive. The new Micron P410m provides the consistent low latency and balanced read/write performance necessary for tackling the unique workloads of persistent data storage.

"EMC is pleased to be qualifying the new Micron P410m for future delivery to EMC customers," said Tim Smith, Vice President, EMC Global Product Operations.

"With this introduction, Micron has one of the most comprehensive lines of enterprise-focused SSDs—we have solutions for every interface and usage model," said Ed Doller, VP and general manager of Micron's Enterprise SSD division. "The P410m gives our customers a reliable SAS SSD that delivers high performance and data assurance at a competitive price point."

The P410m uses Micron's advanced 25nm MLC NAND flash technology. Micron ensures high reliability in this advanced media by integrating their Extended Performance and Enhanced Reliability Technology (XPERT), which closely integrates the storage media and controller through highly-optimized firmware algorithms and hardware enhancements. The end result is a set of market-focused enterprise features that deliver increased data performance and reliability.

XPERT helps deliver the following key enterprise features:
High Endurance — The P410m is designed to achieve 10 drive fills per day for five years.
Superior Data Protection — The Micron P410m was designed with multiple features for data protection—including onboard power loss protection.
Consistent Low Latencies — reliable low latency ensures the high speed data access required to enable high-performance storage arrays.
Low Power — Consumes significantly less power than HDDs and requires little cooling.
Like all of Micron's enterprise-proven SSDs, all manufacturing, testing, and qualification for the P410m is completed solely at Micron facilities. Close partnership between Micron NAND and SSD engineers enables the highest degree of integration between the flash media and its management, and the in-house manufacturing ensures complete quality control during the entire drive development, test, manufacture, and shipment process. This quality control ensures the drive reliability for which Micron SSDs are known.

The P410m is built with a 6 Gb/s SAS interface, the mainstream interface for SAS drives today. It comes in 100, 200 and 400 gigabyte (GB) capacities in a space-saving 2.5-inch 7-millimeter (mm) form factor. The drive is currently in production and is sold direct to OEMs and through Micron's extensive sales and distribution channels.



Source: Micron Technology Press Release
Links


Tags: drive a stato solido | enterprise | micron technology | mission-critical | ssd