AMD ha animato la conferenza internazionale sul "Supercomputing" SC12 con l'annuncio di quella che lo stesso produttore definisce come la "più potente scheda grafica per server disponibile sul mercato".

Siglata FirePro S10000, la nuova soluzione grafica dual-gpu di AMD è stata progettata per l'high-performance computing (HPC) e, più in generale, per offrire prestazioni sempre elevate anche con le applicazioni più complesse dal punto di vista grafico.

In accordo ad AMD, la FirePro S10000 è la prima video card, dedicata al mondo professionale, in grado di vantare una potenza di calcolo che può superare il teraFLOP (TFLOP) con i calcoli in virgola mobile a precisione doppia, tipici peraltro dell'ambito HPC; più in dettaglio, la scheda assicura un valore massimo (picco) di 1.48 TFLOP con i calcoli in virgola mobile a precisione doppia e di 5.91 TFLOP con quelli a precisione singola.

Ciascuna delle due gpu della FirePro S10000 è basata sull'architettura Graphics Core Next, include 3584 stream processor e interagisce con un frame buffer dedicato in GDDR5 con capacità di 3GB mediante un bus a 384-bit.

I core grafici e la memoria locale della FirePro S10000 lavorano rispettivamente a 825MHz e 1250MHz (o 5000MHz in valore effettivo), mentre il TDP è pari a 375W, ed è quindi coincidente grosso modo con quello di due prodotti consumer, come le Radeon HD 7950, connessi in CrossFire.

Il kit di porte di uscita della FirePro S10000 è composto da quattro connettori mini DP e uno di tipo DVI; l'interfaccia verso la motherboard supporta naturalmente PCI-Express 3.0. Il prezzo suggerito dal produttore per la scheda, che include un cooler dual-slot dotato di tre ventole, è pari a $3599.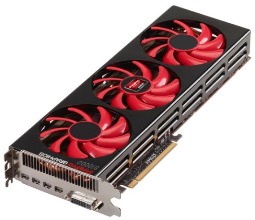 [Immagine ad alta risoluzione]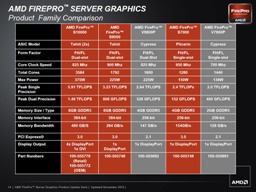 [Immagine ad alta risoluzione]

AMD (NYSE: AMD) today launched the AMD FirePro S10000, the industry's most powerful server graphics card, designed for high-performance computing (HPC) workloads and graphics intensive applications. The AMD FirePro S10000 is the first professional-grade card to exceed one teraFLOPS (TFLOPS) of double-precision floating-point performance, helping to ensure optimal efficiency for HPC calculations1. It is also the first ultra high-end card that brings an unprecedented 5.91 TFLOPS of peak single-precision and 1.48 TFLOPS of double-precision floating-point calculations2. This performance ensures the fastest possible data processing speeds for professionals working with large amounts of information. In addition to HPC, the FirePro S10000 is also ideal for virtual desktop infrastructure (VDI) and workstation graphics deployments.

"The demands placed on servers by compute and graphics-intensive workloads continues to grow exponentially as professionals work with larger data sets to design and engineer new products and services," said David Cummings, senior director and general manager, Professional Graphics, AMD. "The AMD FirePro S10000, equipped with our Graphics Core Next Architecture, enables server graphics to play a dual role in providing both compute and graphics horsepower simultaneously. This is executed without compromising performance for users while helping reduce the total cost of ownership for IT managers."

Equipped with AMD next-generation Graphics Core Next Architecture, the FirePro S10000 brings high performance computing and visualization to a variety of disciplines such as finance, oil exploration, aeronautics, automotive design and engineering, geophysics, life sciences, medicine and defense. With dual GPUs at work, professionals can experience high throughput, low latency transfers allowing for quick compute of complex calculations requiring high accuracy.

Responding to IT Manager Needs
With two powerful GPUs in one dual-slot card, the FirePro S10000 enables high GPU density in the data center for VDI and helps increase overall processing performance. This makes it ideal for IT managers considering GPUs to sustain compute and facilitate graphics intensive workloads. Two on-board GPUs can help IT managers reap significant cost savings, replacing the need to purchase two single ultra-high-end graphics cards, and can help reduce total cost of ownership (TCO) due to lower power and cooling expenses.

Key Features of AMD FirePro S10000 Server Graphics
Compute Performance: The AMD FirePro S10000 is the most powerful dual-GPU server graphics card ever created, delivering up to 1.3 times the single precision and up to 7.8 times peak double-precision floating-point performance of the competition's comparable dual-GPU product. It also boasts an unprecedented 1.48 TFLOPS of peak double-precision floating-point performance3;
Increased Performance-Per-Watt: The AMD FirePro S10000 delivers the highest peak double-precision performance-per-watt – 3.94 gigaFLOPS – up to 4.7 times more than the competition's comparable dual-GPU product3;
High Memory Bandwidth: Equipped with a 6GB GDDR5 frame buffer and a 384-bit interface, the AMD FirePro S10000 delivers up to 1.5 times the memory bandwidth of the comparable competing dual-GPU solution4;
DirectGMA Support: This feature removes CPU bandwidth and latency bottlenecks, optimizing communication between both GPUs. This also enables P2P data transfers between devices on the bus and the GPU, completely bypassing any need to traverse the host's main memory, utilize the CPU, or incur additional redundant transfers over PCI Express®, resulting in high throughput low-latency transfers which allow for quick compute of complex calculations requiring high accuracy;
OpenCL Support: OpenCL has become the compute programming language of choice among developers looking to take full advantage of the combined parallel processing capabilities of the FirePro S10000. This has accelerated computer-aided design (CAD), computer-aided engineering (CAE), and media and entertainment (M&E) software, changing the way professionals work thanks to performance and functionality improvements.




Source: AMD Press Release
Links


Tags: amd | dual-gpu | firepro s10000 | graphics core next | hpc | professionale | server | video card