NVIDIA presenta oggi due nuove GPU ad alte prestazioni, la NVIDIA GeForce GTX 660 e la GeForce GTX 650. Queste nuove GPU per il gaming offrono le eccezionali prestazioni e l'efficienza energetica della pluripremiata architettura NVIDIA Kepler a un prezzo tale da permetterne a un gran numero di giocatori di fruire al meglio delle esperienze di gioco offerte dalla prossima generazione di titoli per PC.
La GeForce GTX 660 e la GeForce GTX 650 rappresentano un nuovo punto di riferimento in fatto di prestazioni e convenienza, soprattutto se abbinate con le straordinarie line-up dei migliori giochi DirectX 11, tra cui Call of Duty: Black Ops II, Assassin 's Creed III e World of Warcraft: Mists of Pandaria.
La GeForce GTX 660 rappresenta una straordinaria opportunitą di aggiornamento per i giocatori che ancora utilizzano tecnologie grafiche di precedente generazione. Per i milioni di gamer che ancora giocano su GeForce 9800 GT, il miglioramento prestazionale di 4 voltei offerto dalla GTX 660 sarą una tentazione cui sarą difficile resistere. Allo stesso modo, l'incremento delle performance di 8 volte offerto dalla GTX 650 rispetto alla 9500 GTii consente ai giocatori di compiere un salto di livello nella famiglia GTX a basso costo, assicurando grandi benefici in fatto di prestazioni.
Dotate delle tecnologie all'avanguardia integrate nell'architettura NVIDIA Kepler , tra cui DirectX 11 tessellation, NVIDIA PhysX , NVIDIA Adaptive Vsync e il temporal anti-aliasing (TXAA), solo le GPU GeForce GTX, come le nuove GTX 660 e GTX 650, sono in grado di garantire ai giocatori le esperienze di gioco pił coinvolgenti.
NVIDIA GeForce GTX 660 e 650 GPU sono immediatamente disponibili dai principali fornitori mondiali di add-in e schede grafiche, tra cui ASUS, EVGA, Gainward, Gigabyte, MSI, Palit, Point of View, PNY e Zotac.
NVIDIA GeForce GTX 660 e 650 GPUs sono anche il cuore dei PC realizzati da One (DE), Komputronik (PL), Meijin (RU), Paradigit (NL), Komplett (NO), Scan (UK), Materiel.net (FR), TechnoComputer (IT), CoolMod (ES), Asbis (CZ), DigiTec (CH), INET (SE), e Mulitrama (GR).
Maggiori informazioni sulla GeForce GTX 660 e GeForce 650 GPU sono disponibili su http://www.geforce.co.uk/whats-new/articles/geforce-gtx-660-650-launch/ e http://www.geforce.co.uk/whats-new/articles/nvidia-geforce-306-23-whql-drivers-released/.
Per ulteriori informazioni su NVIDIA, i suoi prodotti, video, immagini e altre informazioni, visitare la newsroom NVIDIA. Le foto delle GTX 660 e GTX 650 sono disponibili sulla pagina Flickr di NVIDIA .
GeForce GTX 660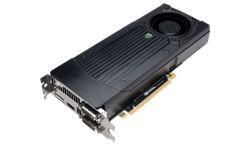 [Immagine ad alta risoluzione]
GeForce GTX 650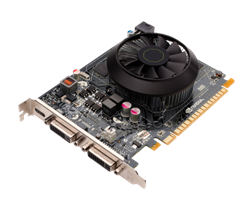 [Immagine ad alta risoluzione]

NVIDIA today introduced two new high-performance GPUs, the NVIDIA GeForce GTX 660 and GeForce GTX 650. These new gaming GPUs deliver the exceptional performance and power efficiency of the award-winning NVIDIA Kepler architecture at price points that will allow more gamers to experience the richness of next-generation PC gaming.

The GeForce GTX 660 and GeForce GTX 650 GPUs set a new benchmark for high-performance, remarkably-priced gaming when paired with the incredible line-up of top DirectX 11 games, including Call of Duty: Black Ops II, Assassin's Creed III and World of Warcraft: Mists of Pandaria.

The GeForce GTX 660 represents a phenomenal upgrade opportunity for gamers still playing games on last-generation graphics technology. For the millions of gamers still gaming on the GeForce 9800 GT, the 4X performance improvementi delivered by the GTX 660 will be an upgrade temptation not easily resisted. Similarly, the GTX 650 delivers an 8X performance improvement over the 9500 GTii, allowing gamers to step up to the GTX family with a low-cost solution that delivers a significant boost in performance.

Packed with cutting-edge technologies integrated into the NVIDIA Kepler architecture -- including DirectX 11 Tessellation, NVIDIA PhysX, NVIDIA Adaptive VSync, and Temporal Anti-Aliasing (TXAA) -- only GeForce GTX GPUs, such as the new GTX 660 and GTX 650, will ensure gamers have the most immersive gaming experience possible.

The NVIDIA GeForce GTX 660 and 650 GPUs are available now from the world's leading add-in card suppliers, including ASL, ASUS, Colorful, ECS, EVGA, Gainward, Galaxy, Gigabyte, Innovision 3D, Jetway, Leadtek, MSI, Palit, Point of View, PNY, Sparkle and Zotac.





Source: NVIDIA Press Release
Links


Tags: geforce gtx 650 | geforce gtx 660 | nvidia | video card