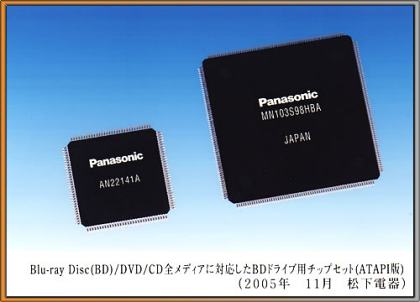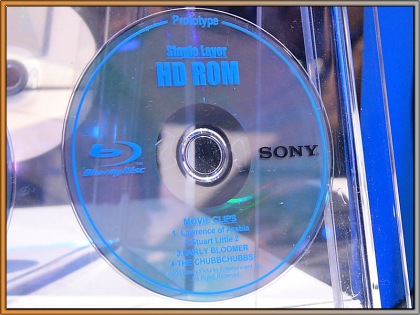 Osaka, Japan - Panasonic, the leading brand for which Matsushita Electric Industrial Co., Ltd. is best known, today announced that it has developed the new chipset for disc drives to record and play Blu-ray Disc (BD), DVD-Multi (DVD-RAM, DVD-R, DVD-RW, and DVD-ROM), +R, +RW, and all CD formats. Blu-ray Disc format, which use a blue-violet laser, is being promoted as a standard for next-generation optical discs. So far chipsets for BD-R/BD-RE and DVD/CD were commercialized separately. However, the demand for a BD drive that is compatible with all BD/DVD/CD media formats increases. The chipset achieves the industry's highest record/play BD performance. BD drives with DVD record/play and CD record/play functions can be easily manufactured.
Panasonic will start sample shipments in December 2005 and mass production in January 2006.
[Advantages]


This chipset is in accordance with BD and DVD/CD standards, and consists of two chips: a front-end processor for analog processing such as servo control and laser power control, and a optical disc controller for signal processing as digital lead channel. The advantages are as follows:
Can be easily applied to PCs, which require compatibility with multiple media formats, by following the newest BD standards, including BD-ROM standards, and by making hybrid discs using conventional media.
World's first chipset that has perfect record/play compatibility among the BD, DVD-Multi, +R, +RW, and CD formats. Chipset also features the industry's highest record/play performance (BD media record/play speed: 4x).

As for PC interface, the new chipsets have a series of part numbers which are applicable for either ATAPI or Serial-ATA.
[Technologies]


The new chipset was achieved by applying the following technologies:
BD/DVD hybrid digital lead channel technology using Matsushita's original PRML method
Highly accurate write strategy technology and high-speed signal processing technology for high-density and high-speed media

Built-in Serial-ATA core developed by Matsushita (conforms to Serial-ATA 1.0a standard)
[Practical Applications]


Start of sample shipments: December 2005
Sample price: Depends on quantity
Start of product shipments: January 2006



Source: Panasonic Press Release
Links


Tags: blu-ray | chip-set | drive | panasonic