Con il seguente messaggio, inserito sul blog ufficiale dedicato ai Sistemi Operativi Windows, Microsoft ha ufficializzato la data di lancio del nuovo Windows 8.
---
Windows 8 will be available on...October 26th, 2012! That's right! Just a few minutes ago, Steven Sinofsky announced at Microsoft's annual sales meeting that customers will be able to get Windows 8 - whether in upgrade fashion or on a new PC - starting on October 26th. Earlier this month at the Microsoft Worldwide Partner Conference, Tami Reller told attendees Windows 8 would be available in October. But now everyone has a specific date to mark on their calendars. It's on mine!
---
Da qualche settimana Tami Reller, presso la Microsoft Worldwide Partner Conference, aveva già chiarito che il nuovo OS sarebbe stato lanciato nel mercato consumer nel corso del prossimo mese di ottobre.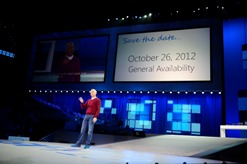 [Immagine ad alta risoluzione]

Ora, tuttavia, si apprende dal post del blog che Steven Sinofsky ha ufficialmente annunciato la disponibilità sul mercato di Windows 8 a partire dal prossimo 26 ottobre sia per gli utenti che hanno intenzione di eseguire l'upgrade di un Sistema Operativo Microsoft già configurato che per coloro che puntano all'acquisto di un nuovo PC.





Collegamenti


Tags: blog | consumer | data di lancio | microsoft | sinofsky | sistema operativo | upgrade | windows 8