La software house Neversoft Entertainment, o in breve Neversoft, creatrice, tra gli altri, dei game Tony Hawk Pro Skater e Tony Hawk Pro Skater 2, ha scelto il proprio sito per annunciare una collaborazione con Activision finalizzata alla realizzazione di un nuovo game di tipo first-person shooter nell'ambito della serie di Call of Duty.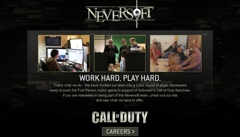 [Immagine ad alta risoluzione]
Il seguente messaggio dell'azienda californiana, che punta a reclutare risorse umane, ed in primis naturalmente sviluppatori, per lavorare sul progetto, conferma esplicitamente che Activision ha programmato realmente il lancio di un nuovo episodio di Call of Duty.
---
We have molded our team into a crack squad of eager developers ready to push the First-Person Action genre in support of Activision's Call of Duty franchise. If you are interested in being part of the Neversoft, check out our site and see what we have to offer.
---
Manca naturalmente qualsiasi indicazione sulla tempistica del rilascio del prodotto, e sulla denominazione stessa del game e/o sulla sua trama, almeno a livello pubblico; č tuttavia plausibile escludere l'arrivo del gioco a breve termine, dal momento che il progetto appare essere soltanto nella fase di start-up.





Collegamenti


Tags: call of duty