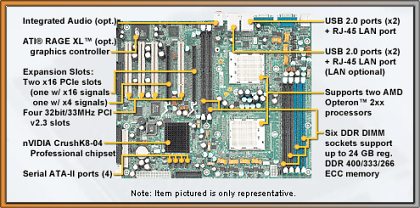 FREMONT, CA, November 2nd, 2005 - Many system builders prefer to use a single design in order to expedite builds and leverage from established learning curves. Tyan has taken this fact to heart in the development and release of the Tiger K8WE (S2877), a motherboard that offers both server and workstation flavors in a compact-sized ATX form factor. Features of the Tiger K8WE include the following:
Dual AMD Opteron™ 200 Series Processor support; Single & Dual Core capability
NVIDIA nForce™ Professional 2200 core-logic
Supports up to 24GB of DDR400/333/266 Registered memory w/ ECC & ChipKill
Up to two (2) Gigabit Ethernet ports for fast network connectivity
Dual PCI Express x16 slots (one with x16, one with x4)
Serial ATA-II (3Gb/s) with NVIDIA RAID and built-in 8MB ATI® server graphics
ATX form (12" x 9.75"): fits many industry-standard tower & rackmount chassis
Available in server and workstation flavors
. . . and much more!
"Tyan and AMD believe in customer-centric innovation, and our continued collaborations are yielding the latest advancements that will help benefit end-users worldwide," said Pat Patla, director, server/workstation marketing, Microprocessor Solutions Sector, AMD (NYSE: AMD). "The AMD Opteron processor with Direct Connect Architecture is designed for system stability and outstanding performance and – along with the latest motherboard from Tyan – helps provide improved system reliability for our customers."

"Many customers across the industry want to realize the power of extremely-scalable, flexible system motherboards, but not at the cost of space or higher-priced system components," stated Danny Hsu, Vice-President of Sales and Marketing at Tyan. "By introducing the Tiger K8WE (S2877), Tyan has effectively provided a platform with the performance to meet demanding applications both in the server and workstation fields, but with a total cost of ownership that makes dual-core, dual-processing performance widely available to customers in multiple markets."

The Tiger K8WE (S2877) is currently sampling to select customers and will be shipping in volume worldwide by end of Q4'05.



Source: Tyan Press Release
Links


Tags: motherboard | nvidia | tiger k8we