In occasione dell'evento Namco Bandai Gamer Day, tenutosi di recente a Las Vegas, negli Stati Uniti, il publisher Namco Bandai Games ha ufficialmente annunciato il prossimo arrivo del titolo Dark Souls in versione per la piattaforma PC.
Il porting del game su PC, che è attualmente disponibile sul mercato in duplice edizione per il supporto delle piattaforme di gioco PlayStation 3 e Xbox 360, sarà denominato Dark Souls Prepare to Die Edition e sarà rilasciato il prossimo 24 agosto.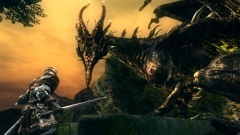 [Immagine ad alta risoluzione]
In effetti Namco Bandai Games ha chiarito che la edizione per PC non si militerà alla presentazione dei contenuti che caratterizzano le edizioni per le console, ma ne introdurrà di nuovi, tra cui un capitolo inedito, denominato "Artorias of the Abyss".
[Immagine ad alta risoluzione]

Dark Souls è un complesso action RPG sviluppato da From Software (la software house è anche il publisher del titolo per il mercato nipponico, ndr) con l'ausilio del motore grafico PhyreEngine. From Software si occuperà anche del porting su PC.





Collegamenti


Tags: bandai | die | namco | pc