Nuovi benchmark, attraverso i quali sono state messe a confronto le prestazioni della GeForce GTX 680 di NVIDIA con quelle della concorrente Radeon HD 7970 di AMD e della soluzione equivalente di NVIDIA appartenente alla generazione precedente, ovvero la GeForce GTX 580, sono stati pubblicati dal sito asiatico HKEPC.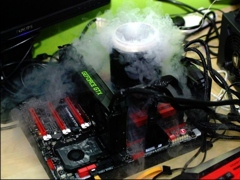 [Immagine ad alta risoluzione]
I tester hanno utilizzato come sistema di misura una configurazione basata su una motherboard ASUS Rampage IV Extreme, un processore Intel Core i7-3960X Extreme Edition, che nonostate il cooler fuori standard non ha lavorato in overclock, 8GB di RAM DDR3 a 2200MHz GeIL EVO 2 in quad-channel, una PSU Corsair AX1200W e Windows 7 x64 Edition.
Tra i software utilizzati per le prove citiamo i benchmark sintetici 3DMark 11 e Unigine Heaven, e i game Batman: Arkham City, Call of Duty: Modern Warfare 3, Battlefield 3 e Lost Planet 2. La risoluzione video è stata impostata a 1920 x 1080, e in alcuni casi è stato configurato l'antialiasing MSAA a 8x.
Analizzando i diagrammi mostrati di seguito, è possibile affermare che le misure evidenziano un sostanziale vantaggio prestazionale della GeForce GTX 680 sul prodotto della concorrenza, ovvero la Radeon HD 7970, con la maggior parte dei programmi impiegati.
E' interessante notare, tuttavia, che con i game Call of Duty: Modern Warfare 3 e Battlefield 3 le prestazioni delle flag-ship di NVIDIA e AMD sono sostanzialmente allineate. Inoltre, la GeForce GTX 580, nonostante la sua obsolescenza, non esce malissimo dal confronto, anche in virtù dell'utilizzo di software con il quale la gpu di NVIDIA è ancora pienamente compatibile.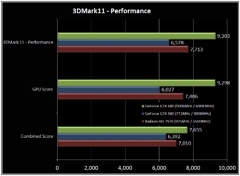 [Immagine ad alta risoluzione]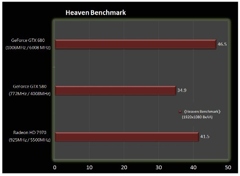 [Immagine ad alta risoluzione]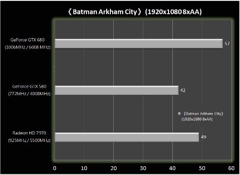 [Immagine ad alta risoluzione]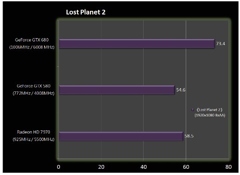 [Immagine ad alta risoluzione]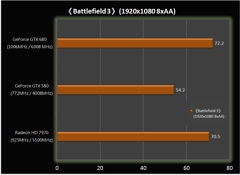 [Immagine ad alta risoluzione]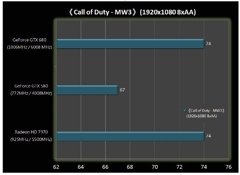 [Immagine ad alta risoluzione]





Collegamenti