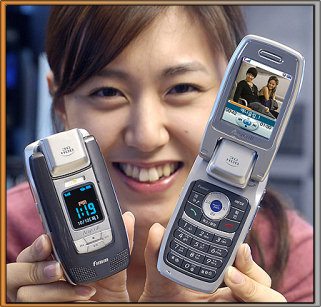 Seoul , Korea - October 17th , 2005- Samsung introduces a phone with 3 GB HDD embedded phone (model: SPH-V7900). This model is Samsung's latest model equipped with hard disc drive following the world's first mobile phone equipped with 1.5GB hard disc drive (model: SPH-V5400) which Samsung introduced in September last year.
The V7900 allows users to store two or three full-length movies (at 1.1-5GB each) or more than 700 music files (at 4MB each).
The V7900 also supports the latest multimedia compression technologies –MPEG-4/H.264 (for video) and MPEG-4 AAC/AAC+ (for audio). High-performance dual speakers are mounted on the folder exterior to provide 64-polyphonic stereo sound.
This model comes with a new feature, harmonic color, which converts all musical elements such as scale, octave, tone and volume into visual images in variety of colors and patterns.
It also comes with 2 megapixel camera with 2x optical zoom, MP3 player, and document viewer function.
Kitae Lee, President of the Samsung Electronics Telecommunication Network Business, said , "The major increase in memory will position the mobile phone as a key multimedia product that enables users to watch movies and listen to music. We will continue to apply the latest technologies and innovative designs to remain at the forefront of the global market for premium mobile phones." The phone is available in Korea at around 700 USD.
Specifications:
CDMA 2000 1x EVDO
2-megapixel Camera / Flash
3GB Hard Disk Drive
Video Recording (MPEG4) & Messaging
MPEG4 / H.264
Display: 262K color TFT (240 x 320)
MP3 / AAC / AAC+ Player
IrDA / USB 2.0
TV output / Document Viewer
MMS / WIPI / WAP2.0
Size: 103 x 52 x 27.6 mm
Weight: 165.3g




Source: SAMSUNG Press Release
Links


Tags: disco | drive | hard drive | mobile | samsung | telefonia