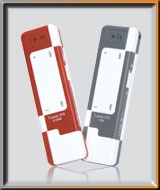 Now this is very special, the T.sonic 310 from Transcend is a radically distinctive hybrid that combines all the advantages of a hi-speed USB 2.0 flash drive with a high quality MP3 player, but thatís not all. Transcend has managed to integrate a unique feature into the T.sonic 310ís innovative cubist design, a TouchPad controller. The T.sonic 310ís easy to use futuristic TouchPad, responds to your fingertip control and allows you to raise or lower the volume, replay/skip tracks and fast forward/rewind music during playback.
Simply plugging in or out the earphones of the tricked out T.sonic 310, transforms the unit into an MP3 player, which will entertain you with its high-quality audio, or a USB flash drive that can be used to store, transfer and exchange all your data, music, photos and e-work. The stylishly designed, uber-trendy T.sonic 310 is the same size as a disposable lighter and has an integrated li-ion rechargeable battery that gives over 18 hours of continuous music playback. In addition, the T.sonic 310 is hi-speed USB 2.0 complaint, plugs directly into your desktop or notebook computer and as impressive data transfer speeds of read/write 9MB/8MB per second.
As the T.sonic 310 is a fully functional hi-speed USB 2.0 flash drive it comes bundled with some very useful software. The T.sonic 310 has password protection, PC-lock (use the T.sonic 310 as a key to your computer), boot-up (makes your T.sonic 310 a bootable device) and partition software. The T.sonic 310 supports Windows 98SE/2000/Me/XP, Mac OS 9.0 or later, and Linux Kernel 2.4 or later.
Transcend has really pulled out all the stops and created an exciting innovative device in the T.sonic 310 that gives you the best of both worlds, a flash drive with an MP3 player, but we werenít happy with that. We went further to merge function with fashion, by combining a unique TouchPad controller into a smart elegant design. The all-new T.sonic 310, it really is, "The Must-Have Gadget."
Product Features
USB 2.0 compliant and USB 1.1 backwards compatible
MP3 Player supporting MP3, WMA music formats
Built-in Li-ion battery supports up to 18 hours of continuous play when fully charged
TouchPad controller for track selection and volume control
PC-Lock feature allows you to use the T.sonic 310 as a key to your computer
Boot-Up feature allows you to make your T.sonic 310 a bootable device
Partition feature allows you to create a private and password protected partition on your T.sonic 310
LED indicates the usage status of the T.sonic 310
Flash Drive is USB powered
2-year warranty




Source: Sony Press Release
Links


Tags: combo | drive | flash | mp3 | player | transcend