Attraverso l'ampio comunicato stampa di seguito allegato, NVIDIA ha annunciato ufficialmente il suo nuovo SoC (System on Chip) denominato Tegra 3, tipicamente indicato anche con il nome in codice di "Project Kal-El", una soluzione dedicata all'equipaggiamento dei sistemi di tipo tablet e smartphone che, in accordo al produttore, è in grado di conferire a tali sistemi un livello di performance comparabile con quello dei PC.

Ma non soltanto: NVIDIA afferma infatti che Tegra 3, utilizzato per la prima volta in ambito tablet dal prossimo ASUS Eee Pad Transformer Prime, aumenta la durata della batteria, in virtù naturalmente di un consumo di potenza ridotto, e, inoltre, massimizza l'esperienza mobile.

NVIDIA cita i risultati di alcune misurazioni interne, in accordo ai quali le performance grafiche di Tegra 3 sono fino a tre volte superiori a quelle del suo predecessore, ovvero Tegra 2, mentre il consumo di potenza risulta ridotto del 61%. Quest'ultimo dato si traduce nella possibilità di eseguire fino a 12 ore di playback di video in HD senza ricaricare la batteria.

Uno dei segreti del chip Tegra 3 in ambito grafico è senza dubbio l'integrazione di 12 core NVIDIA GeForce all'interno della sezione GPU, con i quali il produttore statunitense assicura ottime risposte in termini di illuminazione dinamica, effetti fisici e rendering alle alte risoluzioni, oltre al supporto di 3D Vision.

La sezione CPU è stata invece realizzata in accordo alla tecnologia proprietaria Symmetric Multiprocessing (vSMP), in virtù della quale alla CPU quad-core è stato affiancato un ulteriore core, ottimizzato dal punto di vista della riduzione del consumo di potenza. Di conseguenza, con le applicazioni a bassa potenza Tegra 3 utilizza il quinto core, essendo i quattro principali disattivati, mentre ricorre a questi ultimi negli altri casi.

Tegra 3 è anche molto performante in ambito Web, essendo in grado di accelerare Adobe Flash Player 11, HTML5 e WebGL.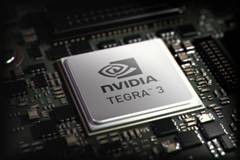 [Immagine ad alta risoluzione]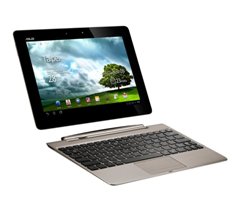 [Immagine ad alta risoluzione]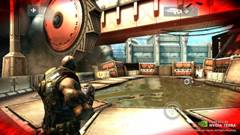 [Immagine ad alta risoluzione]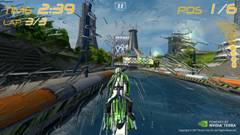 [Immagine ad alta risoluzione]

NVIDIA today ushered in the era of quad-core mobile computing with the introduction of the NVIDIA® Tegra® 3 processor, bringing PC-class performance levels, better battery life and improved mobile experiences to tablets and phones. The world's first quad-core tablet with the Tegra 3 processor is the ASUS Eee Pad Transformer Prime.
Known previously by the codename "Project Kal-El," the Tegra 3 processor provides up to 3x the graphics performance of Tegra 2, and up to 61 percent lower power consumption. This translates into an industry-leading 12 hours of battery life for HD video playback.
The Tegra 3 processor implements a new, patent-pending technology known as Variable Symmetric Multiprocessing (vSMP). vSMP includes a fifth CPU "companion," specifically designed for work requiring little power. The four main cores are specifically designed for work requiring high performance, and generally consume less power than dual-core processors.
During tasks that require less power consumption -- like listening to music, playing back video or updating background data -- the Tegra 3 processor completely shuts down its four performance-tuned cores and, instead, uses its companion core. For high-performance tasks -- like web browsing, multitasking and gaming -- the Tegra 3 processor disables the companion.
"NVIDIA's fifth core is ingenious," said Nathan Brookwood, Research Fellow at Insight 64. "Tegra 3's vSMP technology extends the battery life of next-generation mobile devices by using less power when they're handling undemanding tasks and then ratcheting up performance when it's really needed."
The Tegra 3 quad-core CPUs are complemented with a new 12-core NVIDIA GeForce® GPU, which delivers more realism with dynamic lighting, physical effects and high resolution environments, plus support for 3D stereo, giving developers the means to bring the next generation of mobile games to life.
For the millions who play games on mobile devices, the Tegra 3 processor provides an experience comparable to that of a game console. It offers full game-controller support, enabling consumers to play games on their tablet or super phone, or connect to big screen HDTVs for a truly immersive experience. It also leverages NVIDIA's award-winning 3D Vision technology and automatically converts OpenGL applications to stereo 3D, so consumers can experience 3D on a big screen 3D TV (via HDMI™ 1.4 technology).
The Tegra 3 processor provides the industry's....
Fastest web experience - with accelerated Adobe Flash Player 11, HTML5 and WebGL browsing, and an optimized Javascript engine
Fastest applications - with blazing performance for multimedia apps, such as photo and video editing
Fastest multitasking - for switching between common uses, such as playing music and games, and background tasks
Fastest, highest-quality gaming - including new Tegra 3 processor-optimized NVIDIA Tegra Zone™ app games such as Shadowgun, Riptide GP, Sprinkle, Big Top THD, Bladeslinger, DaVinci THD and Chidori.
Highlights / Key Facts:
The Tegra 3 processor redefines power consumption and mobile-computing performance with:

The world's first quad-core ARM Cortex A9 CPU
New patent-pending vSMP technology, including a fifth CPU core that runs at a lower frequency and operates at exceptionally low power
12-core GeForce GPU, with 3x the graphics performance of the Tegra 2 processor, including support for stereoscopic 3D
New video engines with support for 1080p high profile video at 40 Mbps
Up to 3x higher memory bandwidth
Up to 2x faster Image Signal Processor

40 games are expected to be available by the end of 2011, and over 15 Tegra 3 games are under development for Tegra Zone, NVIDIA's free Android Market app that showcases the best games optimized for the Tegra processor.
The Tegra 3 processor is in production. Developers can order the Tegra 3 Developer Kit to create applications for devices with Tegra such as tablets and super phones, at developer.nvidia.com/tegra.
Quotes:
NVIDIA, ASUS
"The Eee Pad Transformer Prime is a category-defining product. Powered by Tegra 3, it launches us into a new era of mobile computing, in which quad-core performance and super energy-efficiency provide capabilities never available before. With Transformer Prime, ASUS has once again led the industry into the next generation."
- Jen-Hsun Huang, President and Chief Executive Officer, NVIDIA


"Tegra 3 is a marvel. Its quad-core CPU, 12-core GeForce GPU and vSMP technology are revolutionary. We worked closely with NVIDIA to build the ultimate tablet -- the Eee Pad Transformer Prime -- that delivers a magical, uncompromised experience to consumers."
- Jerry Shen, CEO at ASUS
Key Game Developers
"Thanks to Tegra 3's quad-core CPUs, Shadowgun looks and plays the best on Tegra. Consumers are going to love the quad-core Shadowgun version -- which features rag doll physics, console quality water simulation, particle effects, enhanced shaders, dynamic textures, and more."
- Marek Rabas, CEO of Madfinger Games


"Riptide GP showed how Tegra brought mobile gaming on Android to new heights. Tegra 3's quad-core performance has allowed us to add a whole set of exclusive new features -- improved water visuals, splash effects, motion blur -- that pushes the experience to an entirely new level."
- Matt Small, Creative Director at Vector Unit


"Working with NVIDIA makes the impossible possible. Our Tegra 3 optimized game DaVinci THD will look brilliant when it comes out, with mind-blowing 3D graphics and intuitive touchscreen interface. DaVinci THD will leverage Tegra 3 for its multi-threading capabilities, so we can scale across all four CPU cores and deliver the ultimate console-quality performance. As a result, DaVinci THD will be more realistic, interactive and challenging than anything we've done before."
- Kijong Kang, VP and Executive Producer at Bridea Corporation


"Combining BitSquid's tech engine with Tegra 3's quad core architecture means a gaming experience like no other. Gamers are going to really see the next-generation gaming experience in Hamilton's Great Adventure THD."
- Martin Wahlund, CEO at Fatshark


"With Tegra 3, NVIDIA has shattered the usual constraints on the quality of mobile device experiences. By enabling tablets and smartphones to operate at an exceptional level, it allows developers like Zen Studios to create console-quality experiences that can be enjoyed anywhere, anytime. The quad-core fueled graphics and physics in Zen Pinball THD are simply incredible and represent the premier mobile pinball experience. You can only get that on devices built on Tegra 3."
- Mel Kirk, Vice President of Marketing and Public Relations at Zen Studios


"Quad-core chips are raising the stakes for mobile gaming. With Tegra 3, we can render even more content with better animations on Bladeslinger THD -- all while consuming less power. This is a recipe for all-day game play."
- Sam Williams, General Manager at Luma Arcade


"Tegra 3 is making much more complex gaming environments possible on mobile platforms. Gamers are going to be amazed by the level of graphical detail and realistic physics that come through in quad-core enhanced games like Soulcraft THD."
- Karsten Wysk, CEO of Mobile Bits


"As we've seen on Big Top THD, gaming performance on Tegra 3's quad-core architecture is unmatched. From the high quality shadows to improved tent animation and high-dive splash effects, Tegra 3's 12-core GPU delivers the best gaming experience and uses the lowest power you'll see on a mobile device."
- Robert Troughton, CEO at Pitbull Studio Ltd.


"Tegra 3's quad-cores bring out the best in our Substance smart texturing engine. The CPU and GPU parallel processing allows mobile game developers to add never-seen animated visual effects and textures to their games, translating into an absolutely stunning visual experience on mobile."
- Sébastien Deguy, CEO and Founder at Allegorithmic


"Tegra 3's quad-core processor and 12-core GPU allows developers to port PC and console game titles using BitSquid Tech for the same great experience on any device. From a hard-core gamer's customized PC to a phone or tablet with Tegra, you'll get identical game play and buttery smooth graphics, anywhere any time."
- Tobias Persson, Co-Founder and Rendering Architect at BitSquid Tech


"We're excited to bring the definitive version of Siegecraft to Tegra 3. Its amazing graphics performance and quad-core scaling let us amp up the game to the max -- more physics, more units, more Siegecraft!"
- Benjamin Lee, Managing Director at Blowfish Studios


"Thanks to Tegra 3's fantastic GPU performance we were able to use the same quality textures in Zombie Driver THD as on the PC. The outstanding quad-core CPU performance makes it possible to support Tegra game development in parallel to other high-end platforms."
- Pawel Lekki, Chief Operating Officer at Exor Studios


"Quad-core technology has changed how we approach mobile game development. Tegra 3 helped us create Jett Tailfin Racers THD -- an eight-player game with the highest resolution textures, underwater caustics and anisotropic shading we've ever seen on a mobile device."
- Manny Granillo, President at Hoplite Research


"Mobile gaming is about to take a huge leap forward with Tegra 3. Its GPU gives us access to higher-resolution textures and far better effects. And its four CPUs make Euphoria's gameplay smoother, more interactive and quality that's close to a console."
- Keiichi Yano, Co-Founder and VP of Development at iNiS


"It's incredible what Tegra 3's quad-core architecture brings to mobile gaming. As good as Combat Arms looks on a tablet, it looks 1000 times better when you connect it to your HDTV, strap on game controllers and sit back to enjoy a real 3D console-gaming experience with Combat Arms: Zombies THD."
- Albert Rim, CEO at Nexon Mobile Corporation


"With the Tegra 3 processor, NVIDIA is once again painting new horizons for technology on wireless platforms. We're excited to see how the thousands of developers using Unity to create interactive 3D content will take advantage of the extra power that NVIDIA's quad-core technology provides."
- Tony Garcia, Vice President of Business Development at Unity Technologies


"Tegra 3 is equivalent to a console game machine, and we believe devices with it will play an important part in next-generation games. We've been working on optimizing our cross-platform engine Chidori to fully support Tegra 3. To support Tegra 3's multi-core engine, we've optimized our 3D effect tool. And we've adapted our high-quality shader library, Aoi, to Tegra 3, allowing truly beautiful imagery."
- Katsunori Yamaji, CEO and Executive Producer at Premium Agency Inc.


"By harnessing the strength of Tegra 3's 12-core GPU in our multiplatform middleware, game developers can easily port titles to Tegra 3 and achieve true console-quality graphics. Tegra 3's quad-core architecture and Orochi's multicore-enhanced, game-engine technology is going to spur the evolution of games on quad-core mobile devices."
- Takehiko Terada, President and CEO at Silicon Studio Corporation


"We're totally pumped by the potential of Tegra 3's quad-core CPU and 12-core GPU. They'll bring console-quality experiences to mobile devices, and we're working to bring an amazing title to the Tegra platform. Stay tuned for our announcement of a great Tegra 3-optimized title in the coming months."
- Richie Casper, Creative Director at Acquire Corp.


"NVIDIA's GPU architecture delivers the best gaming experience, bringing true console-quality games to mobile devices. Our Lost Planet 2 test demo makes it clear -- the quad-core muscle of Tegra 3 brings hyper-realistic visuals, smooth frame rates and sharp images. The result is a whole new level of realism to content for smartphones and tablets."
- Jun Takeuchi, Deputy Head of Consumer Games at Capcom


"Tegra 3 is a huge leap forward in mobile computing. Using its quad-core capabilities, we were able to improve all of Sprinkle's visual effects, plus add a whole new layer of smoke simulation."
- Dennis Gustafsson, Co-Founder of Mediocre


"We're floored by everything we've seen in Tegra 3. Its four cores, coupled with amazing graphics performance, will let us bring awesome gaming experiences to the Tegra platform next year."
- Carlo Perconti, CEO at HyperDevBox
Key Content Partners





Source: NVIDIA Press Release
Links


Tags: nvidia | smartphone | soc | tablet | tegra