Double Layer Technology and Double Dynamic Suspension System Provide Superior Solution for Increased Data Storage Capacity and Quiet Operation
ASUSTeK Computer Inc. (ASUS), a leading provider of high-performance optical storage devices, today announced the DRW-1608P2S, the industry's superior DVD rewriter that supports 5X DVD-RAM write, 16X DVD+/-R/RW and 8X DVD+/-R double layer media source.
With the popularity of digital multimedia entertainment on the rise, the demand for higher data storage quality and capacity to accommodate video and audio data is also increasing. The ASUS DRW-1608P2S supports the latest double layer technology, which almost doubles the DVD+R storage capacity from 4.7GB to 8.5GB, providing up to four hours of DVD quality video archive ability. In addition, with the new double layer technology, full storage capacity can be achieved on one side of a single disc without the need to turn over.
Flexibility for the wide array of media formats is also very important. The ASUS DRW-1608P2S offers both 16X DVD-Write and 16X DVD+Write, making it capable of reading from and writing on DVD-Write/ Rewrite and DVD+Write/ Rewrite formats. With dual-format adopting features, the DRW-1608P2S creates DVDs that can be played and read by most DVD-ROM drives and DVD players. It also enables 5X DVD-RAM, 6X DVD-Rewrite, 8X DVD+Rewrite, 16X DVD-ROM, 40X CD-R, 32X CD-RW and 40X CD-ROM providing flexible and high-speed operation.
The ASUS DRW-1608P2S also adopted several innovative technologies found only in ASUS optical drives, including:
FlextraLink - Makes sure No More Discs Go to Waste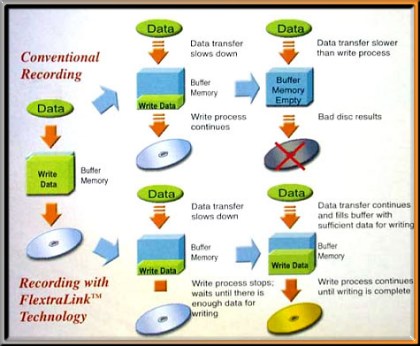 With innovative technologies, the CD rewriter provides leading-edge data storage capabilities. FlextraLink prevents buffer underrun problems and eliminates the creation of unusable discs , while FlextraSpeed enhances accuracy and reliability when writing and rewriting across a broad range of certified media. Throughout the recording process, FlextraLink consistently keeps track of the data buffer status, whereas FlextraSpeed continously monitors the recording media and set s the most effective writing speed to ensure top-quality recording. Both ASUS proprietary technologies occupy minimal system resources, allowing the PC to remain fully operational and available for other applications even during the recording process.

FlextraSpeed – Operate at the Optimal Recording Speed

FlextraSpeed TM continuously monitors the recording media and sets the optimal writing speeds to ensure best recording quality. The results are enhanced accuracy and reliability when reading/ writing/ re-writing across a broad range of certified media in different formats. The optimal operation speed also effectively lowers noise, prolongs motor life and saves CPU resource.

DDSS II Technology – Operate with Exceptional Stability

The DRW-1608P2S also features the patented ASUS DDSS II (Double Dynamic Suspension System II) technology, which minimizes the vibration caused by the spindle motors and resonance between components as well as the drive and PC case. It stabilizes the pick-up head, both horizontally and vertically, achieving more precise tracking while reducing vibration and noise caused by high-revolution motors. Airflow Field Modification (AFFM) is another unique feature to reduce noise and vibration when using a high-speed drive. AFFM is designed to change the uneven airflow field inside the drive because even pressure distribution leads to quieter and more stable operation.

LCT Technology – Precise Pick-up Head Line Up on Uneven Discs

LCT (Liquid Crystal Tilt) technology provides enhanced pick-up head line up accuracy during recording and playback on disks with the uneven curvature and surfaces of discs.All ASUS proprietary technologies occupy minimal system resources, allowing the PC to remain fully operational and available for other applications even during the recording process.

For additional information about ASUS optical storage devices or other quality products, please visit the company homepage at http://www.asus.com.

Specifications:
5X DVD-RAM/16X DVD-R/6X DVD-RW/ 16X DVD+R/8X DVD+RW/8X DVD ± R (DL)/16X DVD-ROM/40X CD-R/32X CD-RW/40X CD-ROM
Vertical and Horizontal Mounting Available
Support DAO, TAO, SAO, Packet Write
Support Windows XP/NT/ME/2000/98SE
Multiple formats: DVD-ROM, DVD+R, DVD+RW, DVD-R, DVD-RW, DVD-Video, DVD-RAM, CD-R, CD-RW, CD-DA, CD-ROM Mode1, CD-ROM/XA Mode2, Photo CD, CD-I, CD-Extra, CD-Text
Bundled Latest NERO & ULEAD Software




Source: ASUS Press Release
Links