The Document Foundation annuncia LibreOffice 3.4.1, la seconda versione della famiglia 3.4, indirizzata a utenti individuali e aziende. LibreOffice 3.4.1 corregge diversi problemi della versione 3.4, e può essere usata in produzione dalla maggior parte degli utenti.

LibreOffice 3.4.1 è disponibile per il download al seguente indirizzo: http://www.libreoffice.org/download/.

TDF suggerisce alle aziende che utilizzano LibreOffice sui propri PC di usare LibreOffice 3.3.3, che viene utilizzata da migliaia di utenti ormai da mesi, e le incoraggia a rivolgersi a una struttura professionale di supporto. LibreOffice 3.4.2, disponibile alla fine di luglio, risponderà alle esigenze di tutti gli utenti aziendali.

The Document Foundation riconosce le particolari esigenze degli utenti aziendali e di quelli più prudenti, e per questo motivo ha deciso di fornire due versioni diverse del software, in modo da soddisfare sia gli utenti più avanzati che sono alla ricerca delle funzionalità più avanzate sia quelli più prudenti che privilegiano la stabilità rispetto alle nuove funzionalità

Le versioni annunciate come stabili possono essere comunque adottate senza problemi negli ambienti di lavoro, dato che i problemi possono riguardare le singole funzionalità ma non mettono a repentaglio la qualità e la sicurezza dei documenti.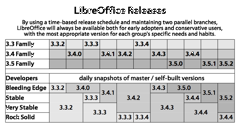 [Immagine ad alta risoluzione]

The Document Foundation announces the release of LibreOffice 3.4.1, the second version of the newer 3.4 family, targeting both private individuals and enterprises. LibreOffice 3.4.1 fixes several bugs that affected the previous version, and can be safely deployed for production needs by most users.

LibreOffice 3.4.1 can be downloaded from the following page: http://www.libreoffice.org/download/.

Large enterprises deploying LibreOffice on desktop PCs, are still recommended to deploy LibreOffice 3.3.3, which has been tested over several months by thousands of people worldwide, and are encouraged to call on professional support services. LibreOffice 3.4.2, available at the end of July, will target enterprise deployments.

Recognizing that large enterprises and conservative users have special needs, The Document Foundation has decided to provide two different versions of the software, so as to garner to the needs of power users looking for the latest enhancements while still catering to the priorities of more-prudent users who prefer stability over availability of new features.

Versions announced as stable can be safely deployed in work environments, as bugs might hamper individual features but won't have an impact on the overall quality and security of document production.





Source: The Document Foundation Press Release
Links


Tags: libreoffice | suite | the document foundation