Eizo ha ampliato il proprio catalogo di monitor con la soluzione da 23-inch denominata FORIS FS2332 (cfr. la foto che segue). Il nuovo prodotto, che è Full HD Ready in virtù del supporto di una risoluzione nativa pari appunto a 1920 x 1080, è orientato al mercato consumer, e più in dettaglio al segmento dell'home entertainment. Di conseguenza, è ottimizzato per il gaming, il playback dei film, il photo editing e la lettura degli ebook.

Dal punto di vista tecnologico, il FORIS FS2332 è basato su un pannello IPS LED backlight, che garantisce un angolo di visione pari a 178°, consentendo dunque la visione simultanea da parte di 2 o più utenti. Il ricorso alla tecnologia LED backlight garantisce invece un consumo di potenza pari a 20W nel caso di utilizzo ordinario.

Completano il set di specifiche principali del prodotto la luminosità pari a 250cd/m2 e il rapporto di contrasto di 1000:1. Il monitor, che include due altoparlanti da 0.5W, è dotato di due connettori di ingresso di tipo HDMI, di uno DVI-D e di uno D-Sub (o VGA).

Sono al solito numerose le tecnologie proprietarie adottate da EIZO per assicurare sempre una ottima qualità dell'immagine; il nuovo FORIS FS2332 sarà commercializzato a luglio.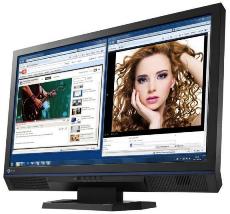 [Immagine ad alta risoluzione]

Eizo Nanao Corporation today introduced the FORIS FS2332, a 23-inch full high-definition (1920 x 1080 native resolution) monitor. The FORIS FS2332 is targeted at the home entertainment market and includes several features to enjoy gaming, watching movies, photo editing, and reading ebooks.

The FORIS FS2332 comes with an IPS panel and LED backlight. The IPS panel has viewing angles of 178° and minimal color shift so two or more people can see the screen at once. The LED backlight is mercury free and consumes only 20 watts of power during normal use.

Dual HDMI inputs, one DVI-D (digital), and one D-Sub (analog) input are included for connecting to up to four devices at once. The HDMI inputs can be used for connecting to Blu-ray disc players, high-definition game consoles, digital cameras, and computers.

A new EIZO-developed feature called "Smart Resolution" analyzes both still and moving images for noise and blurring and then adjusts them to appear more clear and natural. This feature is "Smart" because it only adjusts the image in areas where it is needed. For example, in a web page with both video and text, Smart Resolution may detect that the text should be left as is but the video should be made sharper.

Six preset modes are included to ensure the color settings are ideal for any application: Cinema, Paper, sRGB, Game, and two modes for user adjustable settings. Paper mode simulates printed paper and helps prevent eyestrain when reading ebooks or documents by adjusting the black level and reducing the contrast ratio.

Game mode activates Smart Resolution and another EIZO feature called "Power Gamma." Power Gamma applies a special gamma curve to games and other animated images that amplifies the feeling of contrast to make them look more three dimensional. Other features that optimize the monitor's performance for gaming are a gray-to-gray response time of just 6 ms and an input lag of less than one frame.

Any preset mode can be assigned to an application so that when the application is opened, the screen automatically changes to its assigned mode with the bundled ScreenManager Pro for LCD (DDC/CI) utility software1. This software can also be used for adjusting the monitor's color settings with the mouse or keyboard instead of the OSD menu.

For amateur digital photography enthusiasts, this monitor is compatible with EIZO EasyPIX, an optional color matching tool. EIZO EasyPIX can be used for calibrating the brightness, color temperature, and gamma to specific values or for matching the color and brightness of the monitor to the white of the printing paper through simple visual perception. EIZO EasyPIX consists of color matching software and EIZO's EX1 color sensor.

The FORIS FS2332's cabinet design features a long, narrow imprint that runs from side to side across the lower front bezel. The imprint is for affixing a red, gray, or blue color stripe so users can personalize the appearance of their monitor. The color stripes are included.

For photo editing, gaming, and other tasks where color display is critical, the FORIS FS2332 includes 10-bit gamma correction. This function uses a 10-bit look-up table with a palette of more than one billion colors to select the most appropriate 16.7 million colors for smooth display of color gradations without banding.

Additional Features
Remote control for access to the OSD, selecting the active input signal, adjusting volume, etc.
250 cd/m2 brightness and 1000:1 contrast ratio.
Dual 0.5 watt internal speakers and a headphone jack.
Auto EcoView brightness sensor that reads the ambient lighting and adjusts the screen's brightness to the ideal level.
EcoView Index gauge that encourages environmental consciousness by indicating power savings from using Auto EcoView.
Energy Star 5.0 and TCO Displays 5.2 compliance.
Five-year manufacturer's limited warranty2.
Availability
The FORIS FS2332 begins shipping in July. Date of availability varies by country so contact the EIZO subsidiary or distributor in your country for details. Visitors to DreamHack Summer 2011 in Jönköping, Sweden from June 18 – 21 can have a first look at the FORIS FS2332.



Source: EIZO Press Release
Links


Tags: eizo | ips | monitor | pannello