ASUS ha ampliato la linea di schede grafiche ROG MATRIX, che include soluzioni progettate e dedicate ai gamer e agli overclocker, con la ROG MATRIX GTX 580. Come si intuisce dalla denominazione commerciale, la video card è basata sulla gpu GeForce GTX 580, aka GF110, di NVIDIA ed è caratterizzata da un design non reference sia in termini di PCB (a tal proprosito lo stesso produttore segnala la dotazione di un VRM a 19 fasi, ndr) che di cooler (il sistema di raffreddamento, che è concepito in accordo alla tecnologia proprietaria DirectCU II, utilizza due ventole da 92mm, ndr).

La gpu della ROG MATRIX GTX 580 lavora, in condizioni di default, a 816MHz, mentre la memoria locale, implementata con il ricorso a 1.5GB di G-DDR5, è caratterizzata da una frequenza di clock pari a 4.8GHz (valore effettivo, ndr).

Il cooler non reference è capace di ridurre la temperaturà operativa del 20% rispetto alle soluzioni reference, a parità di condizioni esterne, mentre il VRM a 19 fasi, unitamente alla disponibilità di tool come TweakIt e ProbeIt, consente di overcloccare agevolmente l'hardware, ottenendo un boost prestazionale pari al 15% e senza penalizzare la stabilità operativa.

Il pannello posteriore della scheda, oltre al pulsante Safe Mode, che effettua il reset del bios della scheda, annullando eventuali configurazioni troppo spinte eseguite dall'utente, include due connettori DVI-I, uno HDMI e uno DisplayPort.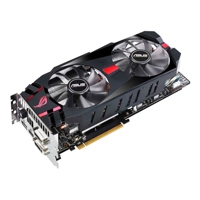 [Immagine ad alta risoluzione]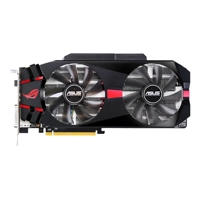 [Immagine ad alta risoluzione]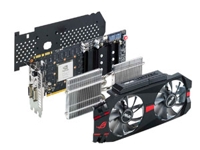 [Immagine ad alta risoluzione]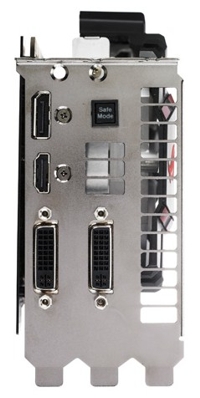 [Immagine ad alta risoluzione]

Continuing the success of its popular ROG MATRIX Series graphics cards, ASUS today launches the ROG MATRIX GTX 580 Series. Based on the NVIDIA GeForce GTX 580 GPU, the ROG MATRIX GTX 580 Series combines a dual-fan DirectCU II thermal design and 19-phase Super Alloy Power components with instant hardware overclocking tools; TweakIt, ProbeIt and an innovative Safe Mode button. Together, with the new GPU Tweak software overclocking utility, both gamers and overclockers can now gain an undeniable performance advantage over the competition.

Redesigned From the Ground Up for Incredible Performance
The ROG MATRIX GTX 580 series is clocked at 816MHz and features a massive 1.5GB of 4.8GHz GDDR5 memory. It comes preloaded with a variety of hardware-based tools, including TweakIt and ProbeIt for instant overclocking adjustment and measurement, plus a Safe Mode button for the instant restoration of stable settings at any time.

The ROG MATRIX GTX 580 Series has been created to deliver the ultimate in overclocking performance with its ground-up PCB redesign and exclusive 19-phase Super Alloy Power technology. This guarantees much greater overclocking headroom, with a 15% performance boost, 2.5 times longer lifespan and 35°C cooler operation than the reference card design.

The new GPU Tweak overclocking tool has integrated the GPU-Z with TechPowerUp to provide accurate information about the graphics card, while ASUS engineers have developed real-time clock frequency, voltage, fan speed and profile adjustments for up to four different card settings in combination to this. ASUS also ensures the most up-to-date firmware and drivers via its Live Update feature. Simply put, GPU Tweak gives gamers and overclockers convenience and flexibility in adjustments and monitoring not seen in other tools.

Direct Cooling in Style
Also helping cool the MATRIX GTX 580 series is an exclusive DirectCU II thermal design that puts copper heat pipes in direct contact with the GPU to effectively dissipate heat. Twin sound-dampened fans also pull 600% more air across the card's heatsinks than the reference design, achieving 20% cooler operating temperatures. The MATRIX LED load indicator provides an at-a-glance, color changing display of the card's overall load in real-time, too.

Product Highlights
Overclocking hardware tools like TweakIt and ProbeIt are directly embedded onto the ground-up redesigned PCB, while a Safe Mode button offers an easy reset option for worry-free overclocking.
GPU Tweak utility provides real-time software overclocking control. The tool not only guarantees superior control over such things as clock frequency, voltage and fan speed, but also provides several handy features like in-game video recording and live firmware and drivers update
19-phase Super Alloy Power components provide more headroom for overclocking with a 15% performance boost, reduced running temperatures by 35°C and prolonged product lifespan by 2.5 times.
Award-winning DirectCU II thermal technology with sound-dampened dual fans provides 600% greater airflow and 20% cooler performance than the reference design.
A multicolored MATRIX LED load indicator on the ROG MATRIX GTX 580 gives an instant, color changing visual display of the real-time GPU load.




Source: ASUS Press Release
Links


Tags: asus | gamer | gtx | matrix | overclocker | rog