Con il comunicato stampa di seguito allegato, NVIDIA ha annunciato il processore grafico Quadro 400, una soluzione indirizzata ai designer e agli ingegneri che utilizzano applicazioni professionali, come AutoCAD di Autodesk.

In accordo al produttore, il nuovo processore grafico, testato con l'ausilio del benchmark PEC Viewperf 11, fornisce prestazioni fino a cinque volte superiori a quelle offerte da una gpu consumer di fascia alta orientata al gaming (la GeForce GTX 580 più in dettaglio, ndr), mentre le performance sono fino a 10 volte superiori con gli applicativi di CAD/CAM più diffusi.

NVIDIA ha installato la gpu Quadro 400 su un PCB di tipo low-profile unitamente a 512MB di RAM DDR3; il consumo di potenza della scheda è molto basso, essendo pari a 35W, mentre il kit di porte di uscita è composto da una DVI dual-link e da una DisplayPort (DP).

La porta DVI dual-link può lavorare fino a 3840 x 2400 @ 24Hz per pannello, mentre la DisplayPort fino a 2560 x 1600. L'MSRP della video card è pari a $169.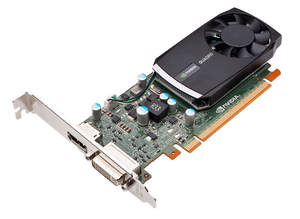 [Immagine ad alta risoluzione]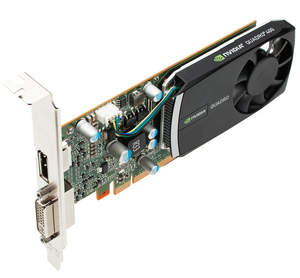 [Immagine ad alta risoluzione]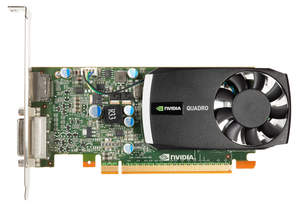 [Immagine ad alta risoluzione]

NVIDIA announced today the NVIDIA Quadro 400 graphics processing unit (GPU), a new professional graphics solution that puts the power of the GPU in the hands of designers and engineers.
Built for use with professional applications, such as Autodesk AutoCAD, the NVIDIA Quadro 400 GPU provides up to 5X faster performance over high-end consumer gaming cards. It also gives up to 10X improvement when running industry leading CAD/CAM applications.1
Priced at just $169, the Quadro 400 GPU also offers excellent power efficiency, consuming less than 35 watts, and its low-profile footprint means it offers the flexibility to fit into any workstation, including small form-factor systems.
With 512 MB of DDR3 memory, the Quadro 400 processor enables professionals to interact with a wide range of design models. It also provides high visual fidelity, featuring a 30-bit (10-bits per color) color engine with a dynamic range of over one billion color variations. Quadro 400 drivers are optimized and certified on leading professional applications.
"Designers and engineers, whether designing the largest assemblies or smallest components, rely on Quadro," said Jeff Brown, general manager, Professional Solutions Group, NVIDIA. "The Quadro 400 is the right tool to help ensure that job gets done the right way, especially when it comes to running professional apps like Autodesk AutoCAD."
Additional features of the new Quadro 400 GPU include:
Unified Driver Architecture - Guarantees forward and backward compatibility with professional application software drivers, and simplifies upgrading to a new solution.
Hardware 3D Window Clipping - Accelerated clip regions enable faster data transfer between a window and the frame buffer to improve overall graphics performance.
High-Quality Display Connectivity - Drives ultra-high-resolution panels, producing phenomenal image quality, supporting two active connectors, including dual-link DVI with up to 3840 x 2400 resolution @ 24Hz on each panel, and DisplayPort (DP) with up to 2560 x 1600 resolution.
NVIDIA® Mosaic™ Technology - Enhances workspace across up to eight displays (using one card per two displays), enabling seamless taskbar spanning, as well as transparent scaling of any application. Works over multiple displays or a single high-resolution display, and with NVIDIA nView® desktop management software.
The NVIDIA Quadro 400 processor also supports NVIDIA 3D Vision™ and 3D Vision Pro active shutter glasses 3D technology that delivers crystal-clear, stereoscopic 3D visualization for the most immersive 3D experience, ranging from desktop workstations to collaborative work spaces.

Designed, Built and Engineered by NVIDIA to the Highest Standards of Quality
As with all Quadro professional graphics cards, the Quadro 400 is designed, built and warranted by NVIDIA to provide industry-leading performance and reliability when running professional applications. Companies consistently certify Quadro professional graphics solutions for their users whose livelihoods depend on them.

Availability and Pricing
The Quadro 400 ($169 MSRP, USD) is available immediately for the HP Z800, Z600, and Z400 Workstations, and for all Fujitsu CELSIUS workstations. It will be available later this month and next on select Lenovo ThinkStation D20, C20, S20 and E30 models. It's also available from NVIDIA Quadro channel partners including PNY Technologies in North America and Europe, ELSA in Japan, and Leadtek in Asia Pacific.

For more information about NVIDIA Quadro Professional Graphics Solutions, please visit www.nvidia.com/quadro. 

Follow NVIDIA Quadro on YouTube and Twitter: @NVIDIAQuadro.





Source: NVIDIA Press Release
Links