Con il seguente comunicato, pubblicato sul blog ufficiale del prossimo first-person shooter Crysis 2, il publisher del titolo, Electronic Arts, ha reso noto agli utenti e appassionati che ha fatto la sua comparsa nel Web, e più in dettaglio nel circuito che ruota intorno al file sharing mediante il protocollo BitTorrent, una build "rubata" di Crysis 2 (in gergo "leaked", ndr), che è tuttavia "incompleta" poichè il game è "ancora in fase di sviluppo" presso gli studi di Crytek.
---
"Crytek has been alerted that an early incomplete, unfinished build of Crysis 2 has appeared on Torrent sites. Crytek and EA are deeply disappointed by the news. We encourage fans to support the game and the development team by waiting and purchasing the final, polished game on March 22. Crysis 2 is still in development and promises to be the ultimate action blockbuster as the series' signature Nanosuit lets you be the weapon as you defend NYC from an alien invasion. Piracy continues to damage the PC packaged goods market and the PC development community".
---
Di conseguenza, EA suggerisce al pubblico di evitare il download e/o l'utilizzo della versione incriminata di Crysis 2 e di attendere, piuttosto, il giorno 22 marzo, allorquando sarà resa disponibile la versione finale (e legale) di quello che promette di essere lo sparatutto più evoluto di sempre per tutte le piattaforme di gioco a cui è indirizzato, ovvero Microsoft Windows, PlayStation 3 e Xbox 360.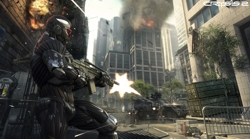 [Immagine ad alta risoluzione]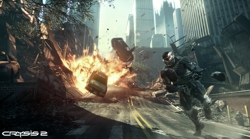 [Immagine ad alta risoluzione]





Source: Electronic Arts Press Release
Links


Tags: crysis | ea | game | leak | torrent