Con il comunicato stampa di seguito allegato, Apple ha annunciato e commercializzato i portatili MacBook Air di nuova generazione. Al momento la linea include due possibili varianti in base alla dimensione del display, che può essere pari a 11.6-inch oppure a 13.3-inch.

In entrambi i casi il peso e lo spessore estremamente ridotti continuano ad essere delle feature tipiche di tali sistemi; a queste si sono aggiunte, tuttavia, la dotazione esclusiva di unità a stato solido, in sostituzione dei più classici hard disk drive, da un lato, e la mancanza di lettori ottici, dal momento che i progettisti ritengono che sia Internet, ed in particolar modo il servizio di download dei file, la modalità attraverso la quale sia possibile fornire dei dati in input a tali sistemi.

I nuovi MacBook Air sono costruiti con l'ausilio dei processori Intel Core 2 Duo e delle gpu NVIDIA GeForce 320M (a cui spetta, tra l'altro, il compito di controllare l'immancabile porta Mini DisplayPort a cui può essere connesso un Apple LED Cinema Display, un proiettore o una TV HD, ndr); gli schermi ad alta risoluzione sono realizzati in tecnologia LED-backlit .

I nuovi MacBook Air sono già disponibili presso l'Apple Store e i rivenditori autorizzati; per fissare le idee, la versione con cpu da 1.4GHz, 2GB di RAM, un SSD da 64Gb e un display da 11.6-inch costa $999 (tale prezzo deve essere inteso come MSRP), mentre quella con processore da 1.8GHz, 2GB di RAM, SSD da 256GB e display da 13.3-inch ha un MSRP pari a $1599.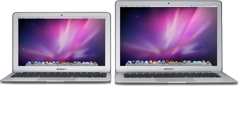 [Immagine ad alta risoluzione]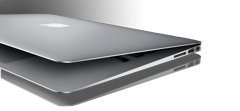 [Immagine ad alta risoluzione]

[Immagine ad alta risoluzione]

Apple today unveiled an all new MacBook Air, the first of a next generation of notebooks which will replace mechanical hard disks and optical drives with Internet services and solid state flash storage. These next generation notebooks are:
faster—solid state flash storage is up to twice as fast as hard drive storage
more reliable—hard drive crashes are eliminated
lighter and smaller—solid state flash storage is up to 90 percent smaller and lighter than hard drives
Available in 11-inch and 13-inch models and weighing as little as 2.3 pounds, the new MacBook Air is Apple's lightest and most portable notebook ever. MacBook Air uses the same solid state storage technology as iPad to deliver instant-on responsiveness, up to seven hours of battery life and up to 30 days of standby time.* Starting at $999, the affordable MacBook Air defines the next generation of MacBooks.
"MacBook Air is the first of a new generation of notebooks that leaves behind mechanical rotating storage in favor of solid state flash storage," said Steve Jobs, Apple's CEO. "We've taken what we have learned with the iPad—solid state storage, instant-on, amazing battery standby time, miniaturization and lightweight construction, to create the new MacBook Air. With its amazing responsiveness and mobility, it will change the way we think about notebooks."
With its precision aluminum unibody enclosure, the new MacBook Air measures an incredibly thin 0.11-inches at its thinnest point and 0.68-inches at its thickest, and weighs just 2.3 pounds for the 11-inch model and 2.9 pounds for the 13-inch. Like iPad, MacBook Air was designed from the ground up to use flash storage exclusively. Apple's custom-designed flash storage is 90 percent smaller and lighter than a conventional notebook hard drive, contributing to MacBook Air's mobile, featherweight design. MacBook Air's flash storage also provides faster data access and is more reliable than notebook hard drives due to its solid state design.
MacBook Air features a full-sized keyboard for typing comfort and productivity, as well as the highly acclaimed glass Multi-Touch trackpad found on Apple's MacBook Pro, so you can scroll through web sites, flip through photos, and resize or rotate images all from the trackpad. The built-in FaceTime camera, mic and stereo speakers are perfect for video calls with iPhone 4, iPod touch** and other Macs.
Flash storage combined with power-efficient Intel Core 2 Duo processors and NVIDIA GeForce 320M graphics delivers an ideal balance of mobility, battery life and performance. MacBook Air features an 11.6-inch or 13.3-inch high-resolution LED-backlit display and Mini DisplayPort to connect your 27-inch Apple LED Cinema Display, projector or HD TV. Ultra-fast 802.11n Wi-Fi networking allows you to download music and movies from iTunes, back up data to Time Capsule and store or share files with MobileMe℠ and iDisk. MacBook Air includes Bluetooth 2.1+EDR for wireless peripherals and two USB ports making it easy to sync and charge an iPad, iPhone or iPod while using another device. The 13-inch MacBook Air also includes an SD card slot.
Apple makes the industry's greenest notebooks and the MacBook Air is the latest Mac notebook to achieve EPEAT Gold status and meet Energy Star 5.0 requirements.*** Each unibody enclosure is made of highly recyclable aluminum and comes standard with energy efficient LED-backlit displays that are mercury-free and made with arsenic-free glass. Mac notebooks contain no brominated flame retardants, are PVC-free and are constructed of recyclable materials.
Apple uses advanced chemistry and Adaptive Charging technology to create a MacBook Air battery that delivers up to seven hours of wireless productivity on a single charge and up to 1,000 recharges.**** The built-in battery design results in less waste, and depleted MacBook Air batteries can be replaced for $129, which includes installation and disposal of your old battery in an environmentally responsible manner.
Every Mac comes with Mac OS X Snow Leopard, the world's most advanced operating system, and iLife, Apple's innovative suite of applications for creating and sharing great photos, movies and music. Snow Leopard builds on more than a decade of innovation and includes multiple features for portable computing such as Multi-Touch navigation, advanced wireless networking, easy file sharing, automated data backup and intelligent power management. The new iLife '11 features iPhoto with stunning full screen views for browsing, editing and sharing photos; iMovie with powerful easy-to-use tools to transform home videos into fun theatrical trailers; and GarageBand with new ways to improve your playing and create great sounding songs.
Pricing & Availability
The 11-inch and 13-inch MacBook Air are immediately available through the Apple Store, Apple's retail stores and Apple Authorized Resellers. The 1.4 GHz 11-inch MacBook Air with 2GB of memory and 64GB of flash storage starts at a suggested retail price of $999 (US) with a 128GB model for $1,199 (US). The 1.86 GHz 13-inch MacBook Air with 2GB of memory and 128GB of flash storage starts at a suggested retail price of $1,299 (US) with a 256GB model for $1,599 (US). Configure-to-order options and accessories include faster processors, 4GB of memory, MacBook Air SuperDrive and a USB Ethernet Adapter.
Additional technical specifications and configure-to-order options and accessories are available online at www.apple.com/macbookair.
*Battery life and standby time vary by use and configuration. See www.apple.com/batteries for more information.
**iOS 4.1 required.
***EPEAT is an independent organization that helps customers compare the environmental performance of notebooks and desktops. Products meeting all of the 23 required criteria and at least 75 percent of the optional criteria are recognized as EPEAT Gold products. The EPEAT program was conceived by the US EPA and is based on IEEE 1680 standard for Environmental Assessment of Personal Computer Products. For more information visit www.epeat.net.
****A properly maintained MacBook Air battery is designed to retain 80 percent or more of its original capacity during a lifespan of up to 1,000 recharge cycles. Battery life and charge cycles vary by use and settings. For more information visit www.apple.com/batteries.