Dieci anni fa, la neonata comunità di OpenOffice.org consentiva il primo accesso pubblico al codice sorgente di StarOffice donato da Sun Microsystems. Oggi, The Document Foundation - un gruppo che coinvolge alcuni tra quei pionieri - lancia una nuova sfida basata sul Next Decade Manifesto, che è stato pubblicato al seguente indirizzo: http://wiki.documentfoundation.org/TDF/Next_Decade_Manifesto.

"Ripercorrendo i primi dieci anni della comunità OOo, i risultati ottenuti dall'azione congiunta di migliaia di volontari in ogni parte del mondo sono incredibili", commenta André Schnabel, uno tra i primi membri della comunità internazionale. "Oggi, però, preferiamo concentrarci sul prossimo obiettivo: far crescere il software nel corso del prossimo decennio con una comunità indipendente, intorno al brand LibreOffice".

The Document Foundation è all'indirizzo: http://www.documentfoundation.org.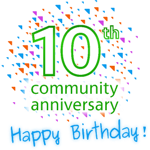 [Immagine ad alta risoluzione]

Ten years ago, the then fledgling OpenOffice.org community provided the first public access to the StarOffice source code donated by Sun Microsystems. Today, The Document Foundation - a group based on some of those early pioneers - is launching a new challenge based on the Next Decade Manifesto.

The Next Decade Manifesto has been published at http://wiki.documentfoundation.org/TDF/Next_Decade_Manifesto.

"Looking back at the first ten years of the OOo community, it is amazing to see what we have achieved thanks to the commitment of thousands of volunteers in every part of the world", says André Schnabel, a long time member of the group. "Today, though, we are concentrating on our next objective: grow the software into the next decade as an independent community, around the LibreOffice brand".

The house of The Document Foundation is at http://www.documentfoundation.org.





Source: The Document Foundation Press Release
Links


Tags: