Arriva in Italia la nuova scheda video ASUS EGT430/DI/1GD3 (LP), dotata di innovative caratteristiche tecniche.

Equipaggiata con il nuovissimo motore grafico Fermi di NVIDIA e basata sulla GPU GeForce GT430 (GF108), l'ultima nata dell'ampia e completa famiglia di schede video firmate ASUS supporta pienamente le Microsoft DirectX 11, rivelandosi una soluzione perfetta per sistemi home theater e per i casual gamer. ASUS EGT430/DI/1GD3 (LP) è caratterizzata, infatti, da un PCB a basso profilo (con idoneo bracket incluso nella confezione) e, grazie alla funzionalità NVIDIA PureVideo con l'adozione dello standard HDMI 1.4, assicura le più realistiche e coinvolgenti esperienze durante la riproduzione dei più recenti film, anche in formato Blu-ray 3D Full HD (su televisori e monitor compatibili), senza rinunciare ad un avanzato supporto audio multi-canale 24-bit in alta definizione fino a 192 KHz, con bitstreaming DTS-HD Master e Dolby TrueHD.

L'elevata qualità costruttiva che caratterizza la nuova proposta firmata ASUS, contribuisce in generale a garantire massima affidabilità e durata nel tempo. Le ventole, ad esempio, sono realizzate secondo il sistema "dust-proof", che le rende più resistenti alla polvere, assicurando una durata fino al 25%* in più rispetto alle ventole tradizionali.

ASUS EGT430/DI/1GD3 (LP) è dotata, infine, di alcune tecnologie ASUS volte a proteggere la scheda e prevenire eventuali guasti, quali GPU Guard e Fuse Protection, in grado di bloccare il flusso di corrente in caso di sovraccarichi, azzerando i rischi di danni più o meno gravi e garantendo altresì la massima stabilità e longevità alla scheda.

ASUS EGT430/DI/1GD3 (LP) è disponibile in Italia dalla fine di questa settimana al prezzo di Euro 84,9 IVA inclusa.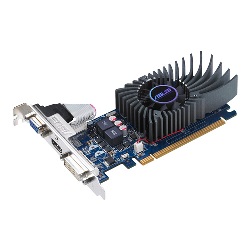 [Immagine ad alta risoluzione]

ASUS has today announced the latest addition to its Fermi series of DirectX 11 graphics cards with ENGT430/DI/1GD3 (LP).

Powered by the NVIDIA GeForce GT430 graphics processor, the ASUS-designed PCI-Express 2.0 ENGT430/DI/1GD3 (LP) card is ideal for home theater enthusiasts and casual gamers. Built using a specially designed low profile PCB (printed circuit board), the ASUS ENGT430 includes NVIDIA PureVideo engine that accelerates even Blu-ray 3D media. Its use of the highest quality components, including ASUS Dust-Proof fan, GPU Guard, and Fuse Protection ensures that the ASUS ENGT430 remains stable and reliable for long-term use.

Product highlights:

Perfect for home theater PC with low profile design (low profile bracket is included) and watch latest movie titles in full 1080p 3D fidelity with Blu-ray 3D acceleration
25%* longer card lifespan with unique Dust-Proof fan
Enhanced durability with GPU Guard that prevents cracking and fracturing, even increasing drop and shock damage resistance, and Fuse Protection that prevents overcurrent-related loss of performance.
* Subject to system configuration and usage. Results may vary.

Availability
The ASUS ENGT430/DI/1GD3 (LP) will be available from October 11th, 2010 from authorized ASUS resellers.



Source: ASUS Press Release
Links


Tags: