Con il comunicato stampa di seguito allegato, Point of View ha annunciato la commercializzazione nel mercato europeo della linea di scheda video POV/TGT GeForce GTX 460 "BEAST", che include due varianti, entrambe basate sulla gpu NVIDIA GeForce GTX 460 ed equipaggiate con 768MB in un caso e con 1GB di RAM G-DDR5 nell'altro.

Entrambe le video card sono prodotti marcatamente "overclocked by factory", dal momento che il processore grafico lavora a 855MHz, le unitÓ shader a 1710 MHz e il frame buffer a 4020MHz, mentre i valori reference corrispondenti sono pari rispettivamente a 675MHz, 1350MHz e 3600MHz.

In accordo a Point of View, una GeForce GTX 460 reference, su piattaforma Intel P55, fa misurare uno score pari a 5700 con il benchmark 3D Mark Vantage in modalitÓ Extreme. Il punteggio sale fino a 7100 con la POV/TGT GeForce GTX 460 "BEAST" equipaggiata con 768MB di RAM mentre la versione con 1GB di G-DDR5 di punti ne totalizza 7600, ossia il 33% in pi¨ della versione reference.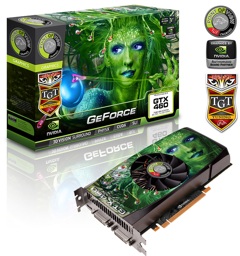 [Immagine ad alta risoluzione]

Point of View, the leading European manufacturer of an exclusive range NVIDIA based 3D processor boards, advanced netbooks as well as fancy touchpad computers and additional enthusiast PC products, announces today that first products of the upcoming advanced POV/TGT "BEAST" product line already started shipping into the European channel three weeks ahead of schedule. POV/TGT GeForce GTX 460 "BEAST" products are of highest quality and feature rock solid stability even beyond the documented clock settings of 855 MHz core clock, 1710 MHz shader clock and 4020 MHz memory clock (1005 MHz times 4 due to GDDR-5).

All of the POV/TGT GeForce GTX 460 "BEAST" products are hand selected and manually tuned with a proprietarily tuning algorithm developed by TGT's highly skilled hard- and software engineering team in Germany. Frankly speaking, TGT tuning is "Made in Germany". Finally all of the POV/TGT GeForce GTX 460 "BEAST" products are verified with a comprehensive burn-in procedure to assure highest customer satisfaction.

"Our team worked for over three months day and night," said Wolfram Tismer, CEO of TGT. "We are very proud of being in the position to offer computer enthusiasts what we believe is the best possible NVIDIA GeForce performance on the planet in a rock solid hard- and software-environment."

"Point of View was always striving to offer high quality products with extremely low defective rates," added Bj÷rn Solli, CEO of Point of View. "The addition of professionally tuned enthusiast products to our existing product range based on high quality components and high quality manufacturing enjoyed an overwhelming response around the world by the well known community of enthusiastic computer journalists as independent reviews turned out to be exceptional."

The POV/TGT GeForce GTX 460 "BEAST" is available with both, 1GB of GDDR-5 display memory as well as with 768MB of GDDR-5 memory at lower cost. As most of the DirectX 9 and DirectX 10 computer games don't require a 1GB frame buffer, the less expensive 768MB configuration is also an excellent choice.

Considering the 675 MHz NVIDIA GeForce GTX 460 768MB reference design is running around an excellent score of "5700" in "3D Mark Vantage Extreme" settings (Intel P55 platform), the 850 MHz POV/TGT GeForce GTX 460 "BEAST" 768MB outperforms competitive products with over 7100, while the 850 MHz POV/TGT GeForce GTX 460 "BEAST" 1GB even exceeds a score of 7600, which is up to 33% faster than reference design. This is comparable with a sports car running up to 250 km/h tuned to a top speed of 332.5 km/h.





Source: Point of View Press Release
Links


Tags: