NVIDIA ha annunciato NVIDIA 3D Vision Pro, una nuova soluzione 3D stereoscopica che permette a progettisti, designer, architetti ed esperti di chimica computazionale che lavorano a progetti 3D di particolare complessità di vedere il proprio lavoro in modo molto più dettagliato. Le soluzioni 3D Vision Pro offrono la vera stereoscopia 3D al desktop, supportano schermi LCD e rappresentano un mezzo pratico per fornire una ricca e affidabile esperienza di visione in 3D agli ambienti di visualizzazione su vasta scala quali i video wall e gli ambienti virtuali collaborativi (CAVE).
Grazie all'integrazione di occhiali attivi e dell'innovativo sistema di comunicazione in radiofrequenza (RF) le soluzioni 3D Vision Pro offrono un'esperienza stereoscopica della massima qualità e supportano una vasta gamma di casistiche d'uso:
I singoli utenti possono vedere all'opera il 3D su schermi LCD collegati alle proprie workstation desktop e mobili basate su Quadro
I piccoli gruppi possono provare il 3D su proiettori singoli o multipli, e infine
I gruppi di maggiori dimensioni possono vivere il 3D su power wall o in sale di proiezione dotate di NVIDIA Scalable Visualization Solutions (SVS)
3D Vision Pro fornisce connessioni ad ampio raggio, sino a 50 metri, senza cross-talk, punti ciechi o altri problemi di trasmissione tra i vari sistemi costitutivi dell'impianto. Dal momento che si tratta di una soluzione stereoscopica professionale, gli occhiali trasmettono costantemente informazioni di stato all'host agevolando la gestione IT.
"Grazie alla capacità di fornire un punto di vista interessante e innovativo sui dati più complessi, la stereoscopia 3D è diventata uno degli elementi chiave delle moderne workstation", ha detto Jeff Brown, General Manager di NVIDIA Professional Solutions Group. "Assieme, le soluzioni 3D Vision Pro e Quadro consentono di offrire il massimo della qualità e un'esperienza 3D più immersiva e coinvolgente agli ambienti aziendali."
NVIDIA 3D Vision Pro - un nuovo modo di guardare alle cose
Gli artisti che si occupano di DCC (creazione di contenuti digitali), i designer di prodotti e i medici possono vedere il proprio 'mondo' in 3D, con prospettive nettamente più ricche delle tradizionali visuali bidimensionali. I medici, per esempio, ora possono esaminare scansioni volumetriche come quelle ultrasoniche in 3D. Le aziende si occupano di visualizzazioni su vasta scala, per esempio quelle che producono i sempre più diffusi video wall, ora possono usufruire di una tecnologia affidabile in grado di garantire il massimo dei risultati.
"NVIDIA è chiaramente uno dei leader del campo della visualizzazione in 3D e sta lavorando alla tecnologia della stereoscopia 3D sin dal 1999. Il lancio di una soluzione 3D professionale può permettere a questa tecnologia di superare facilmente l'ambito del mero intrattenimento per singoli consumatori", ha dichiarato Jon Peddie, presidente di Jon Peddie Research. "Fornendo capacità di visualizzazione su vasta scala e gestione a distanza, NVIDIA si pone all'avanguardia nell'ambito del 3D aziendale. Le soluzioni NVIDIA permettono agli utenti professionali e agli integratori di sistemi di visualizzazione su vasta scala di utilizzare il 3D in modi sinora impensati."
Le principali caratteristiche delle soluzioni stereoscopiche NVIDIA 3D Vision Pro comprendono:
Occhiali attivi in grado di fornire una reale immagine progressiva, che permette di preservare il massimo della qualità dei dettagli delle texture e del testo;
batterie ricaricabili con 20 ore di autonomia in funzionamento continuo;
supporto di un'ampia gamma di schermi e proiettori, e infine;
supporto di un vasto assortimento di applicazioni professionali.
Applicazioni professionali già disponibili per NVIDIA 3D Vision Pro
Aziende quali Siemens Healthcare, Agilent, Cineform ed RTT hanno già iniziato a utilizzare la tecnologia NVIDIA 3D Vision Pro come elemento essenziale delle nuove soluzioni recentemente annunciate:
Siemens Healthcare sta già distribuendo la sua syngo.fourSight Workplace Imaging Management Solution for Obstetrics. Questa soluzione fornisce manipolazione di volumi 3D/4D extra sistema e revisione di immagini 2D e filmati per una serie delle più potenti piattaforme ultrasoniche di Siemens, agevolando le comunicazioni tra dottori, chirurghi e pazienti. Inoltre può aiutare a rafforzare il legame affettivo tra padre e nascituro e agevolare il trattamento o la pianificazione chirurgica pre e post-natale.
"Il nostro software syngo.fourSight Workplace, combinato con la nuova tecnologia NVIDIA 3D Vision Pro e le più recenti soluzioni di grafica professionale NVIDIA Quadro diventa uno strumento di gestione delle immagini ancora più irrinunciabile, in grado di migliorare nettamente la gestione rapida e precisa dei pazienti e del workflow dei reparti di ecografia ostetrica", ha detto Barbara Del Prince, Worldwide Segment Manager dei sistemi OB/GYN per Siemens Healthcare. "Dottori, ospedali e centri di imaging ora dispongono del toolset per soluzioni di imaging 3D più potente, completo e innovativo disponibile per la manipolazione di immagini volumetriche."
Prezzi e disponibilità
Le soluzioni stereoscopiche NVIDIA 3D Vision Pro saranno disponibili a ottobre direttamente da NVIDIA e da rivenditori autorizzati quali PNY Technologies a MSRP di $349 (USD) per gli occhiali e $399 (USD) per lo hub trasmettitore in radiofrequenza. Per ulteriori informazioni sulla tecnologia NVIDIA 3D Vision Pro, visitare: www.nvidia.it/object/3d-vision-professional-users-it.html.
I professionisti della grafica possono mettere alla prova le soluzioni stereoscopiche 3D Vision Pro al SIGGRAPH 3D nello stand di NVIDIA
il numero 717 del padiglione Sud del Los Angeles Convention Center. La manifestazione si svolgerà nei giorni 27-29 luglio 2010. Per altre informazioni,
visitare: www.nvidia.it/quadro. Seguite NVIDIA Quadro su YouTube e Twitter: @NVIDIAQuadro.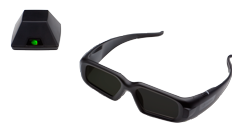 [Immagine ad alta risoluzione]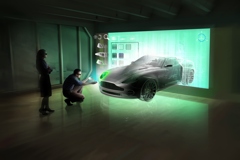 [Immagine ad alta risoluzione]

NVIDIA (Booth #717) announced today NVIDIA 3D Vision Pro, a new 3D stereoscopic solution empowering engineers, designers, architects and computational chemists who work with complex 3D designs to see their work in greater detail. 3D Vision Pro solutions brings true stereo 3D back to the desktop with support for LCD panels and offers a practical way to provide a rich, reliable 3D viewing experience for large scale visualization environments like video walls and collaborative virtual environments (CAVEs).
Incorporating active shutter glasses and an innovative radio frequency (RF) communication system, 3D Vision Pro solutions delivers the highest quality stereoscopic experience and supports a wide range of use cases:
Individuals can experience 3D on LCD panels at their Quadro powered desktop and mobile workstations
Small groups can view 3D on single or multiple projectors, and
Larger groups can experience 3D on power walls or in theaters driven by NVIDIA Scalable Visualization Solutions (SVS)
3D Vision Pro provides long range connections, up to 150 feet, with no cross talk, blind spots, or other transmission issues between multiple systems. As a professional stereoscopic solution, status information is transmitted from the glasses back to the host for effective IT management.
"With the ability to provide valuable insights into complex data, 3D stereo has become one of the core elements of the modern workstation," said Jeff Brown, general manager, Professional Solutions Group, NVIDIA. "Together, 3D Vision Pro and Quadro solutions bring the highest quality and most immersive 3D experience to enterprise environments."
NVIDIA 3D Vision Pro - A New Way of Looking at Things
Digital content creation (DCC) artists, product designers, and physicians can see their 'world' in 3D, with perspectives that are significantly richer than traditional two-dimensional views. Physicians, for example, can now view volumetric scans like ultrasound in 3D. Businesses looking to provide large scale visualizations such as popular video walls now have a reliable, enabling technology to deliver that kind of experience.
"NVIDIA is clearly a leader in the field of 3D visualization and has been working on Stereoscopic 3D technology since 1999. With their launch of a professional 3D solution, this technology can easily move beyond the entertainment viewing experience for individual consumers," said Dr. Jon Peddie, president of Jon Peddie Research. "By providing large scale visualization capabilities and remote management capabilities, NVIDIA is pioneering 3D technology for the enterprise, opening the door for professional users and large scale visualization system integrators to utilize 3D in ways not thought of before."
Key features of NVIDIA 3D Vision Pro stereoscopic solutions include:
Active shutter glasses technology that delivers a true progressive image, which preserves the highest quality texture detail and text;
Rechargeable batteries with 20 hours of continuous operation;
Wide range of panel and projector support, and;
A wide range of professional application support.
Professional applications for NVIDIA 3D Vision Pro already available
Companies such as Siemens Healthcare, Agilent, Cineform, and RTT are already embracing NVIDIA 3D Vision Pro technology as an essential element of new solutions they've recently announced:

Siemens Healthcare is now shipping its syngo.fourSight Workplace Imaging Management Solution for Obstetrics. It provides off-system 3D/4D volume manipulation and 2D image and clip review for a variety of Siemens' most powerful ultrasound platforms, assisting in communication with doctors, surgeons, and patients. It may also improve paternal-fetal bonding, and aid in treatment or pre- and post-natal surgical planning.

"Our syngo.fourSight Workplace software, combined with new NVIDIA 3D Vision Pro technology and the latest NVIDIA Quadro professional graphics solutions, makes this an even more compelling image management tool for enhanced patient throughput and department workflow in obstetrical ultrasound," said Barbara Del Prince, worldwide segment manager for OB/GYN, Siemens Healthcare. "Doctors, hospitals and imaging centers now have the most powerful, comprehensive and innovative 3D imaging solution toolset available for volume image manipulation."

Pricing and Availability
NVIDIA 3D Vision Pro stereoscopic solutions will be available in October directly from NVIDIA and from authorized resellers such as PNY Technologies at MSRPs of $349 (USD) for the glasses, and $399 (USD) for the RF transmitter hub. For more information on NVIDIA 3D Vision Pro, please visit: www.nvidia.com/object/3d-vision-professional-users.html.

Graphics professionals can experience 3D Vision Pro stereoscopic solutions at SIGGRAPH 2010 in the NVIDIA booth, #717, South Hall, at the Los Angeles Convention Center, from July 27-29, 2010. To learn more, visit: www.nvidia.com/quadro. Follow NVIDIA Quadro on YouTube, and Twitter: @NVIDIAQuadro.





Source: NVIDIA Press Release
Links