Con il comunicato stampa di seguito allegato, NVIDIA ha annunciato ufficialmente la scheda video GeForce GTX 460, la sua prima soluzione compatibile con le API grafiche DirectX 11 di Microsoft e in grado di collocarsi nella fascia del mercato dei prodotti mainstream il cui prezzo per l'utente finale si attesta sotto la soglia di $199 (tale costo č relativo alle implementazioni dei partner che realizzano il componente in maniera aderente al design reference, ndr).

La gpu della GeForce GTX 460 include 336 NVIDIA CUDA core e 56 texture unit; il chip maker ha previsto due assemblaggi per il chip grafico i quali danno origine ad altrettante video card, la GeForce GTX 460 768MB e la GeForce GTX 460 1GB.

La GeForce GTX 460 768MB č equipaggiata con 768MB di RAM G-DDR5, il bus di collegamento tra core grafico e VRAM č a 192-bit e il prezzo di riferimento negli U.S. č pari a $199. E' disponibile da oggi nei cataloghi dei principali board maker, quali ASL, ASUS, Colorful, ECS, EVGA, Gainward, Galaxy, Gigabyte, Innovision 3D, Jetway, KFA2, Leadtek, MSI, Palit, Point of View, PNY, Sparkle e Zotac, tra gli altri.

La GeForce GTX 460 1GB č dotata invece di 1GB di RAM G-DDR5; in questo caso il bus č a 256-bit e il prezzo end-user negli U.S. pari a $229. Sarā disponibile commercialmente su larga scala a partire dal prossimo 26 luglio.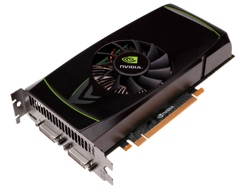 [Immagine ad alta risoluzione]

NVIDIA today announced the latest addition to its Fermi-class of graphics processing units (GPUs), the NVIDIA GeForce GTX 460 -- which delivers a great DX11 gaming experience and is priced right at the market's $199 sweet spot.
Built from the ground up for DirectX 11 tessellation, GeForce GTX 460 GPUs deliver monster tessellation performance with up to 4x tessellation performance(i) over competing GPUs. The GTX 460 brings the ultimate next-generation DX11 gaming experience to a new price segment, enabling more gamers than ever to experience incredibly detailed characters, terrain and game environments with blazing fast performance and awesome visuals.
With full support for NVIDIA 3D Vision technology, the GeForce GTX 460 provides the graphics horsepower and video bandwidth needed to experience games and high definition Blu-ray movies in eye-popping stereoscopic 3D.
Here's what leading game developers have to say about the GeForce GTX 460:
"With the GeForce GTX 460, NVIDIA is really upping the ante with an amazingly fast DirectX 11 GPU available at a great, mainstream-friendly price. Its new hardware tessellation support will enable games to reach an entirely new caliber of graphics."
-- Epic Games / Tim Sweeney / Chairman, CEO and Technical Director
"NVIDIA platforms continue to be the Gold Standard at Id Software for quality, performance, and support."
-- Id Software / John Carmack / Technical Director
"We've got a great working relationship with the NVIDIA engineers. It has enabled us to add amazing new visual effects like native 3D, 3D Vision Surround, and PhysX/APEX support in Mafia II. With the new GeForce GTX 460, Empire Bay comes to life, immersing players like never before!"
--2K Games / Denby Grace / Senior Producer of Mafia II
"The Civilization V team is really excited about the high-end DirectX 11 performance at a mainstream price point that the NVIDIA GeForce GTX 460 delivers. The 460's support for DX11 features such as tessellation and compute shaders allow Civilization V to run faster while looking better than ever."
-- Firaxis Games / Dan Baker / Graphics Lead on Civilization V
"Great performance at a great price -- what's not to love? With full support for PhysX and 3D Vision, the GeForce GTX 460 is a great GPU to use for UDK development and UE3-based games."
-- Epic Games / Mark Rein / Vice President
"Capcom has worked closely with NVIDIA on a number of PC titles and GeForce GPUs have always helped us to deliver the very best experience to users. The GeForce GTX 460 is a great card and its blazing performance helps our titles to shine."
-- Capcom / Jun Takeuchi / General Manager of R&D Strategic Planning Department
"Kings and Castles will look spectacular on the GeForce GTX 460. Imagine how full-scale battles with hundreds of soldiers, dragons, and flying zeppelin battleships will look in fantastic 3D!"
-- Gas Powered Games / Chris Taylor / Founder & CEO
With 336 NVIDIA CUDA cores and 56 texture units, the GeForce GTX 460 comes in two flavors:
GTX 460 768MB, with a 192-bit memory interface at an estimated U.S. price of $199
GTX 460 1GB, with a 256-bit memory interface at an estimated US price of $229
The GeForce GTX 460 768MB version is available starting today from the world's leading add-in card partners, including ASL, ASUS, Colorful, ECS, EVGA, Gainward, Galaxy, Gigabyte, Innovision 3D, Jetway, KFA2, Leadtek, MSI, Palit, Point of View, PNY, Sparkle, Zotac and others. Wider availability of the GeForce GTX 460 1GB is expected by July 26, 2010. Consumers are encouraged to check their favorite retailer or e-tailer for availability.

For more information about the GeForce GTX 460 GPU, please visit: http://www.nvidia.com/object/product_geforce_gtx_460_us.html





Source: ASUS Press Release
Links