NVIDIA ha annunciato che ACUSIM Software, uno dei maggiori fornitori di soluzioni di fluidodinamica computazionale (CFD), i cui prodotti sono ampiamente utilizzati da ingegneri e scienziati impegnati nella progettazione, ha integrato il supporto delle GPU NVIDIA Tesla serie 20 nell'ultima release del prodotto AcuSolve 1.8.
Le prove di prestazioni del solutore di flusso CFD basato su elementi finiti e per finalità generali hanno evidenziato un raddoppio delle prestazioni con la GPU Tesla C2050 rispetto alle più recenti CPU quad-core nell'esecuzione della medesima simulazione.
AcuSolve viene utilizzato in una vasta gamma di applicazioni di progettazione meccanica ed è implementato da organizzazioni di ricerca e aziende del listino Fortune 500 fra cui Bechtel, Chevron, John Deere, Procter & Gamble, Sanyo, Visteon e Whirlpool. Queste aziende utilizzano le simulazioni CFD per sostituire i costosi test fisici durante lo sviluppo del prodotto, con un conseguente abbreviamento dei cicli di progettazione e un netto miglioramento della qualità finale del prodotto.
"La velocità di elaborazione ha sempre fatto la differenza", ha dichiarato Tom Lange, direttore della divisione Modeling and Simulation di Procter & Gamble. "Il CFD accelerato dalle GPU permette un maggiore realismo e ci permette di sostituire i costosi cicli di verifica fisico-pratica con soluzioni virtuali. Questo trasforma l'analisi tecnica-ingegneristica dal semplice studio delle ragioni dei fallimenti a un vero sistema virtuale di prova ed errore che permette l'ottimizzazione dei progetti.
Con l'introduzione di AcuSolve 1.8, settori diversi tra loro quali quelli automobilistico, aerospaziale, difesa, beni di consumo, bio-medicale e gestione delle risorse energetiche ora possono ridurre i tempi di simulazione CFD, permettendo lo svolgimento di un numero maggiore di simulazioni di più elevata complessità. Tutto questo è permesso dall'architettura di elaborazione in parallelo CUDA delle GPU NVIDIA Tesla.
"I clienti possono ampliare il proprio vantaggio competitivo grazie a time-to-market più rapidi, miglioramenti della qualità del prodotto e riduzione del costo di sviluppo", ha dichiarato Farzin Shakib, fondatore e CEO di ACUSIM Software. "La nostra collaborazione con NVIDIA ci ha aiutato a esplorare e implementare sistemi innovativi per conseguire questi obiettivi di performance per le simulazioni AcuSolve."
ACUSIM ha implementato per AcuSolve uno schema parallelo ibrido che combina l'elaborazione in parallelo a memoria condivisa e distribuita in una singola simulazione CFD. Le operazioni a memoria condivisa di AcuSolve sono accelerate sulle GPU Tesla usando standard OpenMP, mentre le CPU gestiscono le operazioni a memoria distribuita usando standard Message Passing Library (MPL). Usando questo schema di elaborazione eterogeneo, AcuSolve essenzialmente seleziona il processore più adatto (GPU o CPU) per ogni compito eseguendo ciascuna operazione sul dispositivo di computing in grado di massimizzare l'efficienza complessiva del calcolo in parallelo.
AcuSolve ha inoltre dimostrato un'efficiente scalabilità su più GPU che ne consente l'implementazione in sistemi multi-GPU quali i Tesla serie S e serie M per installazioni HPC tipiche dei data center.
"Ogni giorno, un numero sempre maggiore di scienziati e ingegneri decide di passare al GPU Computing per aumentare valore ed efficienza dei propri workflow CAE", ha dichiarato Andrew Cresci, General Manager del Vertical Marketing di NVIDIA. "Siamo entusiasti dei risultati ottenuti da ACUSIM e contiamo di portare avanti questa fruttuosa collaborazione per offrire altri vantaggi ai nostri clienti."
Per ulteriori informazioni su AcuSolve di ACUSIM Software, visitare questo indirizzo. Per ulteriori informazioni sulle soluzioni di elaborazione su GPU NVIDIA Tesla, potete visitare questo indirizzo.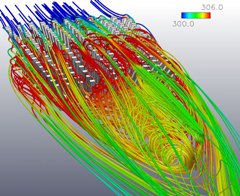 [Immagine ad alta risoluzione]

NVIDIA announced today that ACUSIM Software, a leading provider of computational fluid dynamics (CFD) solutions widely used by engineers and scientists involved in product design, has integrated support for NVIDIA Tesla 20-series GPUs into the company's latest AcuSolve 1.8 release.
Performance tests of the general-purpose finite-element-based CFD flow solver have demonstrated up to a 2x boost in performance with the Tesla C2050 GPU processor, compared with the latest quad-core CPU running the same simulation.
AcuSolve is used in a broad range of mechanical design applications and deployed by research organizations and Fortune 500 companies including Bechtel, Chevron, John Deere, Procter & Gamble, Sanyo, Visteon and Whirlpool. They use CFD simulations to replace costly physical tests during product development, which leads to shorter design times and improved product quality.
"It's always about computing speed," said Tom Lange, director of Modeling and Simulation at Procter & Gamble. "GPU-accelerated CFD allows for more realism, helping us replace slow and expensive physical learning cycles with virtual ones. This transforms engineering analysis from the study of failure to true virtual trial and error, and design optimization."
With the introduction of AcuSolve 1.8, industries ranging from automotive, aerospace and defense to consumer goods, bio-medical devices and energy production can now reduce CFD simulation times, enabling more and increasingly complex simulations to be carried out by tapping into the massively parallel CUDA computing architecture of NVIDIA Tesla GPUs.
"Customers can improve their competitive advantage through faster time-to-market, improved product quality and lower product development cost," said Dr. Farzin Shakib, founder and CEO of ACUSIM Software. "Our collaboration with NVIDIA has helped us explore and implement innovative approaches to advance on these performance goals for AcuSolve simulations."
ACUSIM has implemented a hybrid parallel scheme for AcuSolve that combines shared and distributed memory parallel processing in a single CFD simulation. The shared memory operations of AcuSolve are accelerated on Tesla GPUs using OpenMP standards, while the CPUs manage the distributed memory operations using message passing library standards. Using this heterogeneous processing scheme, AcuSolve essentially selects the right processor (GPU or CPU) for the right job by executing each operation on the compute device that will maximize overall parallel efficiency.
AcuSolve has also demonstrated efficient multi-GPU scalability enabling it to be deployed in systems containing multiple GPUs such as the Tesla S-series and M-series products for datacenter-class HPC installations.
"More and more scientists and engineers are embracing GPU computing to drive value and efficiency into their CAE workflows," said Andrew Cresci, general manager of vertical marketing, NVIDIA. "We are delighted with ACUSIM's achievements and look forward to continued collaboration to bring additional performance benefits to our customers."