Nell'ambito della conferenza NVIDIA 3D Revolution il chip maker statunitense ha annunciato la video card GeForce GTX 465. La nuova soluzione, che naturalmente è basata sull'architettura "Fermi" ed è pienamente compatibile con le API Microsoft DirectX 11, va ad ampliare la gamma di gpu per desktop GeForce GTX 400, che già include le varianti GeForce GTX 480 e GeForce GTX 470.

Come si evince dalla galleria fotografica che segue, sono già disponibili commercialmente le implementazioni della GeForce GTX 465 curate dai principali partner di NVIDIA, come ASUS, EVGA, Galaxy, MSI, PNY, Zotac e Palit (le board sono mostrate in accordo a questo ordine di citazione).

Il prezzo di riferimento per l'utente finale, indicato da NVIDIA, è pari a $279.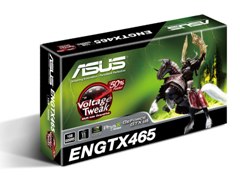 [Immagine ad alta risoluzione]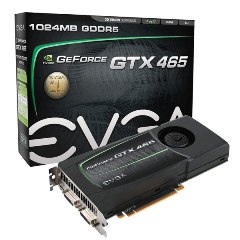 [Immagine ad alta risoluzione]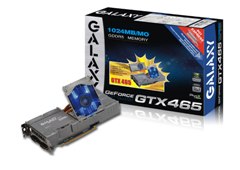 [Immagine ad alta risoluzione]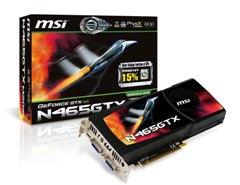 [Immagine ad alta risoluzione]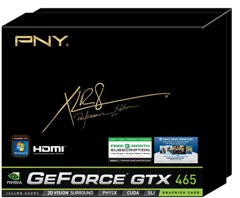 [Immagine ad alta risoluzione]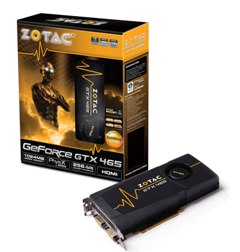 [Immagine ad alta risoluzione]
[Immagine ad alta risoluzione]

Showcased as part of the NVIDIA 3D Revolution press conference held today at the start of this year's Computex trade show, the newest entry to the NVIDIA Fermi architecture lineup of consumer GPUs—the GeForce GTX 465—has officially launched. Available now from the world's leading add-in card partners, system builders and OEMs, with a target price of $279, the GeForce GTX 465 GPU brings a new level of DirectX 11 performance to PC enthusiasts and gamers around the world.
The entire GeForce GTX 400 series of consumer GPUs was designed from the ground up to deliver potent gaming performance with the top-of-the-line GTX 480 delivering up to 8x faster geometry tessellation, than the closest competitive product. The new GTX 465 features 11 dedicated tessellation engines, resulting in outstanding performance at a new price point for GeForce GTX 400 GPUs. Tessellation allows game developers to take advantage of the GeForce GTX 400 series GPUs' ability to increase the geometric complexity of models and characters to deliver far more realistic and visually compelling gaming environments. Combined with support for NVIDIA 3D Vision technology, the industry's only complete 3D stereoscopic solution for the new category of 3D PCs, the GTX 465 offers gamers an attractive price point to play the latest cutting-edge titles at full HD, 1080p resolutions.
In addition to DirectX11 and NVIDIA 3D Vision, the GeForce GTX 465 GPUs also support enhanced gaming features found only on NVIDIA GPUs:
NVIDIA SLI technology, the most popular multi-GPU solution.
Support for Blu-ray 3D, with GPU decoding for enhanced 3D movie playback and 3D Internet streaming.
NVIDIA PhysX technology to bring games to life with dynamic, interactive environments.
Next-generation CUDA architecture, the foundation for the world's most open GPU computing platform, with complete language and API support, including CUDA C/C++, DirectCompute, OpenCL, Java, Python, and Fortran for the broadest compatibility with GPU-accelerated applications, including Internet Explorer 9, Folding@home, and others.
"With GeForce GTX 465, now even more gamers can experience what DX11 gaming was meant to be," said Drew Henry, general manager of GeForce GPUs at NVIDIA. "By using these new GPUs to build 3D Vision PCs, these same gamers will truly immerse themselves into the future of PC gaming. We are passionate about building GPUs to make the PC the best platform for gamers!"

The GeForce GTX 465 is available starting today with an estimated retail price of $279 from leading add-in-card companies including ASUS, EVGA, Galaxy, MSI, Palit, PNY, Zotac and others.

Useful Links:

Supersonic Sled: Strap in, hold on, and get ready to experience DX11, GPU physics, and more! www.nvidia.com/content/flash/SWFs/GF_100/GF_100_RocketSled_DX11_640x360.swf

Design Garage: Create a beauty-shot to remember with interactive ray tracing, the first time possible on a consumer-grade GPU! www.nvidia.com/content/flash/SWFs/GF_100/GF_100_RTD_640x360.swf

Water demo: Look at how developers can create realistic water through DX11 tessellation! www.nvidia.com/content/flash/SWFs/GF_100/GF_100_WATER_DEMO_640x360.swf

Hair demo: See realistic, lifelike hair enabled only by GPU tessellation!
www.nvidia.com/content/flash/SWFs/GF_100/GF_100_NEW_HAIR_Fix_640x360.swf

Useful Reading:
GTX 400 Graphics Architecture Whitepaper
NVIDIA Fermi Compute Whitepaper





Source: NVIDIA Press Release
Links


Tags: